Ready for rising seas? The Netherlands is home to two arks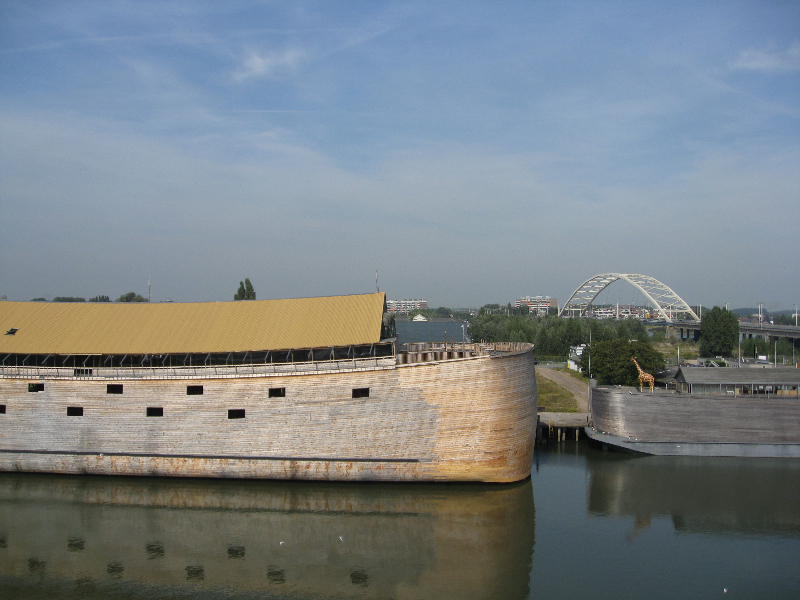 The Netherlands is home to a pair of massive representations of Noah's Ark, which could be useful given 25% of the country is below sea level. However, as Brandon Hartley found out, they won't be much use to sail away in should there be a new flood.

On the edges of an industrial estate in Krimpen aan den IJssel there is a gigantic model of Noah's Ark. Visitors are few and it hasn't been open to the public in seven years. Roughly 100 kilometres away, just past a housing development on the edges of Zeewolde, there's a second, smaller ark docked alongside a man-made peninsula shaped like a tulip.
The story behind these Biblical boats is almost as strange as their current ports of call. Both are the brainchild of the contractor and builder Johan Huibers who told a reporter a few years ago he was inspired to build them after having a dream that Noord Holland would one day flood.
Since their completion in 2007 and 2012 respectively, they've dropped anchor across the Netherlands and beyond, entertaining and educating hundreds of thousands of visitors.
Today the smaller ark is home to a Biblical museum where visitors can drink a soda in a cafe beside taxidermied giraffes on the top deck when they're not viewing elaborate dioramas devoted to stories from the Old and New Testaments.
The bigger one, however, is rotting away.
The little ark
A visit to the little ark is more like going to a theme park than Sunday school and that's just how the ark's current owner Aad Peters likes it. The long-time puppeteer and entrepreneur purchased the boat from Huibers in 2010 and quickly went about giving it a new theme.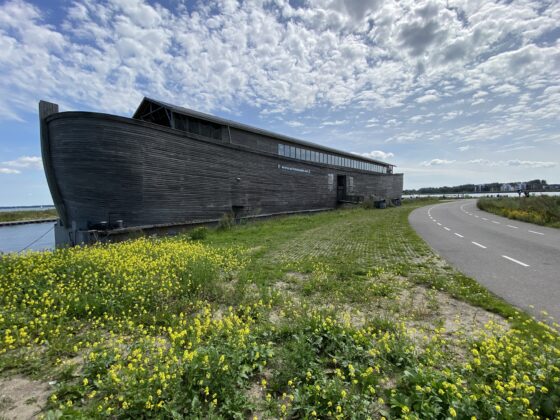 "It was being used as a preaching ship," he told Dutch News. "If you don't follow Jesus, you're going to hell", that was the story inside, which I didn't like. I don't think that's the way you should tell a tale."
Peters's ark avoids much of the fire and brimstone you'll find in similar Bible museums over in the US. Instead of enduring heavy-handed proselytising, young visitors can gaze into fun house mirrors or yank a rope that helps a wooden David launch a stone at a particularly grumpy Goliath. Satan doesn't even get a cameo and there's a fish pond and a theatre in the hull instead of a dark underworld.
The first ark
The first ark is 70 metres long, 9.5 metres wide, and 13 metres high, has four decks and took Huibers two years to build back in the 2000s at a cost of €2 million. Unlike the version in the Bible, it cannot sail on its own. The boat was constructed on top of a pontoon once used to transport iron ore and has to be towed from port to port by tugboats.
In October 2010 and a tour of 21 cities later, Huibers handed over the keys to Peters as he continued construction on an even bigger, second ark.
Since then visitors to the little ark have ranged from parents and their kids to Hells Angels. Members of the notorious motorcycle gang apparently had a blast talking to one another in the confession booth on one of the lower decks.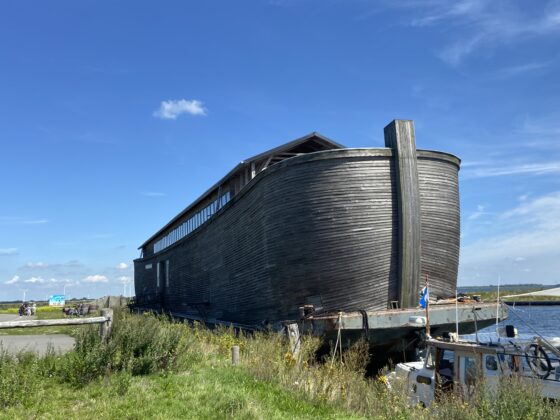 Like his predecessor, Peters has taken the ark on tour, which has not been without problems. The crew lost control of the boat in the port of Oslo in June 2016 and crashed into a Norwegian Coast Guard ship. A large hole was ripped in the hull.
The ark made headlines around the world again in January 2018. Heavy winds during a storm caused it to break free from its moorings in the harbour of Urk, the staunchly Protestant fishing village. It smashed into several yachts and a nearby jetty and the crew had to be rescued by the emergency services.
The bigger ark
Huiber started work on the bigger ark in 2008 and it took him five years and €4 million to finish. Measuring 135 metres, it contains seven decks, a cinema, a restaurant, and an amphitheatre and like its predecessor, wasn't built for sailing.
The bigger ark debuted to the public in Dordrecht in 2012 and attracted 280,000 visitors over the next few years. Along with plastic animals, its displays even contained a few live ones. It also participated in the city's boat parade during the festivities of the 2015 Koningsdag, which were attended by the Dutch royal family.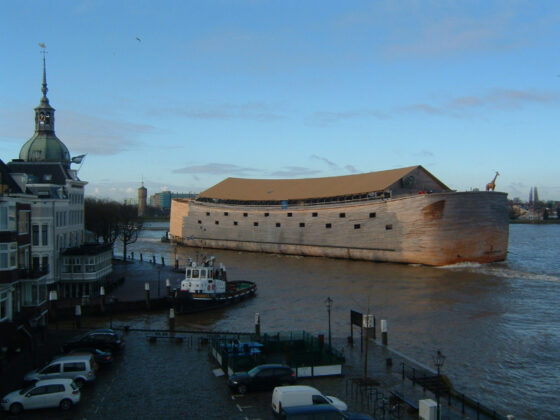 But its early successes were short-lived. The downfall of the bigger ark is largely credited to its sheer girth. It's even more difficult to move and dock than its predecessor and was forced to leave Dordrecht once work on a nearby housing project got underway in 2016.
Huibers hoped to transport the ark to Rio de Janeiro for the Summer Olympics that year but couldn't find a ship powerful enough to pull it across the Atlantic. Other plans and schemes have come and gone and eventually it was towed to what was originally intended to be a temporary location in Krimpen aan den IJssel. It has yet to reopen to the public and the website has not been updated since 2017.
Floods
Meanwhile Peters is still in the process of trying to find a new place to dock the little ark because of permit problems. There are also plans in place to re-theme it, inspired by a trip to England in late 2019.
Shortly after its arrival in the UK, members of the environmental group Extinction Rebellion climbed aboard the ark to protest about rising sea levels.
"They put up a banner that said 'We Need a Better Plan Than This,'" Peters recalled. "I thought that was a great message." An updated version of the Ark could soon open to the public with an environmental theme.
"'What are we going to do today?' is the new focus," Peters said. "Are we going to hide in our arks or are we going to work together and try to fix things?"
Thank you for donating to DutchNews.nl.
We could not provide the Dutch News service, and keep it free of charge, without the generous support of our readers. Your donations allow us to report on issues you tell us matter, and provide you with a summary of the most important Dutch news each day.
Make a donation