"Busier than Vermeer": Pokémon Van Gogh show opens
Senay Boztas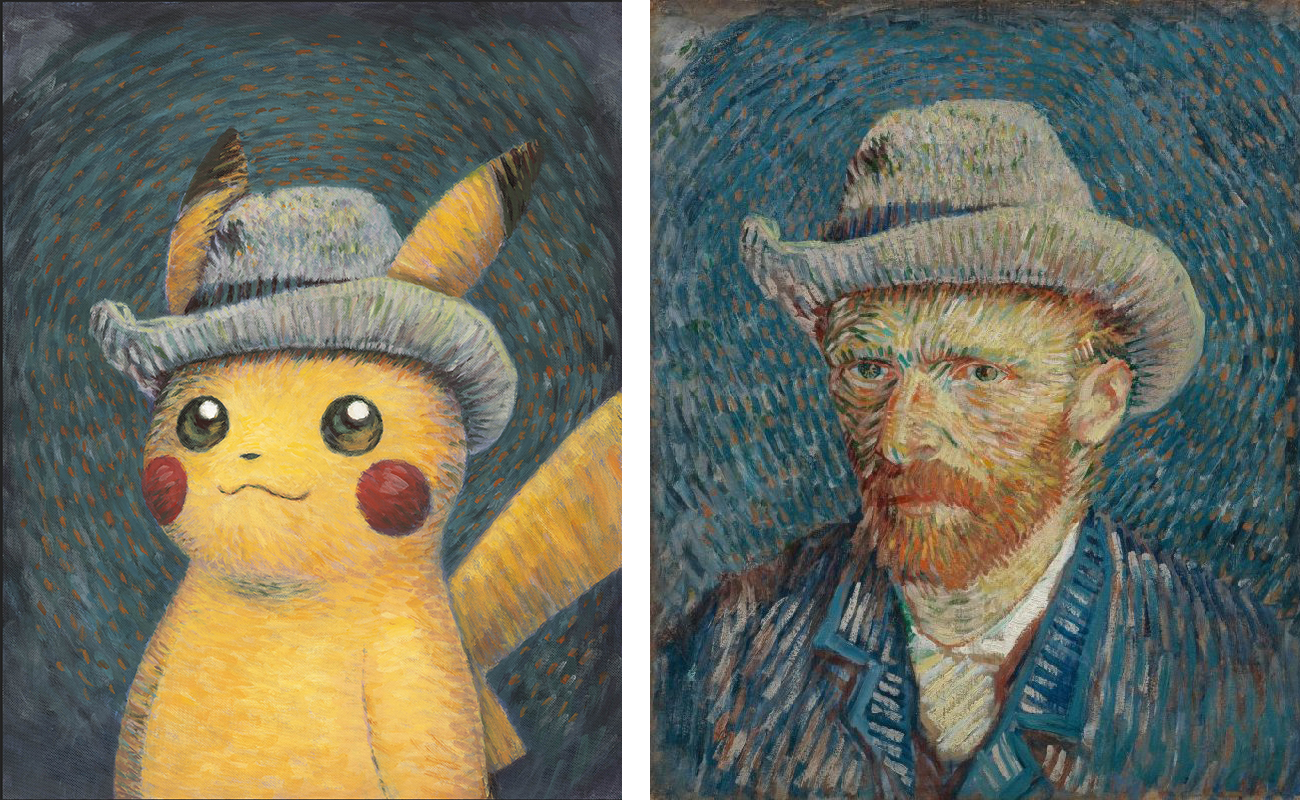 It's like visiting the Mona Lisa or this year's blockbuster Vermeer exhibition – but artists like sowsow and Tomokazu Komiya are not names that trip off the tongue for most people.
In a collaboration with The Pokémon Company International, Amsterdam's Van Gogh Museum is showing six images by Pokémon artists in the style of Vincent Van Gogh's most famous works. "He loved the simplicity of Japanese prints," says Chanel Elbertsen, 29 and from Hilversum, who perfectly understands the idea and is admiring the paintings.
"The moment I heard about it, I was like: we have to go on day one!" says her friend Cassia Edwards, 26, from Florida but living in the Netherlands. "That's why we came early. We were one of the first 50, and I got one of the plushes!"
By 9.30 am, when Dutch News is invited to visit, plush toys have apparently sold out of the shop and staff are ruing their failure to get one straight away. One outlet upstairs has run out of bags and another delivery of paraphernalia including children's T-shirts, postcards and notebooks is expected downstairs.
At the temporary exhibition, the crowd of mostly adults is three deep. Some came instantly, alerted by an unconventional launch to 80 influencers, TikTok content makers and Twitch livestreamers on Wednesday evening. Others had tickets by chance and seem enthusiastic about a different interpretation of popular gaming and classic art.
"We have lowered the height of the paintings," press officer Eline van Beek tells Dutch News. "It's to talk to a new target group, principally children, but adults like it too. They are paintings, it is art, and we are presenting it as art."
Cards
Cindy Chan, 26 and visiting from China, had a ticket already but is delighted to see paintings such as Sunflora inspired by Sunflowers, by Tomokazu Komiya. "It is meaningful to compare the famous paintings with Pokémon," she says. "It can let the players of Pokémon know more about Van Gogh."
Revealing some Pokémon cards from her handbag – a gift with a fast food meal – she said that she is a particular fan of the card game, and is hoping to get a special "Pikachu x Van Gogh Museum" promo card for completing a treasure hunt by finding clues throughout the museum.
A long row of kindergarten children has already visited first thing – to the surprise of museum staff, who say they haven't stopped for a minute for three hours. Sven van Zee, five, and from Amsterdam, who has turned up with three-year-old sister Milou and his parents Marlo and Sabrina, is a little overwhelmed.
He says his favourite character is Pikachu – pictured here in the style of Van Gogh's Self-Portrait with Grey Felt Hat. "It's the first time for us even though we live nearby," admits father Marlo. "He got the card, so he is happy."
Cheer
Text on the wall points out that Japanese prints had a profound effect on Van Gogh's artwork, inspiring him to write to his brother Theo in September 1888 that they were a source of joy in his troubles. "We wouldn't be able to study Japanese art, it seems to me, without becoming much happier and more cheerful, and it makes us return to nature, despite our education and our work in a world of convention," he wrote.
The paintings themselves, particularly Corviknight inspired by Wheatfield with Crows, evoke famous works surprisingly accurately – although, close up, the strokes are far more mannered and the colours far less bright than the ones the Dutch artist used.
Behind one painting a pink Post-it note, presumably a hanging guide, is still visible but nobody seems to notice as they crowd in, filling in treasure hunt questionnaires (or cheating and looking at someone else's answers). "I have the idea," says a security guard dryly, "that this is even busier than the Vermeer."
The show runs from 28 September until 7 January 2024 at the Van Gogh Museum in Amsterdam.
Thank you for donating to DutchNews.nl.
We could not provide the Dutch News service, and keep it free of charge, without the generous support of our readers. Your donations allow us to report on issues you tell us matter, and provide you with a summary of the most important Dutch news each day.
Make a donation