Partner content
Home truths to consider if you're planning to upsize or downsize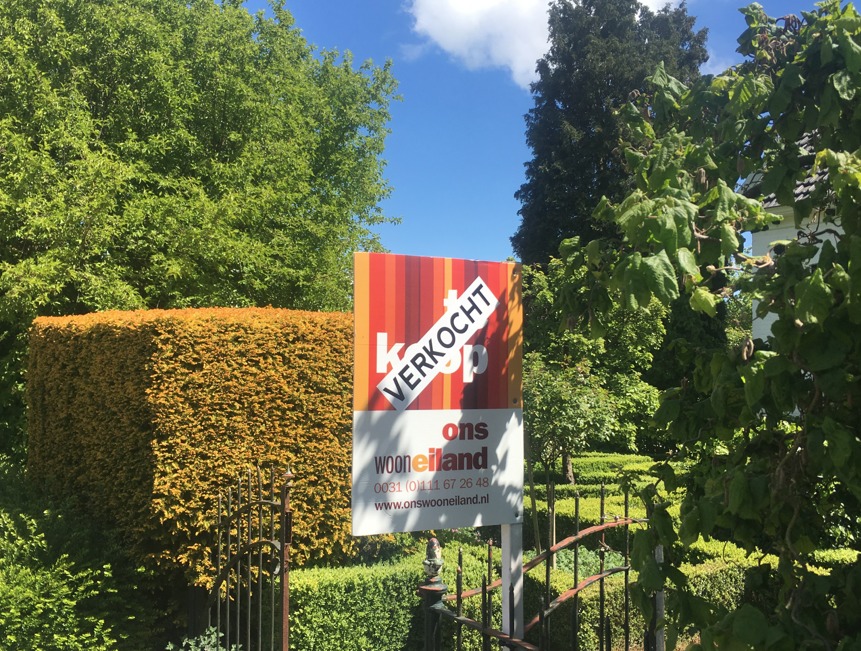 We hear a lot at the moment about first-time buyers in the Netherlands, but what if you already own a home and would like to move to something bigger? Financial advisor José de Boer outlines some key things to consider when looking to upsize, downsize or go sideways.
First of all, as you know, mortgage interest rates are not what they were two or three years ago. If you are a first-time buyer, I would look at which bank suits you best and where you can get the best deal. But if you already own a house and plan to move, I would say you should stick to the bank you are with. This is because if you have a mortgage of say €350,000 and you are moving to a new house for which you need €500,000, you can keep your old lower rate on for at least the € 350.000 part.
Another thing to consider is that you have already used up part of your 30-year mortgage tax deduction when buying your first house. For example, if you bought a property four years ago, sell it, and move to a new home, you will only have 26 years left in which you can deduct the interest payments from tax. And that might have an impact on your personal finances.
Tax deductions
If you keep your current mortgage and increase your borrowing, you will have one mortgage with two parts. The first part is for €350,000, with your original mortgage rate and 26 years left to run. The second part will have a new rate and will run for 30 years. On the new (second) loan part you can have 30 years of tax rebate again.
The situation is different again if you are older and looking to downsize, particularly if you are approaching 60. If you are within 10 years of the Dutch retirement age, which is currently 67, banks suddenly become terribly interested in your pension. What they want to know is, will you still be able to afford your mortgage when you stop working?
Of course, if you are self-employed, the state retirement age does not make much difference to you because you might be planning to stop work sooner or later than the Dutch state pension age. But that does not matter to the banks. You might be self-employed and bringing in €200,000 a year, but the banks will assume that from the age of 67, you are not capable of earning a penny. This, in turn, has an impact on your borrowing capacity.
Downsizing
However, there have been some positive developments and banks are more willing to lend if you are planning to downsize. If your aim is to borrow half the value of the property, then they will allow you to have an interest-only loan in many cases. And this is of course pretty feasible for most people because they will have some equity in their old property anyway.
Bridging loan
However, your bank is not going to consider the entire value of your old property as an advance on the profit you make when you sell your old home when calculating your new mortgage – because you have not sold it yet.
Let's take an example. Supposed you are selling your €400,000 apartment with a €300,000 mortgage, then you have €100,000 equity. But your bank will knock off a fictitious 10% of your asking price to be on the safe side. That means the bank will only take equity of €60,000 into account when working out a new mortgage, not the €100,000 you hope to make. That too will have an effect on how much you can borrow.
Sell or buy first?
Does this mean you should sell first before you buy a new place? I'm afraid there is no good answer to that. If you sell first, the chances are you won't be able to find a new home in time and you risk ending up without a house. But I can also understand if you want to be cautious and sell first, because you might sleep better at night.
All these things, by the way, are factors that make using online mortgage calculators to find out how much you can borrow so difficult. They don't take the nuances of your own situation into account, which is why I prefer not to use them. It's much better to talk to someone face to face and get a proper idea of how much you can borrow and what the implications are of being a homeowner already.
If you would like to more about taking out a mortgage in the Netherlands, please contact José via email or phone 31 (0)20 664 55 78.
Thank you for donating to DutchNews.nl.
We could not provide the Dutch News service, and keep it free of charge, without the generous support of our readers. Your donations allow us to report on issues you tell us matter, and provide you with a summary of the most important Dutch news each day.
Make a donation