The Dutch-Kenyan entrepreneur feeding Africa one fly at a time
Lauren Comiteau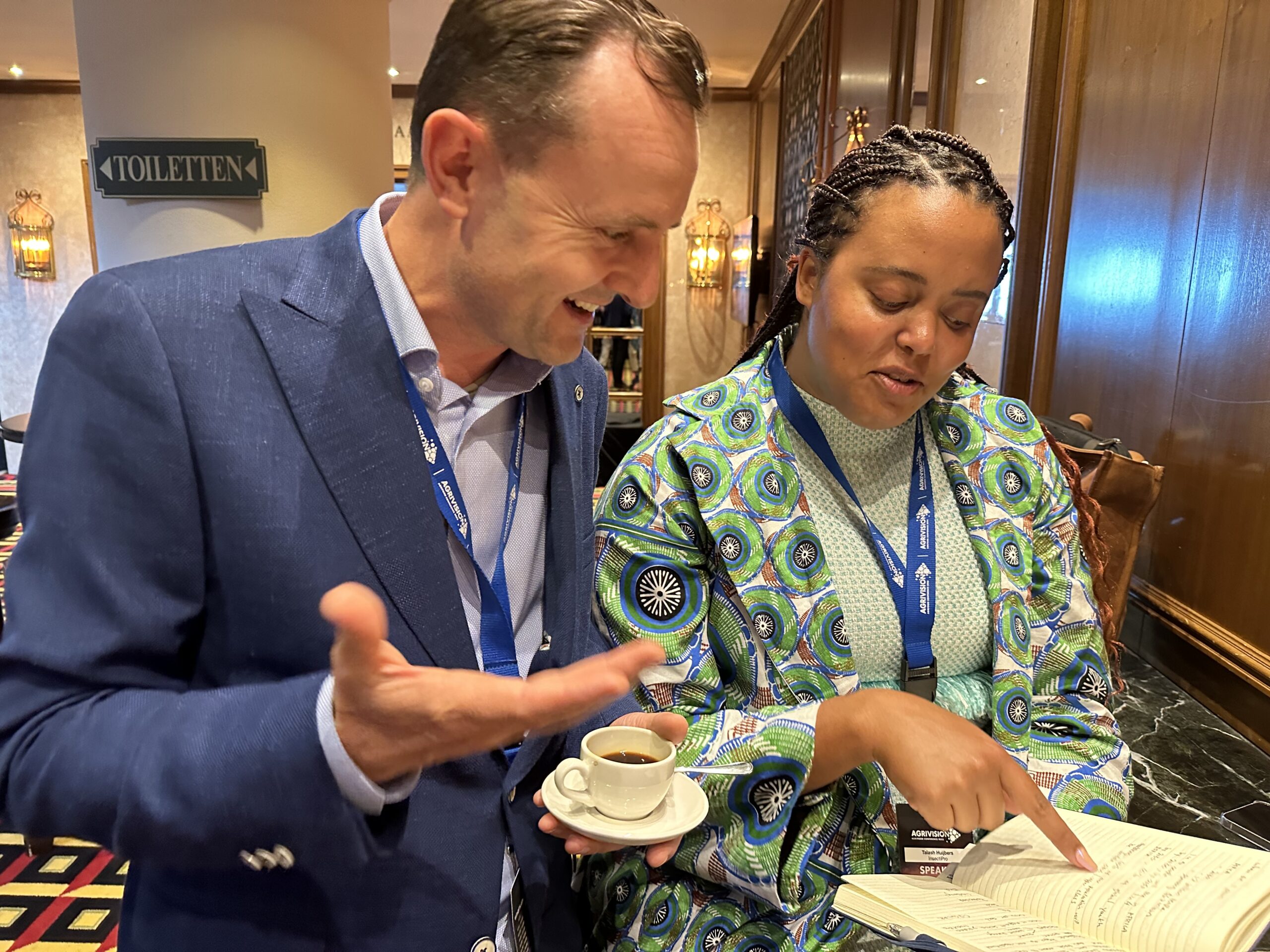 Talash Huijbers doesn't look like a waste collector. She wears her hair in long braids, sports colourful traditional African garb and has bubblegum-pink toenails peeking out of her trendy sandals.
"I know I don't look like a garbage collector, but we are one of the biggest garbage collectors in Nairobi," she says with a smile.
This 27-year-old half-Dutch, half-Kenyan Gen Z-er founded the Kenyan-based InsectiPro in 2018. The company collects organic waste and transforms it into valuable products such as protein, oil and fertiliser—using insects.
Fighting stereotypes is partly what fuels her.
After seeing the iconic 1990s photo of a starving African child with a vulture waiting ominously in the background projected at the AgriVision 2023 conference this week – where agriculture industry executives, policymakers, academics and NGOs are meeting in the seaside resort of Noordwijk to work towards protein security—she revised her presentation.
"If that's the view you're going to maintain about Africa, you're going to miss out on many opportunities," Huijbers says. "And if that's the narrative you're preaching, I will never be taken seriously.
"They will think I came here to look for free grant money. No. We're here to change an entire industry. And we know how to."
And she's already doing it.
Annually, InsectiPro is today producing feed for 9 million chickens, upcycling 120,000 metric tonnes of waste and producing enough compost to fertilise 13,000 acres.
Accidental start
Huijbers studied agriculture at university in Den Bosch. "People always have to eat, so I will always have a day job," she says.
Initially, she wanted to go into fish farming—tilapia is largely imported to Kenya from China—but she soon realised that the major stumbling block to producing fish locally was feed, which accounts for some 70-90% of the cost of production. Raw materials, particularly protein, are expensive.
"Why grow protein at end of the chain when there's a bigger gap in the middle?" she asks. "In 2018, Kenya lacked the raw materials to produce the feed it needed. By making raw materials more available, you can grow more animals and farmers can be more productive."
Enter the Black Soldier Fly (BSF), which she stumbled on by chance. "They're really cool: they eat waste," she explains. "We collect all the trash from different industrial food producers, the insects eat it, and they turn it into high-value protein and very good fertiliser."
The insects themselves become the protein, replacing expensive soy in fish meal and animal feed, while their poop becomes the fertiliser. They have a 10-day harvesting period and take only a month to regenerate, meaning the process can start anew every 30 days.
600 eggs
Every female fly lays 600 eggs. Every gram of eggs is 30,000 new insects. That translates to about 1,000 insects upcycling every ten kilos of waste.
Significantly, the flies are readily available in Kenyan garbage dumps. "They like bad smells," explains Huijbers. "And the flies don't have mouths, so can't sting or transfer diseases. The BSF industry is exploding worldwide."
Huijbers is proud of her work, saying it solves many problems, including Kenya's ample garbage waste. "We're closing the loop instead of just having decomposing garbage. Circularity really exists in this industry.
"It makes me super excited as a Gen Z-er/millennial. We're taking things that didn't have an end destination before and transforming them into useful products for the food system.
"It's a net positive influence instead of a net negative influence. There's so much opportunity to shape this industry, to make it, as one speaker said, restorative, reparative, regenerative."
AgriVision 2023
Huijbers was asked to speak at this conference precisely because of her business acumen. InsectiPro's production has recently tripled, and she now has four manufacturing farms in Kenya. She's received more than $2 million from the Bill & Melinda Gates Foundation.
And the sky seems to be the limit for this first of four children of two successful entrepreneurs. A former pro basketball player in college who recovered from a severe case of Covid, she rightly believes nothing can stop her from helping Africa achieve its potential.
"If Kenya had proper fertiliser application, we could feed ourselves within 10 years," she says.
"There are 1.7 million farmers in Kenya. If we can increase everyone's yield by 20%, we will feed ourselves for the first time ever in our history. Small changes—education—will make a very big different."
Her mixed Dutch-Kenyan heritage is also an asset. "I'm more liberal and direct, which is not very Kenyan," she says. "But I'm also half Maasai, and we don't take shit from anyone.
"I grew up on a farm, so I know where my feed comes from. I'm 27 and I believe in the capability of the world. It's very Gen Z of me. But we can do this if we all band together."
She's partnered with Dutch firm Nutreco, which produces animal nutrition and fish feed, using this future customer's high-tech laboratories for research. But she says Europe's high-tech agriculture production models won't work in Africa. Specifically, the continent's lack of reliable electricity is a huge problem.
"If energy fails, you'll kill everything," she says. "Anything electricity-independent will work very well in Africa.
"We keep everything simple and dumb, as low-tech as possible. You can incorporate AI for prediction models, but in general, let there be roller bands that don't need electricity, let gravity do half the work for you. Semi-automation is where the future lies in Africa."
She optimistically rattles off the statistics of that future: by 2030, there will be 1.7 billion Africans with $6.7 trillion (€6.1 trillion) in spending power. One in five of the world's people will live in Africa by 2030; by 2050, one in four.
"By 2030, 42% of global youth will be in Africa, meaning we will have the biggest workforce and also the biggest spending capacity as a continent. Forty-three percent of the population will be middle class by 2050. So please, unless you're coming to do business with us, leave my continent alone."
Thank you for donating to DutchNews.nl.
We could not provide the Dutch News service, and keep it free of charge, without the generous support of our readers. Your donations allow us to report on issues you tell us matter, and provide you with a summary of the most important Dutch news each day.
Make a donation