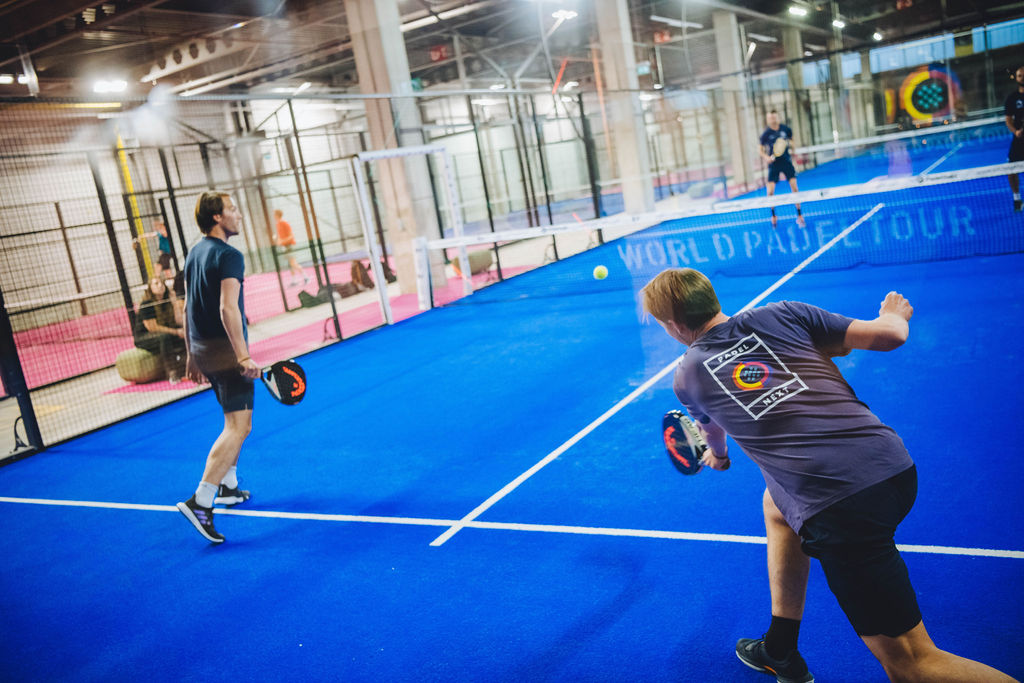 The Netherlands has long been known as a tennis country, but there's a new racquet sport taking centre court: padel.
Said to be the fastest-growing sport in the nation, padel—pronounced paddle in English (from its Spanish roots) but PA-dell in the Netherlands—is a cross between tennis and squash. It's played in doubles on small tennis-like courts with a solid, stringless racquet. It gets its squash-ness from its glass, brick, stone or fenced walls, three of which are in play.
"It's like tennis with walls," says Joaquin Rodriguez, a former junior professional padel player who was ranked number four in his native padel-obsessed Spain as a 16-year-old. He now coaches worldwide, including at Amsterdam's Padel Next courts.
"What I love most about padel is its accessibility," he says. "It's made for everyone, from ages 18 to 82. In tennis, you need power, strength, speed and endurance. But in padel, age and fitness don't matter. Padel is the most inclusive sport in the world. There's no downside."
Upswing
The invention of a wealthy Mexican national who couldn't fit a full-sized tennis court in his Acapulco vacation yard, he built a smaller court surrounded by walls to stave off the frustration of having to constantly retrieve balls.
That was in 1969. The sport gained traction in South America and Spain, where Lionel Messi and Zinedine Zidane have courts in their gardens and where padel is played second only to football. Footballers Zlatan Ibrahimovic and David Beckham, tennis great Andy Murray and NBA star Jimmy Butler are also fans.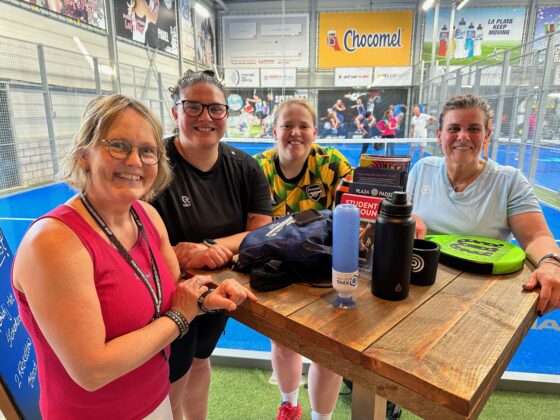 Today, over 25 million people play padel in more than 90 countries, including Argentina, Italy and Sweden. The Dutch Padel Federation was founded in 2011.  But the sport's real boost came during Covid. Like tennis, it met lockdown distant requirements so was allowed. "Covid helped padel in all countries, but especially in the Netherlands, Covid was an accelerator," says Padel Next's manager Jose Vidal. "There was enough distance between players, and because it was two against two, you could see your friends." It was a social sport in times that were anything but.
Indeed, many padel fans love it for just that reason. "You talk, you play, it's very relaxing yet fast-paced," says 21-year-old padel player Sharon, who plays at Plaza Padel in Rijswijk. She teams up with her boyfriend to play against another couple on date night—including former tennis semi-pro Lindsay, 30.
"It's more of a game than tennis," Lindsay says. "It's fun and easy to get into for beginners." Most clubs have bars and many offer tapas in a nod to the sport's Spanish-speaking roots. Some padel enthusiasts have gotten their companies to fund work-wide tournaments.
Jasper, who works at Plaza Padel, has his own theory of why people love the game. He started playing a little over a year ago and says it was love at first sight. "It's easy to become confident playing," he says. "In tennis, you have to train and play so much before you get to a level where it's actually fun to play games. With padel, you play two or three games and it's already fun. I think that's why people love it."
Founder and director of operations at the family-run Padel Next, Friso van den Broek hadn't even heard of padel two years ago. The tennis lover gave it a try and hasn't looked back: He opened the family's 9-court facility in April 2022, the biggest indoor padel space in a city centre, and is looking to branch out.
Van den Broek says following Covid, his business got an additional boost as a pay and play sport, with no membership requirement. The first WPT (World Padel Tour) Amsterdam Open sold out last fall, and growing media attention did the rest.
"We saw a huge increase in new people," says van den Broek. "We exploded in the winter. As an indoor sport in the Netherlands, people wanted to play." Padel Next has seen a 25-30% increase in bookings since it opened. "It's more than a sport. It's like a hobby. It unites people," he says.
"Padel is for everyone"
Some think padel, and the related US phenomenon of pickleball—both sometimes referred to as  tennis' "precocious younger siblings"—could one day replace tennis.
"I'm afraid there are lots of youngsters who play padel immediately without having played tennis," says van den Broek. "I love tennis, but I'm afraid it will happen." For him, padel the game and not just the business is also a family affair: he plays with his 67-year-old father and is teaching his 2-year-old daughter how to play.
But others, like Padel Next's Joaquin, think there's room for all racket sports—both the old and the new. "Tennis culture has been here for a long time, but tennis is not for everyone," he says. "Padel is part of its evolution, like pickleball in the US. Tennis is forever, but padel is for everyone."
For now, it's padel that's front and centre in the Dutch world of racquet sports. The second WPT Amsterdam Open will take place in October. And while it will take some time before padel grows into an  Olympic sport, van den Broek is optimistic. "They're talking about 2032," he says. "I hope so!"
Thank you for donating to DutchNews.nl.
We could not provide the Dutch News service, and keep it free of charge, without the generous support of our readers. Your donations allow us to report on issues you tell us matter, and provide you with a summary of the most important Dutch news each day.
Make a donation