Inburgering with DutchNews.nl: key phrases to use in bars and restaurants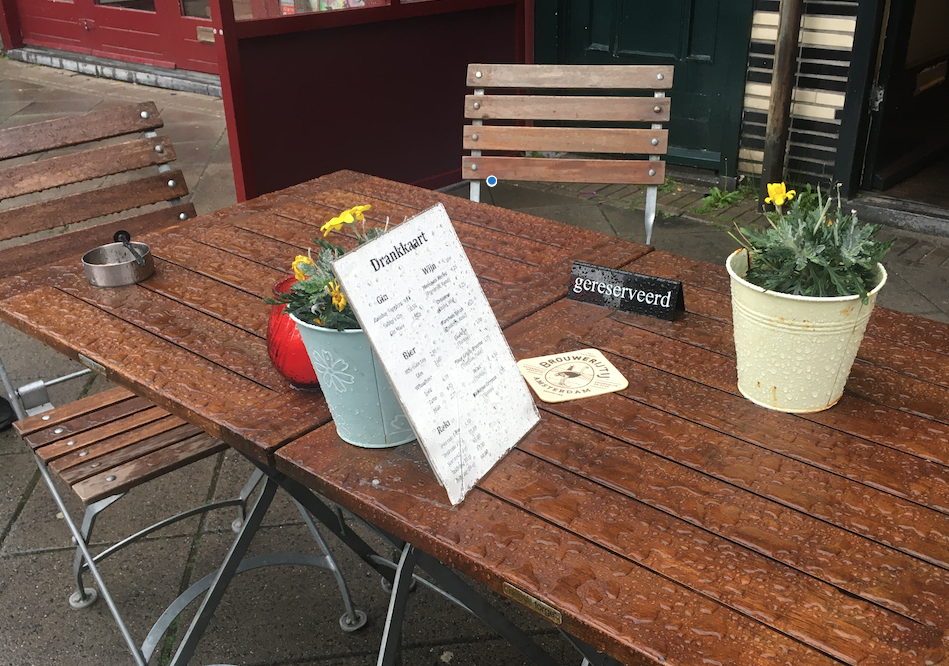 With summer almost up on is, Dutch cafe culture is in full swing. So what better time for the next subject, in the Dutch News inburgering course?

Lesson 36: Bar and restaurant talk
If you work in a bar or restaurant and your Dutch is rudimentary, why not curry favour with your clients by learning a couple of stock phrases that will go down a treat? And who knows, you may even develop a taste for the language.
Goedemorgen/middag/avond (good morning/afternoon/evening) is of course your welcoming intro. Once the (drinks) menu has been perused you open with Heeft u een keus kunnen maken? (have you chosen?) or Wat wilt u drinken? (what will you have to drink?). If this is a bit much to start with you may get away with a friendly and expectant Ja? (yes?) until you master the above.
If your boss has instructed you to ask Wilt u brood? (would you like bread?) then good for him or her because it opens up the possibility of a refusal and a slightly lower bill.
An unsolicited second fork, or tweede vorkje, served with dessert and accompanied with a smile at the female guest (yes, it is always women who forego a sweet, even if she does end up having half the appeltaart) is also a great way of getting into diners' good books and you don't even have to say anything.
After that it should be pretty plain sailing until the meal has been consumed unless there is a fly in the soup in which case you say Het spijt me. Ik roep de manager voor u (I am very sorry, let me call the manager).
Alles naar wens?
The end of the meal comes around and hopefully you have not bothered diners with Alles naar wens? (everything ok?) every five minutes because most people find this extremely annoying, which will be reflected in your tip.
It will also prevent unnecessary conversations featuring terms such as taai (tough), rauw (undercooked) and flauw (flavourless) which you may be unfamiliar with.
Another one to avoid is Heeft het gesmaakt? (did it taste nice?) because your guests may gather up the courage to say 'not really'.
Hartelijk dank en tot ziens (thank you and please come again) is the only thing required from you at this point, as you pocket a hopefully sizeable tip and a compliment on your Dutch.
Bar talk
If you serve behind a bar in a pub it is useful to have the Dutch names of the various bar snacks at your fingertips – if you work in the sort of place that serves ossenworst or kaasblokjes, that is. 

It also pays to know about beer measures. There is the vaasje (also an emmer, or bucket), a vase shaped glass which contains 23 cl, 25 cl, 30 cl or 33 cl of beer, or a fluitje (flute, a straight and narrow glass) which typically contains 25cl. Specialty beers all seem to have special glasses so are best avoided by beginners.
If you are using a kelkje (a tiny jenever glass) chances are you are dealing with an elderly gent or someone who ordered a kopstoot (literally a punch in the head) in which case it comes accompanied by a beer.
The Dutch also say gintonic not gin and tonic, like the English. Expect plenty of ice, cucumber, basil and goodness knows what else with it as well.
Thank you for donating to DutchNews.nl.
We could not provide the Dutch News service, and keep it free of charge, without the generous support of our readers. Your donations allow us to report on issues you tell us matter, and provide you with a summary of the most important Dutch news each day.
Make a donation