American football in the Netherlands: it's not just for men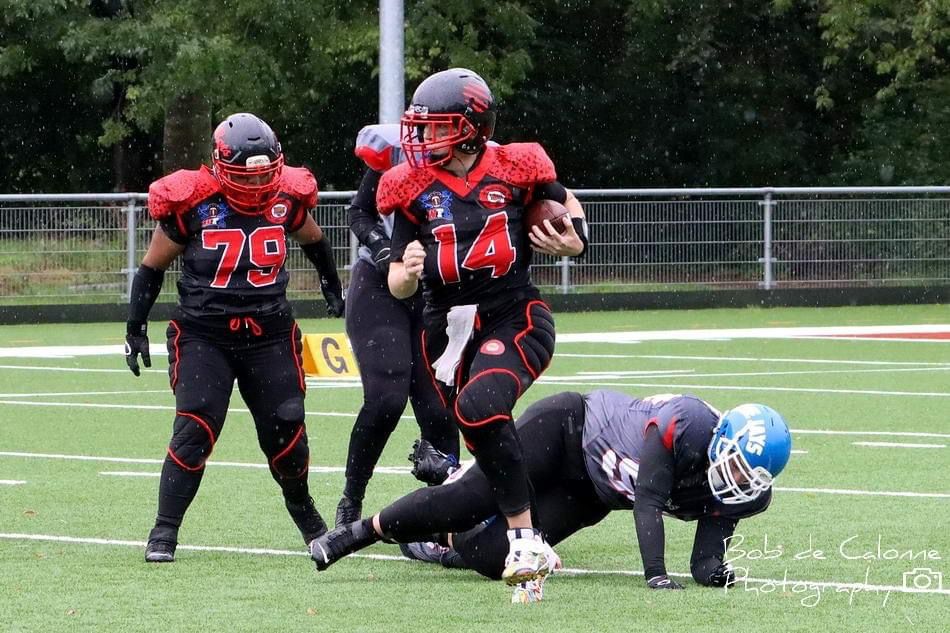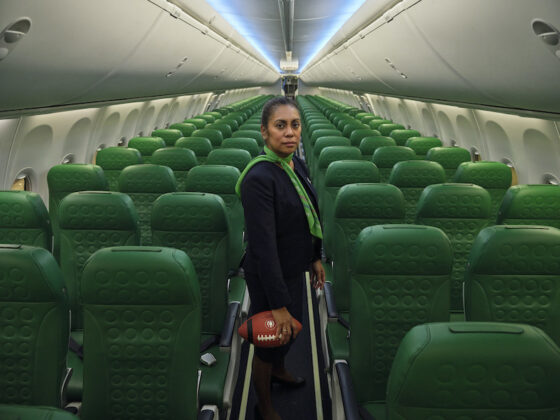 The Super Bowl takes place Sunday in the US state of Arizona. The crown jewel of the NFL season, it's expected to garner some 193 million US viewers in a sport known for its military-like precision, uber-muscled players and violence—the ultimate male sport. But here in the Netherlands, there's an amateur American football league—for women. Lauren Comiteau met up with two players from the Amsterdam Cats.

Rufina Michels-Mastail has been a flight attendant for the Dutch airline Transavia for the past 17 years. But when she's back on the ground, she takes to the field—the American football field to be precise. 'I'm a quarterback and a defensive cornerback,' says the diminutive 5'4" (164 m) Rufina, sitting alongside friend and teammate Dominique Sjerps, an art student in Zwolle.

These two Amsterdam Cats players love American football, making them a minority in a country where soccer reigns supreme—for both men and women. But four years ago, having  just delivered her second son at the age of 38, Rufina was looking for a way to get back into shape. She joined a friend at an Amsterdam Cats' practice and says she likes what she saw.

'It was a bit of a challenge because I have never played a team sport,' says Rufina, who admits she's not very athletic. 'But seeing this group of women during practice, I thought I can do this. You can have any type of body, be any age or ethnicity and play this game and be essential for the team. To see that and work out? This is what I like about the sport. Everybody can join at any moment of their life.'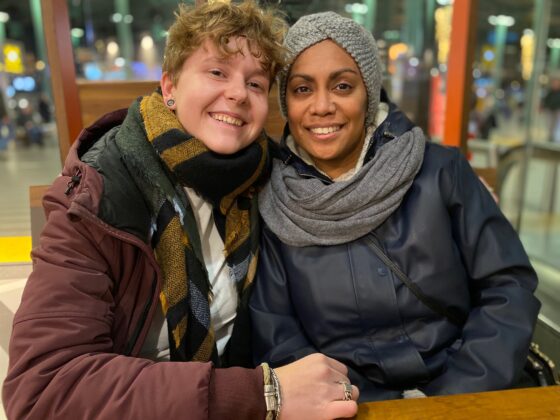 That's a far cry from the NFL. But in this amateur league where players pay to play, it's all about the love of the game. And camaraderie. 'It's really a team, but also a family,' adds Dominique. 'One year ago, I had knee surgery, and there was a family around me that wanted to help me get back on the field. If you want to play better, you need each other on the field in the best shape. So even our competitors want to help us get stronger so they can also get stronger. That's what I like about it.'
Growing pains
The Dutch women's league has not been without growing pains. Founded as the Queens Football League in 2017, last year it was reorganised into the nonprofit Women's Football League (WFL) after its founder shut it down. There are six teams—including the Rotterdam Ravens, the Zwolle Blue Jays and the Utrecht Dominators—who also compete internationally with European leagues in Germany, France, Sweden and other countries.
But injuries have meant forfeited games due to a lack of players, making them few and far between. 'Two of our four games were cancelled this year,' rues Dominique, who ran for a touchdown in the team's only win during the 2022 finals in Sweden. 'We mostly play scrimmages against ourselves, which is never like a game. So, it's been anti-climactic.'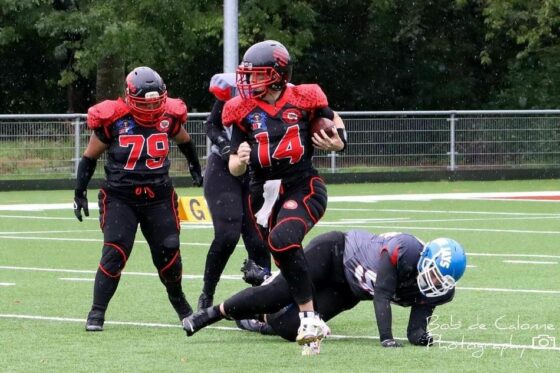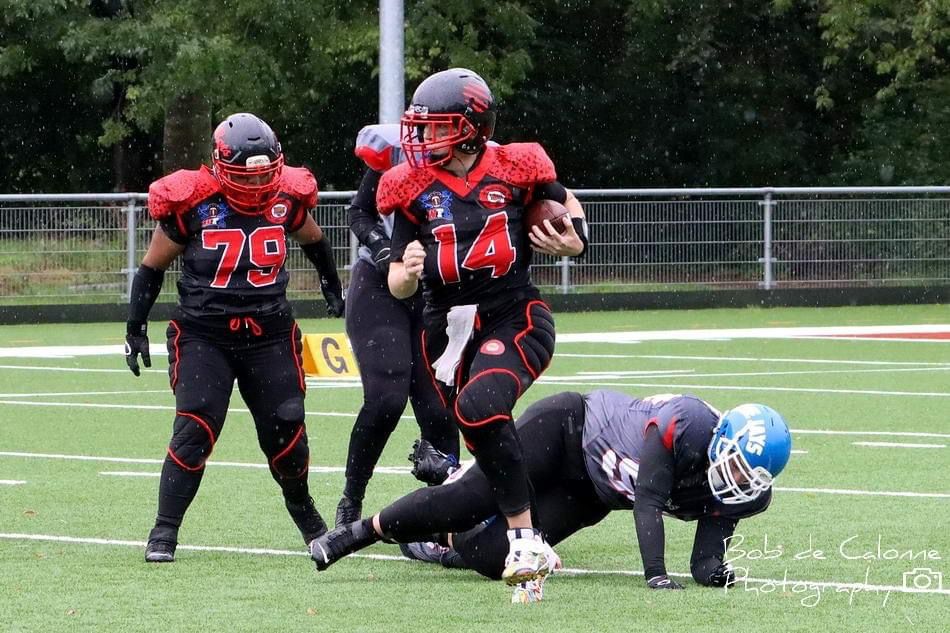 They hope that changes next season, which starts at the end of summer.
A Family Affair
Rufina says her husband is supportive of her unorthodox sports choice. 'My husband thinks I'm crazy, but he supports me all the way because he sees I have a lot of fun and get my energy out and it's something I do for me,' she says. 'On the field and during practice, I'm not the mom, I'm not the wife. I'm just this silly little girl doing what she loves.'
He also brings her two young sons to most games, where Rufina can hear them cheer her on from the sidelines. 'I can hear them all the time saying: "Go, mommy!" They like to brag that their mom tackles everyone. They think people should be scared of me. I threaten them when they aren't good. "You want mommy to tackle you?" No, we're good!'
Dominique also has her family's support, even though they don't understand how she plays a game that left her with a torn ACL. She had never even seen a football game—let alone thrown a ball—before a Facebook ad led her to try out for the league. Four years later, she's the quarterback for the Amsterdam Cats. Her girlfriend also initially scoffed at the game's violence, but after a few months of accompanying Dominque to the training field, she changed her mind.
'She's also playing now,' says Dominique. 'She's my left guard!'
Stigma
Dominique says she loves the challenge of a game where her strength and competitiveness are assets. Still, she says there were stigmas to overcome. 'People think you're girls. And I show them pictures of girls who can be girly with dresses and long hair, but when they put on their gear, they're not so girly anymore.'
'I'm not that girly,' Rufina chimes in. 'I grew up with three brothers, so I had to man up, step up my game. It's nothing new to me.'
She uses her skills from the air on the field. 'I'm the most senior flight attendant,' says Rufina. 'I'm not a natural leader, but that's good to have as a quarterback, because you have to lead your offense and keep everyone sharp. That's the one thing that's the same.'
Looking to the future, both Dominique and Rufina would like to see the NFL promote women's football worldwide. As for Super Bowl Sunday, Dominique, who wants to become the best quarterback in the league one day, will be rooting for her team—the Philadelphia Eagles. Atlanta Falcons fan Rufina says that, like Tom Brady, she wants to keep playing until she's 45-years-old.
Thank you for donating to DutchNews.nl.
We could not provide the Dutch News service, and keep it free of charge, without the generous support of our readers. Your donations allow us to report on issues you tell us matter, and provide you with a summary of the most important Dutch news each day.
Make a donation