'Since I left my home country, I have got to know it.'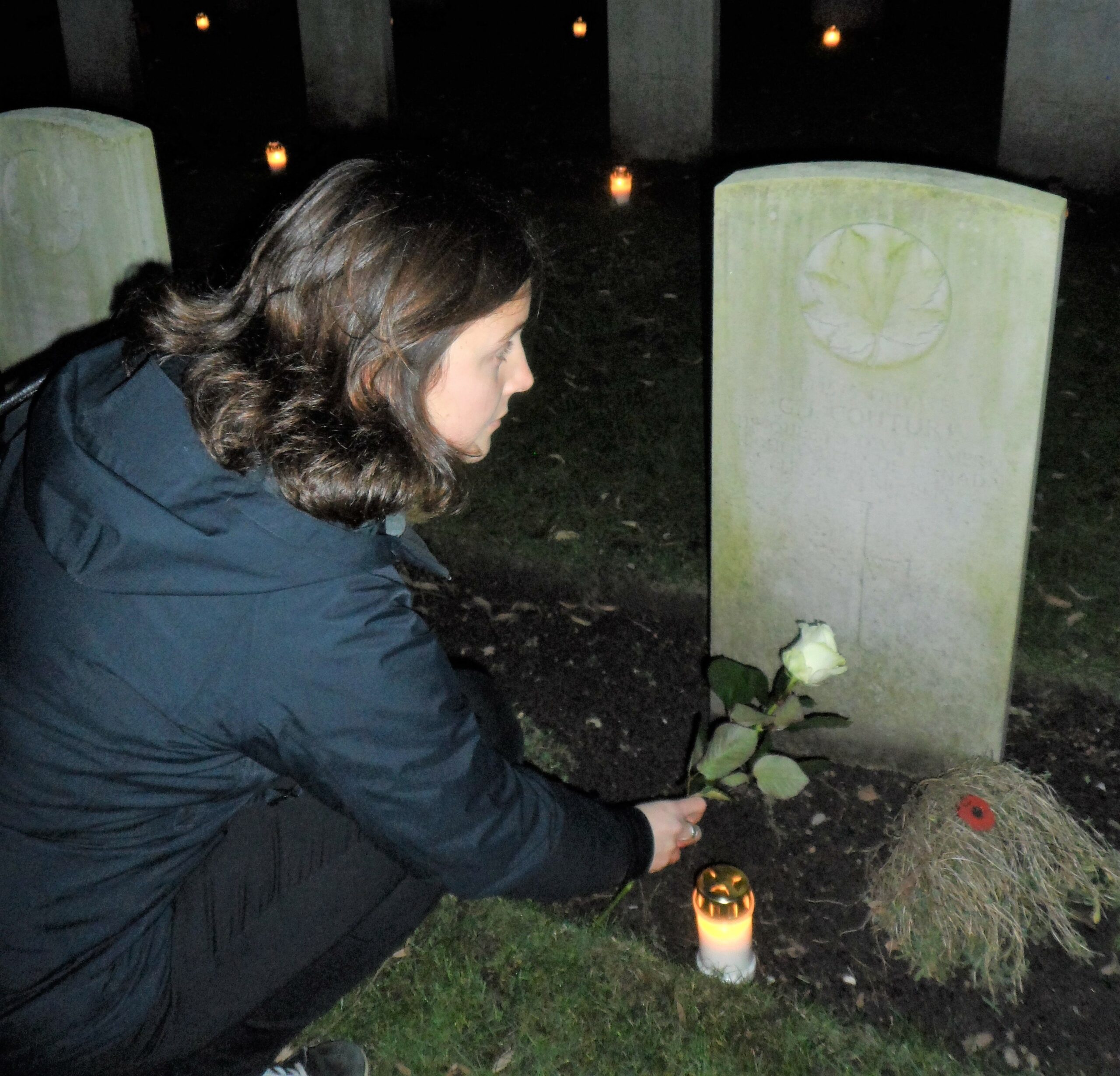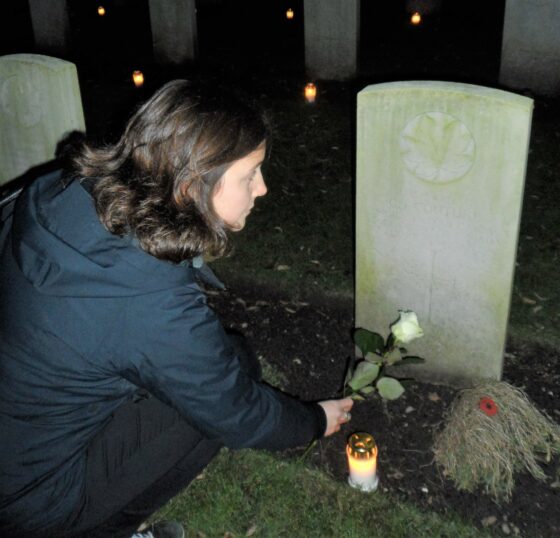 For French-Canadian Julie Couture (41), project coordinator at Amsterdam's Anne Frank House, it took a move thousands of miles away from her family in Québec to rediscover the history of her people and their special connection with the Netherlands. 
How did you end up in the Netherlands?
I met a Dutchman in Spain in 2005 when I was there travelling with my sister. She just had a relationship which had broken down and she did not want to spend Christmas with the family and answer questions about it, so I thought let's go to Spain for a trip together. On the last evening of this trip, I met this Dutch man, and we continued mailing each other after I went back to Canada.
When I finished my studies, I wanted to travel to Europe and he said come to me and we can travel together. When I arrived at the train station, he wasn't on the platform waiting for me, so I thought uh-oh. But then I saw him running with flowers in his hands and I thought, thank God he's there, everything is OK. I took a one-year open ticket, not knowing exactly what was going to happen, and I've been here now for 17 years with him!
How do you describe yourself – an expat, lovepat, immigrant, international etc – and why?
I suppose we could say I am a lovepat, but I see myself more as an immigrant. I explicitly say that I'm an immigrant because, from where I am from, we see immigrants really negatively, I think. I like to say that I am an immigrant because being an immigrant is rich because you get to experience two cultures, you learn two languages, you have lived in two different countries, so I think immigrants should be proud.
How long do you plan to stay and why?
I always say you never know what life will bring you, and I learnt that because I never thought that I would leave Québec city. I really though that this was my city. Now I'm happy in the Netherlands, but I'm open to what can happen later on.
Since I left my home country, I have got to know it. When I was living in Canada, I'd just been to Québec and maybe New Brunswick, and that was it. But since I've been here, working at the Anne Frank House and running their travelling exhibition in Canada, I've been everywhere, from Whitehorse (Yukon) to Vancouver. I've even been to Iqaluit with the Inuit, where the exhibition was translated into Inuktitut, their language. We have two exhibitions running now, one in Stratford (Ontario) and one in Thompson (Manitoba).
I studied history and I did not know about this connection Canada has with the Netherlands. When you come here, you quickly know because people mention that Canada liberated the Netherlands. In every city I have been in Canada, I have always met Dutch people. For some of them, they told me they saw the Canadian [soldiers] coming, walking through and liberating them, and they felt that Europe had nothing to bring them any more – only suffering and bad memories. They'd heard about this large country and, because of the liberators, they thought let's go to Canada.
Do you speak Dutch and how did you learn?
Yes, I speak Dutch. I learnt it first with lessons with a book. I did a lesson a day. And also with a CD-ROM – that's how old I am! And then I did a course that I paid for at the University of Amsterdam and I did free courses that the Amsterdam municipality was giving to people coming. I'm still learning. I haven't mastered it 100%. My boyfriend is still correcting me now and then, but I can express myself totally in this language, which I never thought would happen because I thought it was a difficult language. I even thought it was ugly, but now I like and appreciate it, and I'm using it quite often at my work and of course at home too.
What's your favourite Dutch thing (think cheese, a bike, an umbrella) and why?
Schiphol. I love this airport. As an immigrant, there's always a visit to two airports before you can see your boyfriend, or your family… Every time I go there it's almost like a second home. I have to travel often for my work as well, so I've been there quite often and I have my little routine there. I always go and buy a book, and there's a feeling when I'm there that is really reassuring. Every time I take off or I land there, I feel something. I'm always coming 'home' – to Amsterdam, or to my family in Canada. I know that there are some issues with Schiphol, I'm not talking about that, but for me it's always my first stop before I can reach my family or see my boyfriend again after a long trip abroad.
How Dutch have you become and why?
I don't think I have really become Dutch and I don't know if I ever will. I really feel like a Canadian living in the Netherlands, but still I'm trying to integrate into the society in which I live. I do answer the phone 'with Julie', which they do, which I find really strange. And I'm Dutch in the way that I congratulate not only the person who has a birthday, but the people around them, their family. I'm also Dutch in that I now find 50 minutes in the train really long, which, if you're Canadian, is nothing!
Which three Dutch people (dead or alive) would you most like to meet and why?
My first person is Ramses Schaffy. He was a singer. He was born in Paris. I met him, so I had the opportunity to get to know him, but he died in 2009. I would have loved to have discussions with him again. I have a strong connection to him because I learned Dutch through his songs and my boyfriend is a singer and he's doing a show about him. I would loved him to have stayed around a bit longer.
The second one is Victor Kugler, one of the four helpers that helped the Frank family to go into hiding. He moved to Canada after the war and we really don't know a lot about his life in Canada. I've been to his grave in Toronto and I've met people that live in his house. I'd love to be able to speak with him and hear how it was to help the people in hiding. He never told his wife that he was helping Jews. I found in the archives that he received letters from people that deny the holocaust, saying how dare you spread this story here. So I'm always curious about how far he had to fight against those people and what his life was like in Canada.
The third one is Mata Hari, the exotic dancer and convicted spy. I would have loved to have met her because her story has become a legend. We don't know exactly where she spied, where she was hired to spy – from the Germans and then the French… At the end she was executed at exactly 41 years old, which I am now. And she always claimed she was not a spy. I think what happened to her is a little bit of a mirror to how we dealt with women. She was so free that we couldn't put her in a box, which made people think she was dangerous in a way.
What's your top tourist tip?
I live in Amsterdam, so my tip would be to experience the canals in different ways, because they are really a part of the life of the city. If it's winter, you have to cross your fingers and hope that it will freeze so you can skate on the canals, because this is really something wonderful to do. And if it's in the summer, then you just sit on a bench and look at the boats passing by or you take a boat yourself, because I think that it's wonderful to experience the city from its canals. Or just walk along the canals. I do that often on my way to work. It's so peaceful.
Tell us something surprising you've found out about the Netherlands
This is something else to do with the link with Canada. I have listed more than 385 monuments, plaques, and cemeteries that are dedicated to the Canadians here in the Netherlands. This country's pretty small if you compare it to Canada, but there are 385 monuments and some of them are really beautiful, with ornamental maple leaves. I have one here nearby where I live in Amsterdam that says 'to our Canadians'. Not to the Canadians, but to our Canadians. There's this feeling of being really connected.
There are three Canadian war cemeteries. I was in front of a grave once for a Couture like me. I was thinking that I'm maybe the first Couture to stand there, because in that time you could not really take a trip to Europe to see a family member who is buried here. So for a lot of Canadians, they have a strong connection with the Netherlands because their family member is buried here.
It's incredible how strong the connection for those families is, and also for the Dutch, being liberated from five years of war by, among others, those Canadian soldiers. You still see how grateful the Dutch are because you see all those monuments. There's a cemetery in Holten (Overjssel) where, every 24th December, students go and put a candle on each grave. I've been one time to experience that and it's amazing. It's still playing a big role 75 years after the liberation.
If you had just 24 hours left in the Netherlands, what would you do?
I would do a canal boat trip. I know it's a really touristic thing to do, but still, to experience the canals, be on the canals, and look at the city from this other perspective, I think it's wonderful. I would walk along the canals, or sit on a bench in summer with nice food and look and listen to the boats − some have music, some don't − or rent a boat and discover the canals for myself. I have experienced so much here and to leave that behind and not have this landscape, these canals next to me, would bring me some sadness.
Julie was talking to Deborah Nicholls-Lee
Thank you for donating to DutchNews.nl.
We could not provide the Dutch News service, and keep it free of charge, without the generous support of our readers. Your donations allow us to report on issues you tell us matter, and provide you with a summary of the most important Dutch news each day.
Make a donation