'I've got all of Europe at my doorstep here, and I'm ready to roar'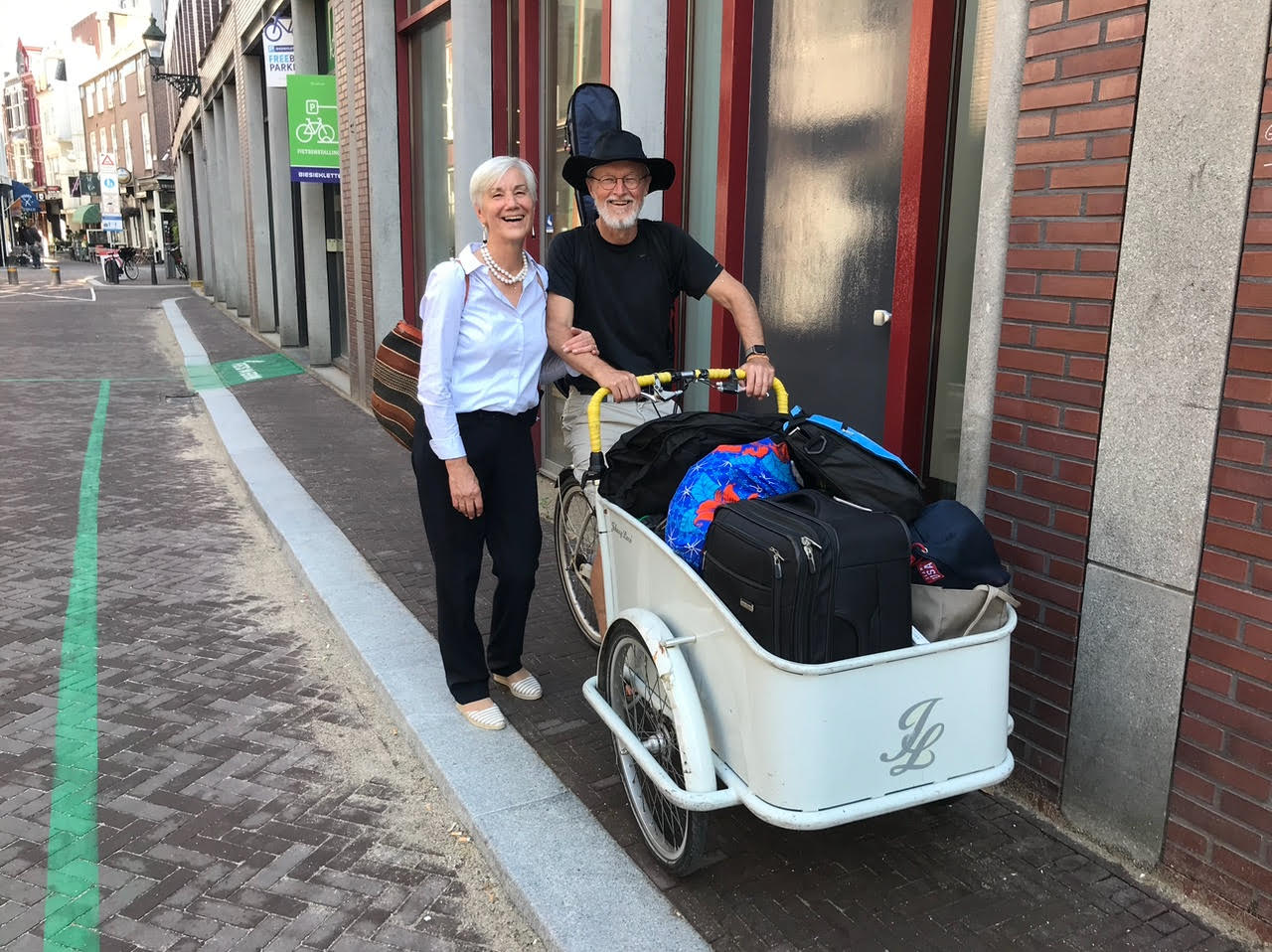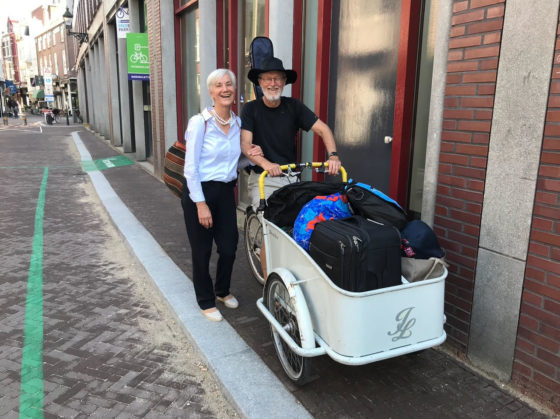 Stephen Judd grew up in Winnipeg and met his future wife while volunteering in East Africa. Nearing retirement years later in America, they became frustrated with its turbulent political scene. They, literally, set sail for the Netherlands the day after Donald Trump became the US president.
How did you end up in the Netherlands?
It's a long story. It begins with my mission from Canada to East Africa where I met a Dutch woman who was, like me, doing volunteer work. We later got married and moved to Canada. Then, in 1983, I decided to return to grad school and we relocated to Massachusetts. Some 33 years later, we were still in the US and we'd had two careers and raised three children. We thought we were well established, but then Mr. Trump came along.
We were suddenly dislocated. We felt like we no longer understood the country we were living in and the president had, absurdly, asked all immigrants to leave. Although we had become Americans, we felt very alienated from that whole scene of bile. We still had our original passports, so we had a choice to make. We could have gone back to Canada or come to Holland.
We owned a sailing boat, coincidentally, at the time of the election. We had sold our house and planned to spend our retirement on the boat. The day after Trump's inauguration day, we left US waters and ended up spending years in the Caribbean. When Covid disrupted that, we decided to move here. Life is nicer now.
How do you describe yourself – an expat, lovepat, immigrant, international?
I have a couple of projects here. You could view them as inventions or startups. When I'm bubbling in that mode, I feel like an international. At other times when I'm not working, I feel like more of a traveller. I once spent a lot of time travelling through South and Central America, Africa, and the Caribbean. I love travelling.
To be here in Holland, it feels like an extension of that. It's great. I've got all of Europe at my doorstep and I'm ready to roar. [laughs] So I think of myself as an international and a traveller but, when I'm feeling down, I feel like an exile. When I'm reading political news, I'm shoved into this mode of feeling like a dislocated person in a breaking world.
How long do you plan to stay?
Well, we finally bought a place here in The Hague that we love. Honestly, I think we're going to stay until the end. If my wife dies before me, I'll have to rethink that, but we're staying here.
Do you speak Dutch and how did you learn?
Ik ben Nederlands aan het leren. So, no, but I'm at about A1 level. I'm going this afternoon, in just a couple of hours, for an appointment to learn more about a Dutch language course. So I'm trying. I've been doing Duolingo for about a year, but now I think I need something more intense.
Duolingo has been a lot of fun. It's taught me a lot about both Dutch and, surprisingly, English, too. I've been reminded of a lot of English grammar and idioms. It's been a linguistic journey and one I'm quite enjoying. Learning the language is deep, satisfying travel.
What's your favourite Dutch thing?
I first came over here in my teens and I had a little taste of this place. I think that the essential description for Dutch is 'civilisation.' This country is just so well organised and socially coherent. It's just so civilised and it feels great just being here.
The trains and the trams are beautifully put together and they operate so well. You can see the cooperative nature of the Netherlands in how well the rules are put together and that people follow them. The infrastructure is well organised, and I see lots of activity trying to make it more so.
How Dutch have you become?
My wife has family here and we go to Dutch homes and birthday parties a few times a year. I feel like I have a place here, but I won't really feel Dutch until I get a good handle on the language. I can go into a hardware store now and speak Dutch well enough to ask for things, but I want to be able to visit a bar and carry on a conversation for hours. I'll really get a kick out of it. Having to relapse into English is a drag. 
Which three Dutch people (dead or alive) would you most like to meet?
 Rembrandt. The astonishing thing that I remember from my early trip here was the art. I would want to soak up what he and the Dutch artists who followed him were doing. How did they get so fabulous and why has that Golden Age gone away? What did they know back then that was so prolific and so gorgeous that seems to have lapsed now?
I would want to ask Rembrandt about the personalities in The Night Watch. Every one of the faces in that painting is a study of personality. You can stare at any one of them and read something about their conceits, accomplishments, social position, age, life history, and defeats. It's so wonderful to see this subtlety. I'd want to ask the guy who painted it, 'How did you come to learn all this? How did you get to be such a psychologist and where did you get the insight to see all these people like this?' I don't think even a camera can capture personalities as well as Rembrandt did. He's just astonishing.
Vincent van Gogh. He was clearly a creative guy who went on a wild journey. He left centuries of conventions behind him and wandered off into a new space. I'd want to take him out for a beer and speak to him gently. [laughs] He was a bit of a different and delicate guy.
Johannes Vermeer. He had a glow to his light, a glow that he put in the skin of the faces he painted. There were soft edges around everything. They don't look like photogenic blurs; it's more like they're personhood blurs. They're statements that a person doesn't end at the edge of the skin. It's an astonishing thing. There's a luminescence that carries on around them. Woo, how did he do that? How did he think of that?
Woo, how did he do that? How did he think of that? So I'd want to ask all three of them these kinds of questions, but I don't know if they'd be able to answer them. Nevertheless, I'd get to witness their struggle. Struggle is life.
What's your top tourist tip?
I think tourists should head out to walk through the streets of The Hague. There's the Vredespaleis and the many little old brick-paved streets. There's the curvy lanes with bars and terrasjes and winkels coming out of everywhere. Also: the hugest thing is PEOPLE! Pedestrians and fietsers and PEOPLE, not cars, on the streets.
If they're going to Amsterdam, I often tell them to ask the locals which way the IJ river runs. Does the water go into or out of the grachten [canals]? They should see if they can figure it out and if the locals actually know. The thing is that they don't. Sometimes it's moving, but it's difficult to tell if that's just the wind.
I think they often turn the pumps off. The water often looks very still, but on average it must be moving. Otherwise, it would be full of gunk and it would stink. It's all getting emptied somehow, but none of the locals know which way it goes or why. That's an entree into the water system that is so complicated and so interconnected. You'd need a whole PhD to understand how this country drains its land.
Tell us something surprising you've found out about the Netherlands.
As I said, I love the trains and how beautifully they operate. What I find surprising though is how often the trains do *not* run and how many disruptions there are and how many breaks there are in the services. When the trains don't run, they handle that beautifully.
I used to commute into Philadelphia on the trains over there. When something went wrong, not only would the trains collapse, the information system around them would collapse. But here it doesn't. When the trains break, the information system is right there. It says, 'Okay, this is broken, you've got to take this train over there or that bus or something else.' There's a backup informatics system that's available to cover the situation.
The engineering is all there, but still there's a whole lot of disruptions for whatever reason. I wouldn't have expected for things to go wrong so often, but I guess that's reality. It's a big, complicated system with a lot of rails and switches and devices and signals and whatnot. It's all spread across a big piece of land so stuff is bound to go wrong. Hence, if you're going somewhere, you've got to scope it out a few hours ahead of time and make sure your train will get you there on time.
If you had just 24 hours left in the Netherlands, what would you do?
One of the brightest little spots of my life here in The Hague is that I stumbled onto the Dutch Language Cafe. It's a bunch of people who get together to speak Dutch. There's no instruction. It's just an opportunity to talk to others. There's a few native speakers among us, but most of us are from hither and yon and all over the world. If you were to ask 20 of us where we're from, you'd get 17 different countries.
So I would go down there and say goodbye to everyone and wish them well. I would jabber in my primitive Dutch and have a good time. Then, on the way home, I would stop at Hop & Stork and have a last fabulous hot chocolate. 
Stephen Judd was talking to Brandon Hartley.
Thank you for donating to DutchNews.nl.
We could not provide the Dutch News service, and keep it free of charge, without the generous support of our readers. Your donations allow us to report on issues you tell us matter, and provide you with a summary of the most important Dutch news each day.
Make a donation