Inflation: The poulterer, the fishmonger and the cheesemaker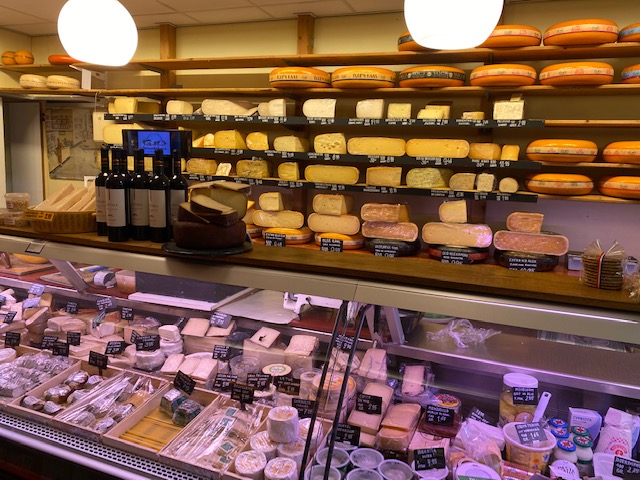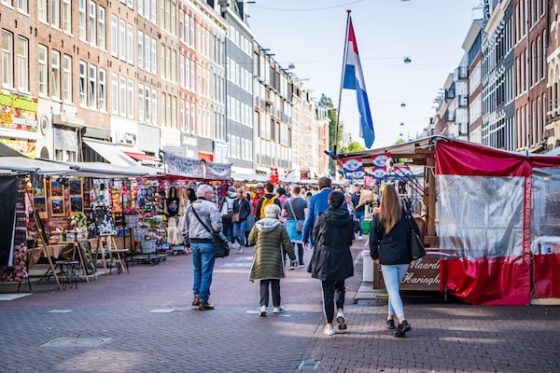 We've all been reading about inflation. Lauren Comiteau, shocked by the huge increase in her daily shopping price in the small Amsterdam shops and markets she frequents, went in search of the reasons why.
I recently went to Tjin's International Foodstore in de Pijp to stock up on some pantry staples. I found myself in the midst of a pricing problem. Namely, nothing I picked up had a price on it. 'Tell me about it,' the worker said when I asked. 'We are changing the prices daily.'
Seriously? Daily price increases? In the Netherlands?
Then it was onto my Asian grocer. We don't share any common language. But when I notice that my bottle of sake has gone from €8 to €8.50, he makes a sweeping gesture taking in all of the store's contents and motions upwards. The universal sign language for price increases.
By the time I get to Chris Kip in the Albert Cuyp Market, I'm shaky. I have noticed that my whole chickens have gone from €8 per pullet to €13 in a very short time. The picture for owner Babak Sadeghi is even grimmer. He's in the midst of a perfect inflationary storm.
'Prices have risen 200% in the past three months and they're still rising. It's terrible,' he tells me. He raises his prices weekly, to the point where his newest employees don't even know how much things cost.
'I can see my customer's reactions. But at this moment my suppliers change their prices every week. One time it's because of bird flu, then it's because of the war, because of transportation, because of gas and electricity. This is not a nice time.'
Millions of chickens and ducks have been culled across France and the Netherlands—where Sadeghi gets his poultry—due to bird flu, squeezing supply. What remains is transported by ever-increasingly costly diesel-fuelled trucks. The grain used as chicken feed often comes from Ukraine, which even if available, has drastically increased in price. Sadeghi has worked this stall in Amsterdam's Albert Cuyp market for 25 years. He says he's never seen anything like this.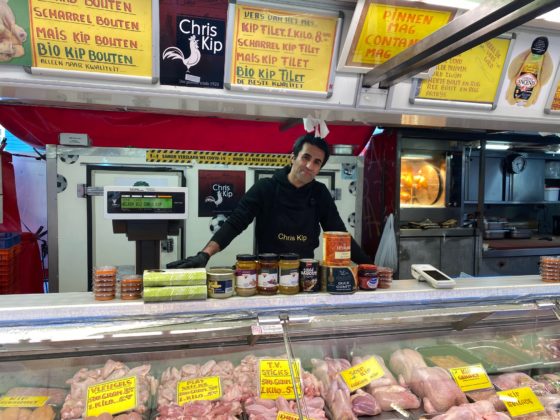 'Look at this,' he says, pointing to a chicken sandwich. 'We serve it with seasoning and plastic knives and paper bags. The paper cartons we use as dishes have gone up 250% since May. I buy them at the big wholesalers—also the sauces on table, the drinks, the bread—and these same exact articles were €400 more expensive this week then last, when I paid €800. Now it's €1,200 for exactly the same thing!
Sadeghi says he has no choice but to pass at least some of that cost onto his customers, who he's noticed have changed their buying habits. Some of his regulars are buying chicken by the piece instead of by the kilo. And they're buying legs and thighs instead of breasts—'anything with a bone', he says.
The numbers
According to national statistics office CBS inflation reached 14.3% in October. Higher prices for food have 'had an upward effect' on inflation, with food now 14% more expensive than the same time last year and up from 12.8% in September. 'Inflation is currently at a historically high level,' says CBS, largely due to sharply increasing energy prices.
The Dutch rate of inflation is currently one of the highest in the eurozone.  'It is unseen,' says Tilburg University finance professor Harald Benink. 'In most countries, you have to go back to the 1970s, when inflation was exploding because of the 1973 energy crisis—when OPEC decreased supplies and prices increased following the Yom Kippur War.' Inflation in the 1970s, he says, was about 10%.
With war once again driving up energy prices, inflation, says Benink, is also increasing rapidly. 'It's a global phenomenon, but Europe has been especially hard hit because of our huge dependence on Russian gas,' he says.
'And in the Netherlands, particularly, we've also been dependent on cheap gas from Groningen since the 1960s. Now we're on track for completely shutting down the Groningen gas fields just when there's a huge shortage in Europe.'
'The price of basic products like rice, milk, butter and coffee has risen an average of 21%,' says Babs van der Staak, spokeswomen for Dutch consumer organisation Consumentenbond. 'In particular, products containing wheat, fresh vegetables and fresh meat products have become more expensive. The price of  sunflower oil, for example, increased 135%, and chicken breast and minced beef  62% and 58% respectively.
The cheesemaker
Leon van Nes, owner of the family-run cheese shop 't Kaasboertjein de Pijp, says his prices have increased 30% since February. 'Cheese is very expensive for us, but for the customers, it's still reasonable,' he says.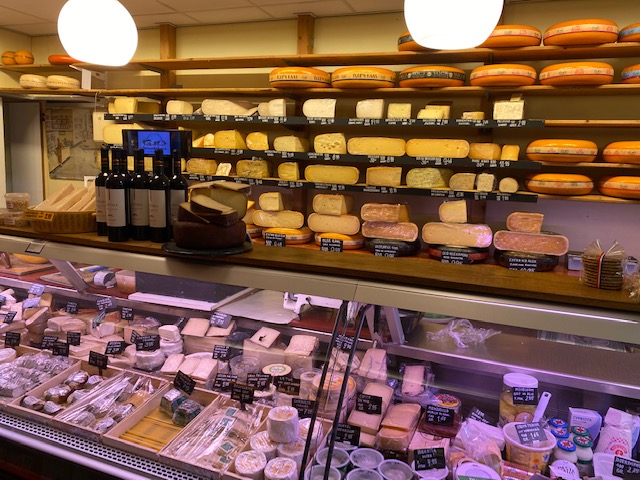 Van Nes has only increased his prices by 10%, preferring to lower his profits than burden his already over-taxed and loyal customers. 'But for us, it's not normal. I've been here for 40 years and have never seen anything like this. Usually, we get a 2-3% increase once or twice a year. This year, for the past eight months, prices are 4-5% higher each month and not one month has it been lower.'
The fishmonger
Henk Schilder, owner of Vishandel Siem Schilder & Zonen, a bit further down the Albert Cuyp Market from Chris Kip, has a similar story. His business is being buffeted on all sides: hit by what he says is a 60% decrease in the Dutch fishing fleet since last year, no-fishing areas protected under the EU's Natura 2000 conservation network and the decreasing value of the euro.
'It all adds up to less fish on offer, less catch in the auctions, while demand is still the same or even growing,' says Schilder. 'It's a very basic economic equation. The price is rising. Although now, inflation is bursting!'
He says the price of much of his fish has increased by 50% in recent months, including my own favoured mixed fish ends, which have indeed gone from €10 per kilo to €15 since the summer.
Whiting
He's also raising his prices almost daily, selling a lot more whiting these days—a less expensive, local fish that is having a moment. How long that will last with increasing demand, though, is anyone's guess. He says some customers have stopped buying fish altogether.
'I've been here since 1983, and my family has been here since 1910, more than 100 years. They made it through World War I, they made it through World War II. It's not a world war now, but it's a crazy time. It's the first time I have experienced this level of inflation, really. But we will survive,' he says.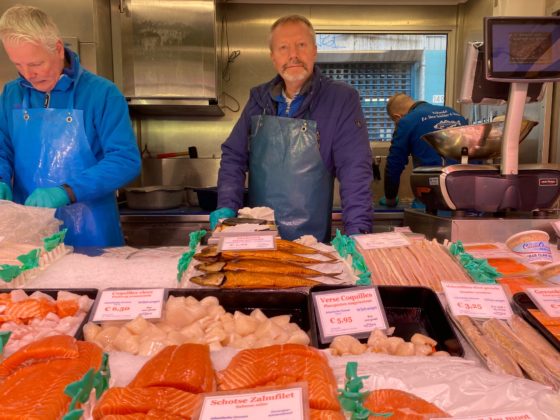 'The smaller shops are particularly affected by the price increases,' says the Consumentenbond's Van der Staak. 'During coronavirus, these stores did well because consumers avoided supermarkets due to crowds.
'Now the smaller stores are having a hard time and cannot compete with the large supermarkets, which are generally cheaper and were already cheaper. Supermarkets benefit from buying in bulk and are able to absorb price increases better because of their wide range of products.'
Supermarkets
Marein Warmerdam, spokeswoman for supermarket chain Albert Heijn, says prices are rising across the board, from coffee made of beans that cost more to roast to 'historically high' dairy prices.
'We do not pass on all price increases [to customers], we absorb a part of the increased costs,' she says. 'Half of our turnover comes from our own-brand products, so we know all the prices. In this way we can clearly see whether the prices that suppliers are asking is realistic.' (Supermarkets, including Albert Heijn and Jumbo, are currently doing battle with their suppliers over price increases.)
Warmerdam says customers are increasingly paying attention to prices, with more of them choosing for the store's more affordable house brand.
'Supermarkets do indeed adjust their prices daily, too. It is much more common today than it was a year ago,' says Van der Staak. 'At Albert Heijn, we already saw 1,500 price adjustments last week. Last year around this time, there were 750, and two years ago, it was the same.'
Hyperinflation?
So are those of us living in the relatively stable economies of Western Europe finally seeing the high inflation that other parts of the world are more familiar with, and will this change our increasingly unsustainable consumption habits?
'It's not hyperinflation,' says Benink. 'That would be 50-100% inflation a year. But it's very high inflation. These are not normal economic times.'
And as long as energy prices remain high and we search for alternatives to Russian and Groningen gas, inflation will remain. 'We're in a supply shock, as the finance minister has said,' says Benink. 'The government can help redistribute wealth, compensate people on low incomes. But at a macroeconomic level, we can't deny we've become much poorer.'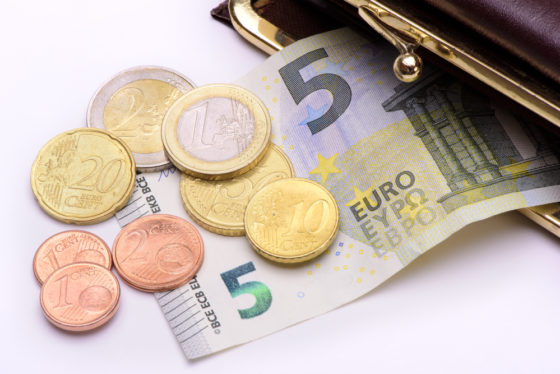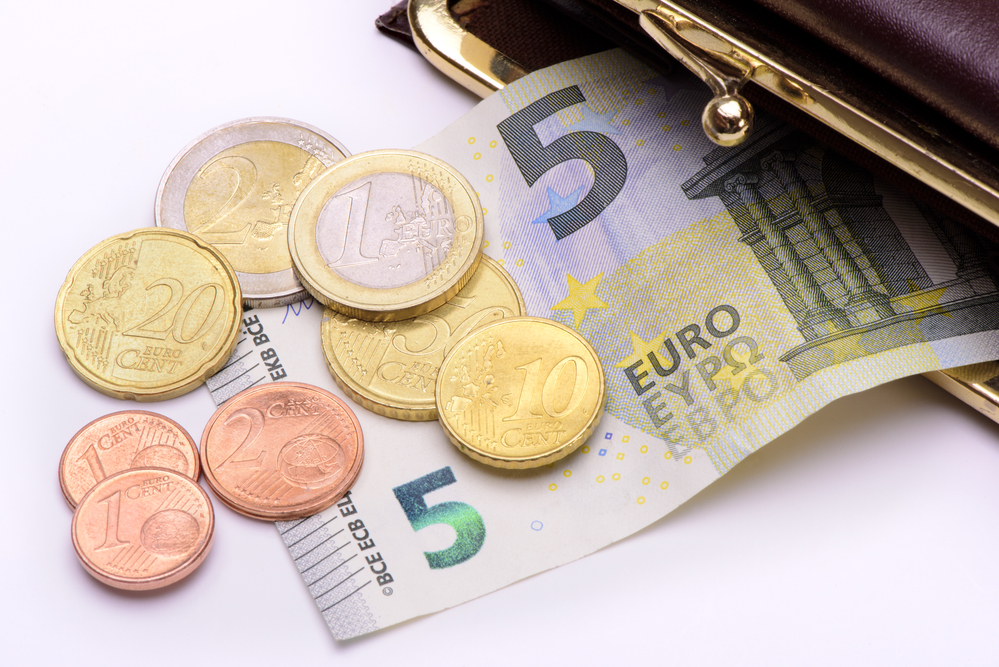 But right now, it's the microeconomic level I'm concerned with, so I put the question to Wageningen University's Hans Dagevos, a sociologist specialising in consumption.
Old habits
'Your question is actually about are we going to waste this crisis or not,' he says. Despite wishful thinking during pandemic, many people are now returning – as fast as they can – to old habits and consumption patterns—private jets, flying, eating out, shopping excessively and the like.
'A change in prices is undoubtedly an important trigger for change, but don't lose sight of the fact that price is only one trigger,' he argues. 'The consumer society as we know it has deep and various roots. Price increases alone don't seem to be important enough to bring the root-and-branch transformation the planet needs, I'm afraid, but it could provide a trigger point.'
According to farming organisation LTO Nederland, people are indeed opting for cheap instead of sustainable foods.
Cheaper option
'Farmers and market gardeners have been saying for years: you can't go green if you're in the red,' said Sjaak van der Tak, chairman of LTO Nederland. 'More and more consumers are now being confronted with this in the supermarket. With energy bills in mind, people ignore special and local products and go for the cheaper option.'
The International Monetary Fund expects inflation in the Netherlands to remain high in 2023, with the energy crisis caused by Russia's invasion of Ukraine continuing to exact a heavy toll.
'The only solution is that one way or another, we must end this terrible war and the sooner the better,' says Benink. Wheat and energy prices can then stabilize, he says, but it will take time.
Back in the market
Which is exactly what Chris Kip's Sadeghi doesn't have. He shows me his email inbox, a litany of weekly price rise alerts from his suppliers, including a €2 per kilo increase in the cost of turkeys.
'This isn't normal,' he says 'Christmas is coming and Thanksgiving is right around the corner. I don't know what is going to happen.'
Thank you for donating to DutchNews.nl.
We could not provide the Dutch News service, and keep it free of charge, without the generous support of our readers. Your donations allow us to report on issues you tell us matter, and provide you with a summary of the most important Dutch news each day.
Make a donation