Partner content
From a bank account to zakgeld: handy financial tips for expat parents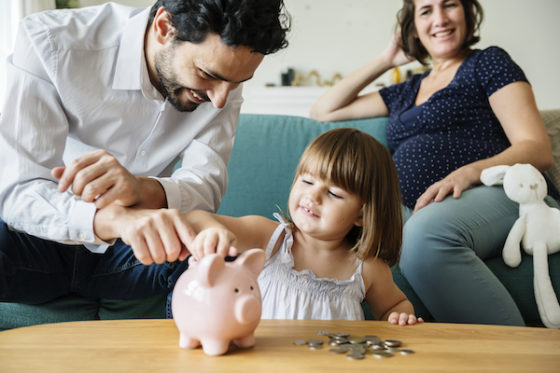 As any parent knows, children are not cheap. In fact, according to the Dutch national statistics agency CBS, two children will cost a family in the Netherlands around 25% of the household income! Here are some of the most important things you should know about children and finances.
Pocket money and financial education
Children in the Netherlands are given a lot of freedom with money but at the same time, they get less pocket money or zakgeld on average than children in other European countries.
Around 50 cents a week from the age of five is normal, gradually increasing to around €3 a week by the time they reach the age of 12. And by the time they go to secondary school, most children are given 'clothes money' or kleedgeld to buy their own clothes.
Children in the Netherlands are allowed to do a limited amount of paid work from the age of 13, and to work formally from the age of 15 but they often have bank accounts and debit cards before that.
ABN Amro, for example, offers a special young person's bank account for children aged between 0 and 17. How much freedom you give your child to do what they like with their money on the account is completely up to you. And don't worry, they won't be able to overdraw!
A savings account for your child
Many parents open a savings account for their child when they are still very young. This could be to save up to help pay for them to go through college, or so they can teach their child to save on their own.
The family spending institute Nibud suggest you start teaching your child to save money from the age of eight, by helping them decide on a target and set up a savings plan.
ABN Amro offers a special savings account for kids and will top it up with a €10 bonus after three months if you open one before the end of the year.
Birthdays and treats
Dutch birthday parties are the thing of legend and children will often end up having two — one for family and one for school friends. If your child is invited to a party, don't be afraid to ask the child's parents what gift the child would like and don't feel obliged to spend a small fortune.
Parties for school friends are usually an age-appropriate activity, from laser games to a trip to the zoo.
Children are also expected to hand out treats – a traktatie – to everyone in their class at primary school when it's their birthday. Your school may have rules about what you can provide – to avoid overdoses of sugar – so be sure to check first.
Child benefit and child budget
In the Netherlands, parents receive child benefit or kinderbijslag for each child which is paid out by the social insurance bank SVB.
Within a few weeks of the birth of your first child, you'll get a letter from the SVB inviting you to apply for child benefit. If you're already getting child benefit and you have another child, the SVB will automatically adjust the amount of the child benefit for you.
If you are a low income family, you may also be able to claim extra financial help known as the kindgebonden budget. The tax office has a handy tool to help you calculate if you are eligible.

Childcare and childcare benefit
There are several different forms of childcare in the Netherlands. For instance, when your child is three months old they can go to a nursery or kinderdagverblijf or a child minder (gastouder).
You have to pay for this childcare, but you can apply for income-dependent childcare benefit known as kinderopvangtoeslag as a contribution towards the costs.
Some towns and cities also have playgroups or peuterspeelzalen for children between the ages of two and four. These are much cheaper than formal childcare but are more about helping your child learn about others (and Dutch) than being cared for in a more formal setting.
If your child is going to school and you are working, you may also be able to get financial help via the kinderopvangtoeslag system to pay for buitenschoolse opvang or an after school club.
On reaching 18
Once your child reaches the age of 18 they are considered to be financially independent. This means they can take out a loan or sign up for a phone subscription without your involvement as a parent.
Nevertheless, you do still remain legally required to maintain your child until they reach the age of 21 – which means you have to make sure they have a roof over their heads, and have access to food, clothes, and medical help.  All the more reason then to make sure that you start their financial education early!

For more information about ABN Amro's services for children and young adults, go to the website.
Thank you for donating to DutchNews.nl.
We could not provide the Dutch News service, and keep it free of charge, without the generous support of our readers. Your donations allow us to report on issues you tell us matter, and provide you with a summary of the most important Dutch news each day.
Make a donation