Bagpipes, flowers and condolences for late Queen Elizabeth in The Hague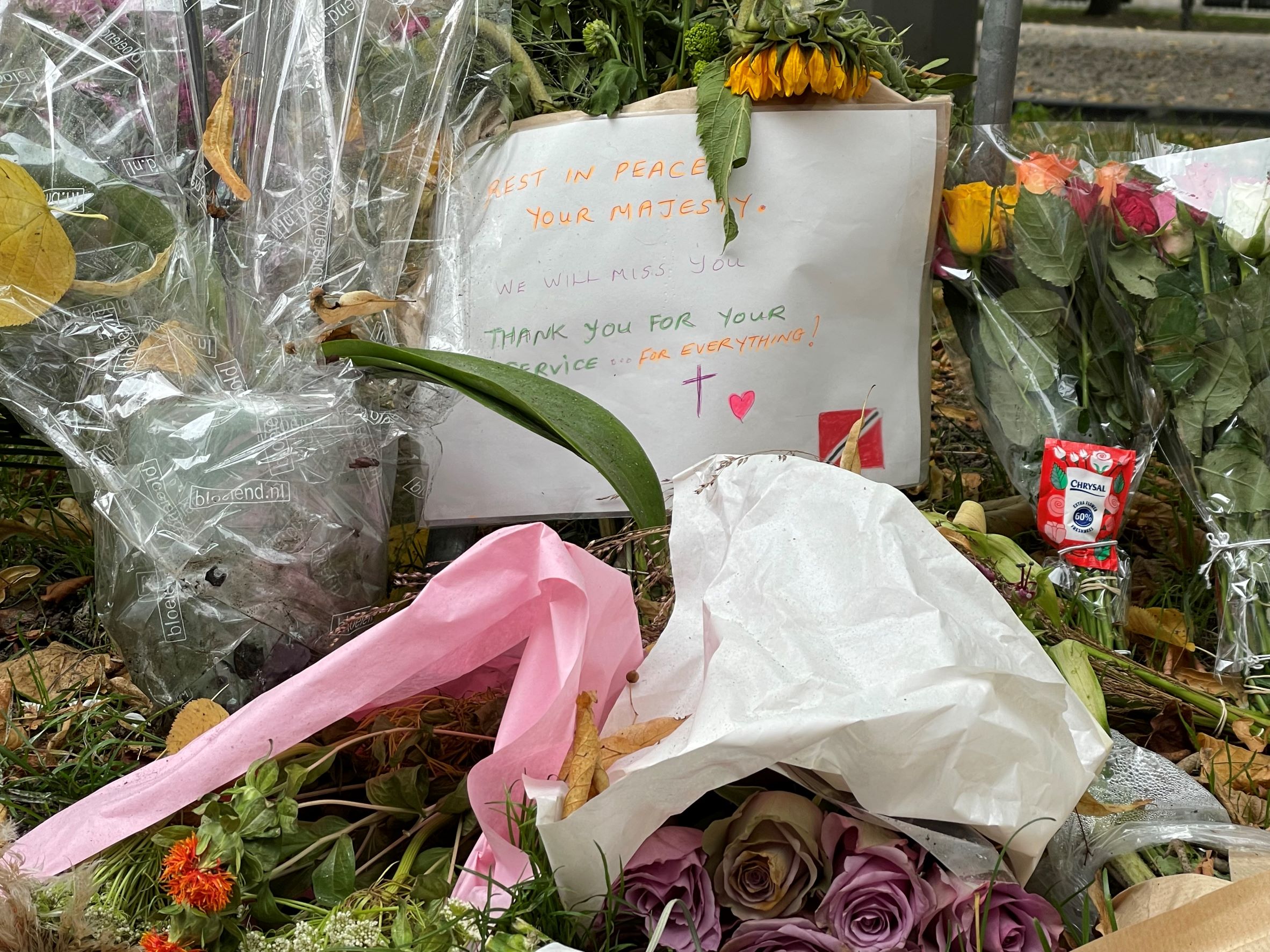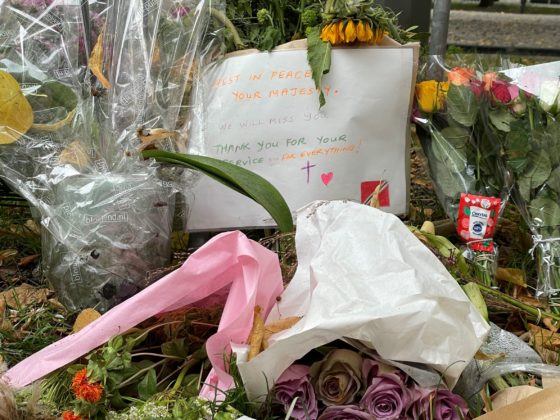 Walking solemnly from the Hotel des Indes to the British Embassy in The Hague, a group of pipers from Leiden played a tribute to the late Queen Elizabeth II on Thursday evening.
Inside the embassy, some 2,000 people have left messages of sorrow and respect for the queen, who died last week at the age of 96. Dutch prime minister Mark Rutte was one of the first to come, followed by foreign and deputy prime minister Wopke Hoekstra and foreign trade minister Liesje Schreinemacher.
For the British ambassador to the Netherlands, Joanna Roper, the loss was deeply personal. Not only is she, after two decades in the foreign office, suddenly the representative of his majesty – but she met Queen Elizabeth II twice herself.
'Part of what has been just so moving has been the number of people, Dutch, British, other nationalities, who have come and expressed their sentiment, fondness, their affection for her late majesty,' she said.
'We opened up the book on the day after the notification of her passing. It will be open at the embassy until Sunday, before the funeral. We had very early messages of condolence from their majesties the King and Queen [of the Netherlands], prime minister Rutte and the foreign minister were there and came to sign, we have had parliamentary tributes in both the houses. Very fond, affectionate messages, and then lots of members of the public from around the world, which is really touching.'
Repository
The books, which will be closed on the day of the funeral when the British Embassy in The Hague also shuts in respect, will then be sent to London and will be archived. There is even, she suggested, a chance that a number of messages could be relayed to the new King Charles III.
'They are genuinely a memory and a repository of people's affection for her majesty,' she said. 'He will certainly see examples and sentiment from around the world – all our embassies, where possible, have opened up condolence books.'
Roper, wearing black and a string of pearls, said she was in London at a conference of ambassadors in Europe when the 96-year-old monarch's death was announced, to her deep sadness.
'I met her a couple of times. One time, I had been awarded an honour, the CMG, there was a ceremony, she pins the order on you and we had a short, private chat – that's a very special moment.
'I've been posted in China, Beijing, Tokyo and Pakistan, with my husband – who was our high commissioner to Pakistan. As part of that, there is an audience with her majesty. What came through was everything we are seeing in the public expression of affection: somebody who really touched the hearts of many people. She took her service very, very seriously.'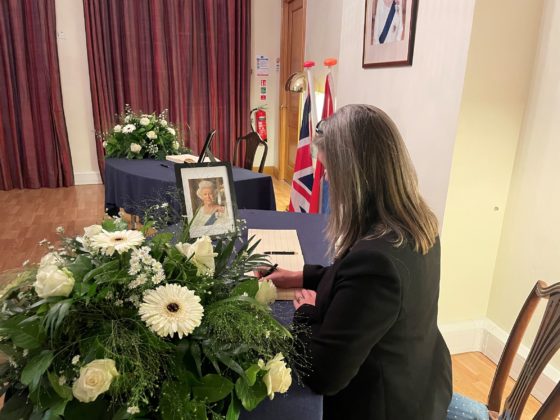 Roper said that the relationship between the British and Dutch royal families was 'incredibly special and unique' – attested to by photographs in her official residence such as Princess Beatrix with King Charles III, then a prince, attending Arnhem war commemorations in 2019. The ties were a reflection of the close trading and diplomatic relationship between the countries, she said.
'There's a particular role that our monarch plays in international relations,' Roper added. 'She has been called our greatest diplomat and that's true. In a role that she came to in her early days, she pledged to serve her people – and she followed that through, the whole of her life.
'[Her death] was for all of us an incredibly sad moment.'
Values
The Church of St John & St Philip in the Hague has hosted a commemorative service for people of different faiths and on Saturday 17 September, the Basilica of Saint Nicholas in Amsterdam will hold a musical service. Veteran memories are expected to be shared at the commemoration of Arnhem's Market Garden wartime operation at the weekend.
Meanwhile, in the commemoration books, surrounded by white flowers in a darkened room of the British Embassy, people from all over the world as well as some of the Netherlands's 45,000 British residents have expressed their loss.
Many talk about the late monarch's grace, her lifetime of service, her Christian values and the 'rock' of stability she became through the years, which made her feel like a grandmother to some.
One said quite simply: 'We hoped you would be with us forever.'
Thank you for donating to DutchNews.nl.
We could not provide the Dutch News service, and keep it free of charge, without the generous support of our readers. Your donations allow us to report on issues you tell us matter, and provide you with a summary of the most important Dutch news each day.
Make a donation