'I really like how people here enjoy the small things in life'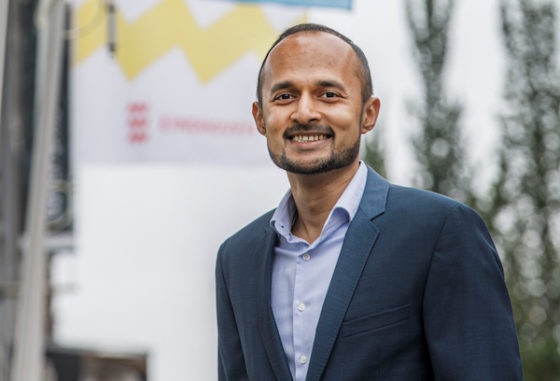 Amit Biswas is a marketing and business strategist as well as the author of Logo Land, a book about the history behind the logos of the country's 355 municipalities. Originally from Bangladesh, he's currently based in Eindhoven, enjoys gezelligheid, and would like to grab a cup of coffee with Armin van Buuren.
How did you end up in the Netherlands?
It happened as a sort of accident. I wish this hadn't happened, but it involved my father. He was in aviation, and he travelled to Maastricht for his work back in 2010. During his trip, he had a stroke and was admitted to a hospital. Within 48 hours, my mother and I flew to Maastricht because the situation was really bad.
Before that, I had never heard of Maastricht. I couldn't even pronounce its name properly. I only knew about Amsterdam. I stayed in Maastricht for two months because he was in an artificial coma. It was too risky to wake him because he was partially paralysed and couldn't be flown back. It was during October and November, so not the best time of year in terms of seasons, but I met a lot of really nice people even though it was a very tough time for me.
After my father recovered and we flew back to Bangladesh, I thought about the warmth that I received while I was in Maastricht. It made me want to come back to the Netherlands. At the time, I was exploring my options to study for my master's. I returned to Maastricht in September of 2011. It's kind of funny how things work. 
How do you describe yourself – an expat, lovepat, immigrant, international?
I would describe myself as a human who is travelling on a blue dot called Earth because, when things are getting complicated in your life, you should close your eyes and zoom out for a bit. Picture a blue dot without any borders or any labels or names like 'expats' or 'immigrants', which are terms basically created by us. So I would just call myself a simple human, which I think is very tough to be nowadays.
How long do you plan to stay?
The Netherlands is my home. I'm very proud of that. It's not easy to call a place home. I'm also married now. My partner is from Germany. At the same time though, my roots are still in Bangladesh. I was born there, and I am who I am because of my roots. I see it like this: if my roots are in Bangladesh, then the Netherlands is my tree and it's still growing.
So I don't have any plans to go. Leaving here would be an obstruction that would limit the growth of my tree. I know you should never say never, but at least right now I don't have any plans.
Do you speak Dutch and how did you learn?
I do speak Dutch, but I understand way more than I can speak because it's so easy to switch to English here. Some 80% to 90% of the Dutch are excellent English conversationalists. I learned Dutch during the preparation for my inburgering exam. I actually went to a language school in Eindhoven when I moved there after graduating  in Maastricht.
I also moved in with a friend who is a real hardcore Eindhovener. He introduced me to his friends and whenever there was a borrel or a party, I would go. I was able to pick up more and more of the language as well as the accent and the pronunciation of words, which are the most critical parts of speaking Dutch.
I also started working and had Dutch colleagues. We didn't have to speak Dutch in the office, but we always would during lunch, breaks, or borrels, which also helped me brush up my Dutch skills.
What's your favourite Dutch thing?
Gezelligheid. It's the Dutch term for cosiness or friendliness. I really like how people here enjoy the small things in life. For example, if there's a sunny day and those can be very rare, if you open the door and go out you will see every terrace is full. You sometimes even find yourself asking, 'Is there anyone actually working today?' Because every time it's sunny, everyone is out there on the terraces enjoying their drinks.
So I really like that. They also don't just sit and talk among themselves. They'll start up conversations with each other. So they really enjoy small things like this and having a good time. They take life so easily. I really like this gezelligheid lifestyle.
How Dutch have you become?
I think I've become, subconsciously, pretty Dutch. My friends sometimes tell me, 'Amit, you scare me, you're being too much of a Dutchie.' I really enjoy the directness, the timeliness, and how structured the overall system is here. Things here have their pros and cons, but I really like it.
I recently realised how Dutch I was becoming once I noticed how often I complain about rainy days. I was born in a hot, tropical country. In Bangladesh, people love the rain because it's like a blessing. It cools you down. So when I first moved here, I really enjoyed the rain. I was even posting pictures online of all the cloudy days. Now I end up complaining about them just like the Dutch do.
With people like us who have moved here from another country, it's not until you go to another country or, for me, back to Bangladesh. That's when you really realise how Dutch you have become.
Which three Dutch people (dead or alive) would you most like to meet?
Armin van Buuren. He's one of the top three DJs in the world. Before I moved to the Netherlands, I used to listen to his weekly radio show A State of Trance, and it made me interested in trance music. When I was still a student back in 2012, I went to one of his shows. I still really enjoy his music. It gives me energy, gets me through the day, and really uplifts me. I'd love to get a cup of coffee or have lunch with him. For me, he's a living legend who has inspired people through his music.
King Willem-Alexander. There's a lot of controversy surrounding the royal family, and the Dutch are very critical of them in general, but they promote the Netherlands worldwide. I also like that they haven't isolated themselves like the royals in other countries do and that the king flies as a pilot with KLM. I find that very nice. I sent him a copy of my book, actually, via the Commissioner of the Noord-Brabant province. I got a letter back from the royal house.
Also when you become a Dutch citizen, you get a letter that says the king has made a decision to approve you to become Dutch. I find that a pretty nice gesture, even if it's just part of the procedure. I'd like to have a beer with him and if he's read my book, I'd be curious to know how much he's learned from it about the Netherlands himself.
Klaas Sierksma. He was a Frisian writer who wrote about all the Dutch coat of arms. Every municipality has a coat of arms and every city has a flag. He's the only writer who has written a book about it in the Netherlands. He's no longer living, but he designed several of these flags himself. I really like that he did something that nobody else has done, and his book was a real inspiration. It helped me with writing and finding all the information I needed. Much of the information he found might have been lost. It would just be nice to sit with him because I would be talking to someone with a shared interest.
What's your top tourist tip?
Whenever our friends visit us, they usually want to 'do the Dam thing.' They want to go to Amsterdam. People should visit Amsterdam. It's a bit crowded and crazy, but I usually also try to take them to Maastricht. I recommend a day trip or a weekend trip. We usually cycle or walk around the city and go down all the side alleys. It's a very cosy, historical city with good food and nice local shops. They have a Burgundian lifestyle in the southern part of the Netherlands that is slower.  
Tell us something surprising you've found out about the Netherlands
Before I came here, I didn't know that half of the country wouldn't even exist if it weren't for dams. When I first visited Amsterdam, I talked to my father about it and he asked me, 'Do you know that you're below sea level?' At that point, I didn't know how to swim, so I found it quite scary.
I also found out that, geographically, the Netherlands is almost the same as Bangladesh. It's pretty flat there, just like here. We like to call our hills mountains, too. Bangladesh is also one of the most densely populated countries in the world. I wound up moving from one of the most densely populated countries in the world to another one of the most densely populated countries in the world.
If you had just 24 hours left in the Netherlands, what would you do?
I'm a big lover of specialty coffee. I would start my day by grabbing coffee at my favourite place in Eindhoven. I would also hope that the weather is good, and I would want to catch up with my friends over a borrel or dinner. We would order some bitterballen with mustard and some good Dutch beers.
I would also want to take a train, drive, or cycle to Maastricht to visit some of my favourite spots, like my university and the pubs we used to hang around in when we were students. I would even want to visit the hospital where my father was, which was a sort of starting point in the country for me. It would also remind me of why I came to the Netherlands.
In the last hours, I hope there would be nice weather and a nice sunset. I would head to the river Meuse. It flows through the city, and it's nice just to sit there with some chips and some drinks and watch the boats go by.
You can learn more about Logo Land and Amit's other projects via his website.
Amit was talking to Brandon Hartley.
Thank you for donating to DutchNews.nl.
We could not provide the Dutch News service, and keep it free of charge, without the generous support of our readers. Your donations allow us to report on issues you tell us matter, and provide you with a summary of the most important Dutch news each day.
Make a donation