From chasing thieves to celebrity shoppers – The American Book Center looks back on 50 years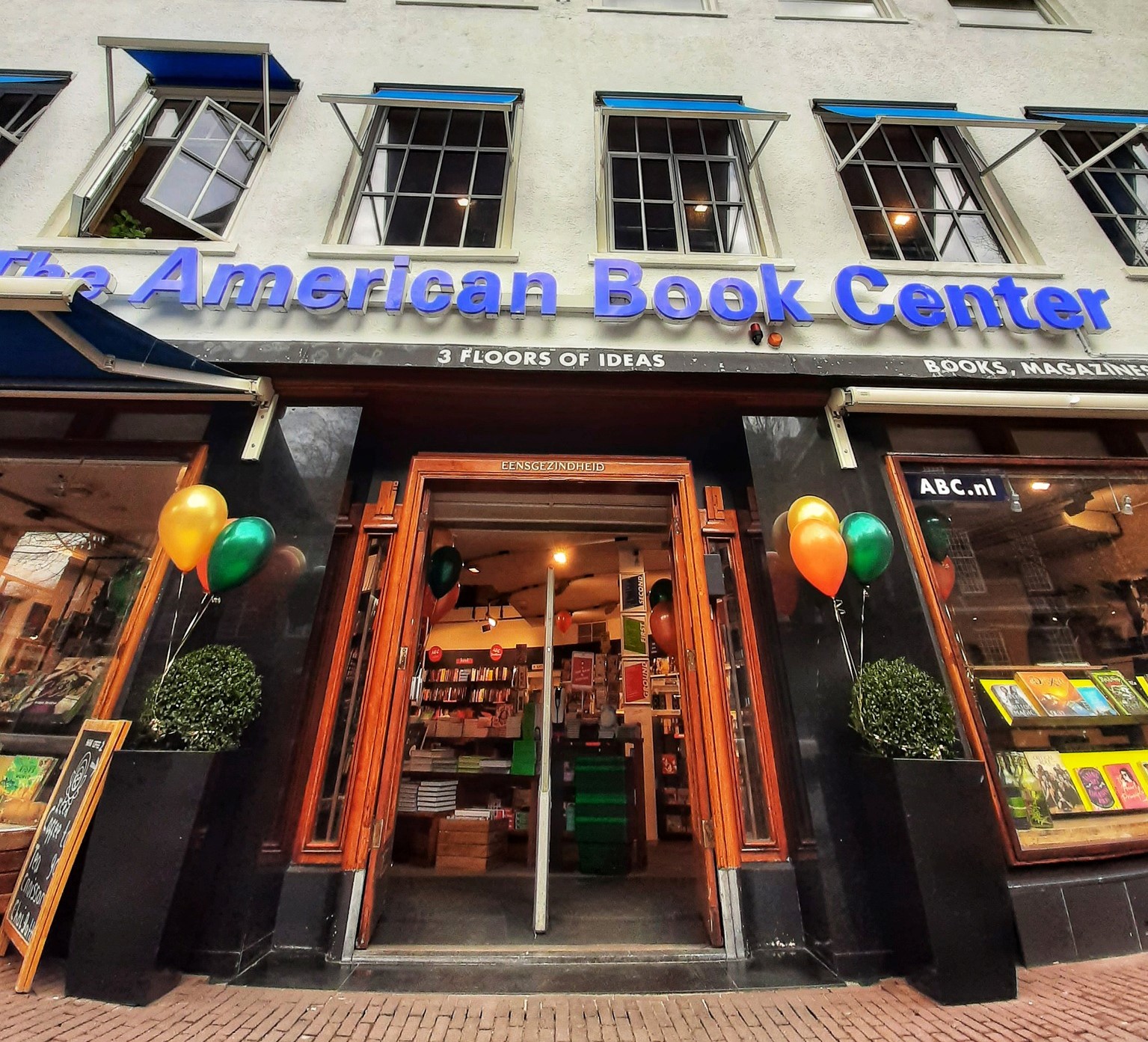 The American Book Center, online and in-store, is a go-to for English language readers in the Netherlands. As the team celebrate their 50th anniversary, we look back at how it all began.
In the course of 50 years, some things have stayed the same in the Netherlands. 1970s Amsterdam, for example, was full of Dutch people with fluent English and Internationals with limited Dutch. But the shortage of English-language reading material at this time was a business opportunity waiting to be discovered.
Entrepreneurs
American entrepreneurs Sam Boltansky and Mitch Crossfield began shipping in remainder books and pornography from the US, opening The American Discount Book Center on the Kalverstraat in 1972, and gradually broadening their selection to meet customer demand.
Known today as The American Book Center, or ABC, the store now spans three floors of a listed building on Spui and regularly welcomes celebrity authors such as Stephen Fry and David Sedaris. A second branch in The Hague dates back to 1976, and just in time for ABC's 50th anniversary, the Leidschendam store opened last year.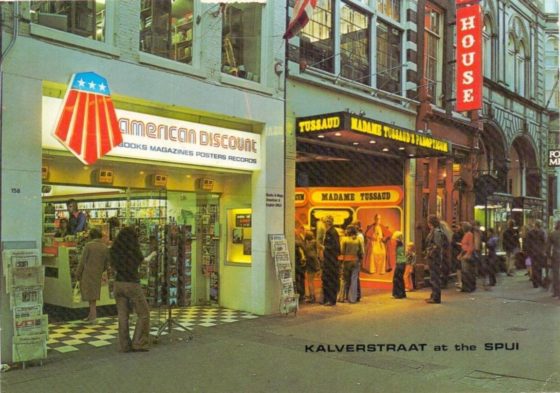 Thieves
Meanwhile, back in 1972, Lynn Buller was enjoying an extended holiday in the capital, and in search of a job to fund her reading habit. A book store seemed the perfect solution, and being an American herself, the new ABC store felt like a great target.
'I walked over there and basically stood my ground until they hired me to look for thieves,' she told viewers of a recent livestream on the ABC's YouTube channel. 'I remember getting dressed that weekend and thinking, this will be a short gig… And here we are nearly 50 years later.'
No thieves were ever snagged though, as Mitch soon found other tasks for Lynn, and by day three the bewildered newcomer was given a speedy tutorial on using a cash till and asked to manage the shop single-handed. A decade on, Lynn took co-ownership of the store alongside her sister Rachel and her husband Avo. Years later their two children, Nadine and Paul, were also lured into the fold.
Giorgio
In 1986, history would repeat itself when 23-year-old Eritrean Giorgio Yared stepped in for a friend who had an unofficial 'security' role in the shop. Still there 36 years later, Giorgio now heads up the store's magazine department.
Unlike Lynn, he saw plenty of action, chasing shoplifters down the Kalverstraat, who then had to do the walk of shame as they were handcuffed and marched through Amsterdam's busiest shopping precinct. 'When we were in the Kalverstraat, we were like a family,' he remembers. 'If I shouted 'thief!', they [the local shopkeepers] would all run out!'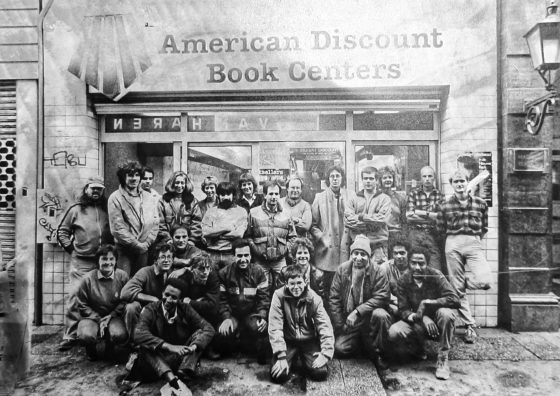 A little village
Nadine also remembers the Kalverstraat stores fondly – first number 158 and then later, with books piled into their Volvo Station Wagon, a move to the more spacious 185, now part of the Nike store. As a baby, she would sometimes be tucked into an open drawer in the office as she slept. Later, as a little girl, she remembers marvelling at the popcorn machine outside Madame Tussauds next door, and getting flowers and portions of chips from the local traders. 'It was like a little village,' she recalls.
'The time was different,' muses Giorgio, but all agree that the shop's spirit has stayed the same. There is still very little hierarchy. Staff are assigned the sections that most interest them and get a lot of trust and freedom, buying in the titles that they feel will do best and shaping the stocks according to customer preference. 'We just listened to what people were looking for, what they wanted,' says Nadine.
Innovation was encouraged and sometimes windfalls came from unlikely sources. A saucy postcard designed by ABC about 'window shopping' in the red light district, for example, sold in its millions, covering a year's worth of rent.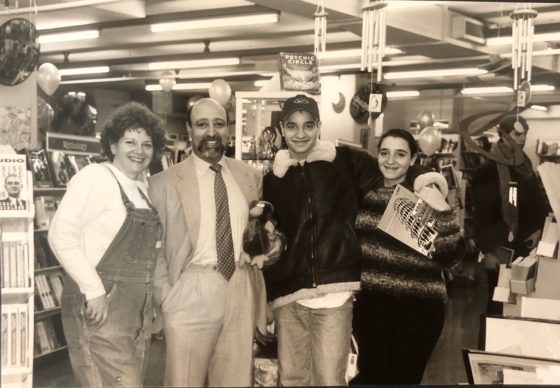 Early
The arrival of the internet in the 90s changed the playing field, remembers Klaartje ten Berge, who joined the team at this time as a seller and is now ABC's warehouse coordinator. 'You have to be more interesting than the internet. That's the personal touch we try to give,' she says.
Late-night opening, book signings and open podium have all helped get people through the doors, as has ABC's ability to predict reading patterns and widen its selection accordingly. 'We were early with things,' explains Klaartje. Gay fiction, New Age philosophy, Manga, or BookTok – the store's buyers tuned into the trends and raced to beat the internet.
Betty
In 2010, they splurged on the first automated, direct-to-consumer, book-making machine in Europe, affectionately known as 'Betty' and a popular tool for customers looking to self-publish. Sometimes, though, they were too ahead of themselves. Nadine recalls a poorly attended book signing at the store when American novelist James Patterson – now a household name – came to promote one of his earliest works.
Being early meant taking risks and ABC's talented PR Rick Lightstone, says Nadine, 'always had these antennae for what would work.' He would convince Giorgio to take huge road trips with him to European book conventions, the car crammed with niche stock which would sell effortlessly to the rising markets he identified. 'He made us strong,' remembers Giorgio.
But one day in 2016, Rick failed to appear at work. He had died suddenly of an aneurism. This was, without a doubt, ABC's lowest point. The team were, says Nadine, 'just shattered'.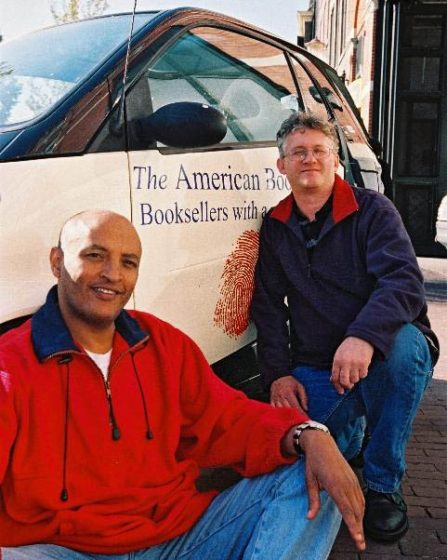 Celebrities
Rick's death coincided with ABC Amsterdam's 10 year anniversary on the historic Spui, where it still stands, with its splendid blue awnings in a 19th century building that once served as a piano store. An attractive tree-lined square with a book market on Fridays and surrounded by book stores and cafes, Spui is popular with locals and tourists alike – and the giant blue letters across the front of the ABC have caught the eye of numerous celebrities, who have drifted across the cobbles and browsed its shelves.
Lionel Richie, Dionne Warwick, REM, Brian May… They've all been ABC browsers. The staff almost missed Pharrell, had it not been for his two rather large body guards. Herman Brood was a regular back in the day, and the actor Owen Wilson came in just the other week.
Happy
The store's interior is a mix of modern and monumental, with a friendly atmosphere that welcomes browsers. Giorgio's vast magazine section can be found on the ground floor, with the porn imports long since phased out. Connecting the first and second floor is a huge tree trunk – a nod to the books' origins.
Teenagers crowd around the fantasy board games; customers relax in the cafe, sipping coffee and thumbing through recent purchases; and staff circulate eager to offer recommendations. Nadine describes life among the books and magazines as offering 'great perks'. 'You make people happy,' she says. 'That's the thing I really love.'
On 16 April 2022, the American Book Center are marking their 50th anniversary with a birthday party in all three of their locations. There will be music, small goodies and children's activities. All books will be 10-20% off.
Thank you for donating to DutchNews.nl.
We could not provide the Dutch News service, and keep it free of charge, without the generous support of our readers. Your donations allow us to report on issues you tell us matter, and provide you with a summary of the most important Dutch news each day.
Make a donation