The Perfect Protest: Lessons from the frontline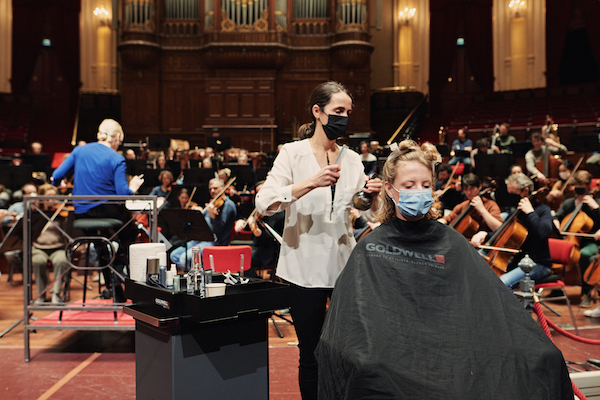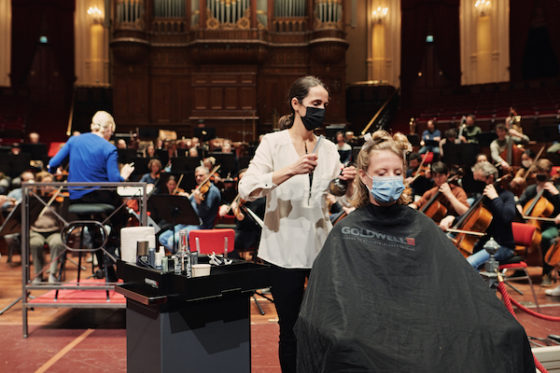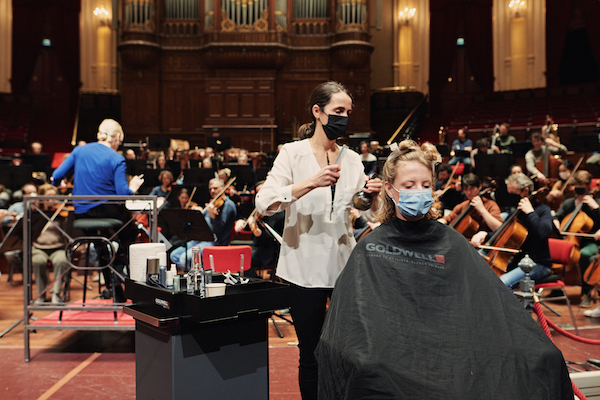 From recent anti-lockdown protests to artful demonstrations in the country's cultural venues, Lauren Comiteau learned these lessons from Amsterdam's Museumplein protests.
No. Not the ones on the Museumplein, silly.
The ones in it.  You know—the Van Gogh Museum turned barbershop and nail salon and the Royal Concertgebouw-cum-hairdressers.
I'd been to all three. And what I learned at the 15,000-strong anti-lockdown, anti-vax, anti-Big Pharma, anti-even-bigger-government and anti-everything protest on the Museumplein a couple Sundays ago was that I should maybe be more careful donning a facemask in a hostile crowd.
The protests in the museums, theatres and other cultural venues were, by contrast, inspiring.
They were perfect protests.
They had a very clear goal: look at the hypocrisy that hair salons and gyms can open and we can't.
They were short—one day and one day only. No weekly repeats.
They were visually and aurally arresting. Renown Dutch barber Mischa snipping away as his discount-paying client stared simultaneously at his own reflection in the mirror and at Van Gogh's Self-Portrait with Straw Hat and Pipe in the distance.
Nail technician Loes Appels painting Van Gogh's almond blossoms on a few lucky, long-nailed hands. A trim to the strings and woodwinds of the Royal Concertgebouw Orchestra rehearsing Charles Ives' Second Symphony.
Sold out
They had name recognition and also the interest—500 people vying for 20 spaces at the Van Gogh Museum alone. Most venues were sold out.
I was slightly dismayed when 26-year-old Amsterdammer Flint told me he'd come for the once-in-a-lifetime experience of getting a haircut specifically from Misha specifically at the Van Gogh Museum. Supporting the protest was a distant third.
Still, it got me thinking: maybe people just enjoy working out and practicing personal hygiene in grandiose settings? Maybe human nature leans towards going about mundane daily life in spectacular Old World splendour?
I know every time I play catch with my Jack Russell on the Museumplein with its view of the Big Three museums and stroll under the Rijksmuseum bike path, buskers adding to the ambiance in non-lockdown times, I'm renewed and happy and all seems well with the world. At least for a while. Beauty—culture—is important. However you enjoy it.
Former director of the Rijksmuseum Wim Pijbes, upon hearing that shops and salons might open ahead of museums, brilliantly said, 'It cannot be that Ikea can open and museums not.'
And Vera Carasso of the museum umbrella organisation Museumvereniging pointed to the country's 1.3 million museum card holders and other culture vultures who she said not only want to sport and shop but also visit museums to elevate their mental well-being.
Haircuts
Realistically, Ikea likely plays a bigger part in people's daily Amsterdam lives than the Rijksmuseum. When lockdown is lifted, we all flee there and to Hema and to the gyms and salons. We need candles and pillows! We need tompoucen! We (desperately) need haircuts and free weights! We need a quick hit of normality.
Of course, we need art. But given a choice, I bet the majority of people would choose to buy a print rather than look at one when they're first free again. Last week, they came for the novelty but stayed for the haircuts and yoga classes.
Why can't we combine both in our new hybrid world where everything from the way we work to the way we exercise (virtual Pilates classes or Peloton anyone?) will never be the same? Why can't we meld the best of both worlds: a dedicated workout space in a museum, a massage parlour in a theatre? I'm sure there are ways to do it to protect both art and patrons.
And maybe more importantly, the cultural sector itself. It was rough going even in pre-COVID times, with state support slowing to a trickle of its former flow. In pre-pandemic 2019, the Van Gogh Museum received only 10% of its budget from the state. The rest it makes up via ticket sales, sponsorships and other initiatives. With the pandemic proving how precarious ticket sales can be, why not look for creative revenue streams, taking the successful one-off museum metamorphoses and making them permanent?
My daughters have enjoyed several fun and educational birthday parties at the Van Gogh Museum in its dedicated workshop. I've patronized Amsterdam's Jewish Historical Museum for its gefilte fish alone. The templates are there. Yoga may be a bit beyond a museum's mandate, but it's time to think outside the frame.
Larger cultural institutions will no doubt survive. Just witness the government's recent 150 million euro contribution towards the controversial purchase of Rembrandt's The Standard Bearer. Art is here to stay. But smaller museums, including the now defunct Museum of Bags and Purses in Amsterdam, may not.
State support
A 2020 survey by the Museumvereniging found that one out four of the country's museums could permanently shut their doors without state support in the wake of Covid-19. Although only a handful of museums have closed, the threat remains.
It doesn't have to be either-or. I am all for the reconciling of consumption and culture in the most fundamental and mundane ways. I look forward to the day when I can not only peruse its books, but attend a book club at the Rijksmuseum's stately Cuypers Library, play Mahjong in the Hortis Botanicus' Orangery or attend trivia nights at the DeLaMar theatre instead of my local pub.
Unfortunately, I wasn't one of the lucky few to snag a haircut appointment at the Van Gogh Museum, which was probably a good thing. I had a long-scheduled date with Rodney Maartens, owner of Jooze studio in De Pijp, who had a rough couple of years like most small business owners. I asked him if he'd haul his equipment to and cut hair in the Van Gogh Museum if anyone asked him.
'Yesterday!' he enthused. 'Who wouldn't?'
Why not let last week's perfect protests serve as a blueprint for a future crossbreed where high art meets more lowbrow pursuits? The times are, after all, a-changin'.
Thank you for donating to DutchNews.nl.
We could not provide the Dutch News service, and keep it free of charge, without the generous support of our readers. Your donations allow us to report on issues you tell us matter, and provide you with a summary of the most important Dutch news each day.
Make a donation