Partner content
Leveling up: What changes in the inburgering process from 2022?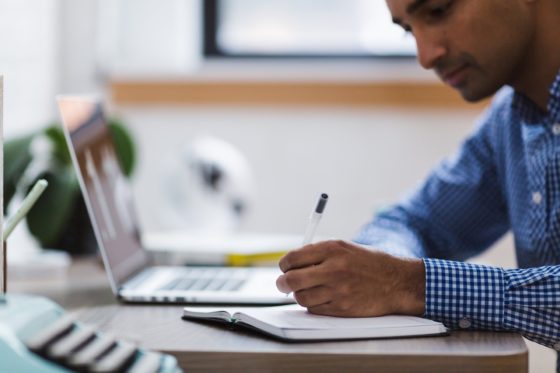 With an increase in the language requirements for the integration exams imminent, smart candidates are signing up for a new self-access course with InburgeringOnline.nl to prepare for their exams in advance of the change.
Some newcomers to the Netherlands, whose residency permit is issued on the condition that they integrate or inburger, may find themselves affected by changes in the 2013 Civic Integration Act which come into force in January 2022.
What's changed?
Previously, the integration exams required Dutch to A2 level (basic) in reading, writing, speaking and listening. Newcomers who are required by law to integrate will, now be tested up to B1 level (intermediate).
However, if you are thinking of becoming Dutch or want to get a permanent residency permit, the language level is set to remain at A2 for the next year at least.
Other changes are also on their way. The integration process will also be more personalised and municipalities will play a greater role in guiding residents who are required to integrate, but details of how this will work are yet to be released.
As usual, newcomers who are inburgeringsplichtig (have a legal requirement to integrate), must complete their integration exams within three years. With the exception of young people in full-time education − and those with an exemption  − passing Dutch language exams to level B1 is a condition of their stay.
Why the changes?
The aim of the 2021 Civic Integration Act is to enable newcomers to participate in Dutch life as quickly as possible and to find work more easily. Language acquisition is a crucial part of this. In a review of the integration system in 2018, it was felt that newcomers' command of Dutch was insufficient, with many still unable to read and write in Dutch after three years in the Netherlands.
But there is a tentative tone to the letters of social affairs minister Wouter Koolmees to parliament, due to the complexity of the transition process. Preparations for the transition began in 2019, but on his recommendation, the start date for the new law has been extended twice, with the corona crisis and higher targets for the number of people to be integrated cited as the main reasons for the delay.
Elise Stumpel, a spokesperson from the Ministry of Justice, also added a note of caution, stressing 'the necessary preparation time' to launch the new regulations. 'We are not getting ahead of ourselves at the moment,' she told DutchNews.nl.
Reassurance
Speaking to DutchNews.nl, Martijn Grimmius, a spokesperson for DUO, the executive educational agency working with the ministry to implement the changes, offered some reassurance. 'People who already received a right to residency [and have begun the integration process] will not be affected on their current permit,' he explained.
Ingeburgerd (integrated) residents who have passed the A2 will also not be required to sit the B1 exam. 'That's not necessary,' said Grimmius. 'People who become ingeburgeringsplichtig before January 1st still deal with the requirement of the current [2013] law.' For this group, the level of the exam will remain at A2 level even after January 2022.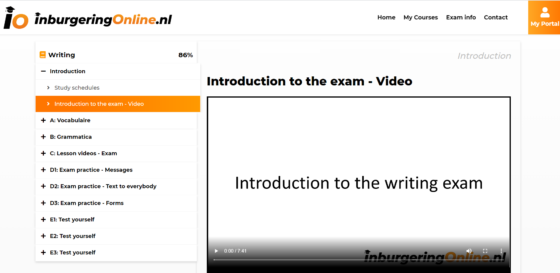 Get ahead
To avoid the more demanding exams on the horizon, newcomers who started their integration process before 1 Jan 2022 are getting the integration process done as quickly as possible while the language requirement is lower, says Bart Nawijn, founder of self-study course, InburgeringOnline.nl, which uses video tutorials in English and practice papers to explain the various tasks students have to complete and the marking criteria, while teaching them the Dutch they need.
'The course outline came from my experience with normal lessons,' explains Nawijn, a teacher of Dutch as a foreign language, who noticed his students were eager to find out more about the exams themselves but struggling with the information that was out there. 'Sometimes things are explained in a way that candidates find confusing or complicated,' he says. 'I think that it can be done in a much more accessible and e-friendly way.'
Flexible
Compared to physical lessons, InburgeringOnline.nl – which offers a choice of a beginners or post-A1 route – makes it easy to fit the language training around students' work and personal commitments. 'It's super flexible. It's your course. You use it however you like, whenever you like,' emphasises Nawijn. 'You don't need any books, you don't need any fixed classes. You can study at your own pace and in your own way.'
And the pricing is also flexible. You can subscribe for just one month if you want to road test the product or just need to brush up, or you can save 40% by taking out a 12-month subscription from just €6.95 per month. Subscribe early, before the new requirements take hold, and you'll save time, too.
Visit InburgeringOnline.nl to find out more about the course.
Thank you for donating to DutchNews.nl.
We could not provide the Dutch News service, and keep it free of charge, without the generous support of our readers. Your donations allow us to report on issues you tell us matter, and provide you with a summary of the most important Dutch news each day.
Make a donation