There's nothing shared or green about those electric mopeds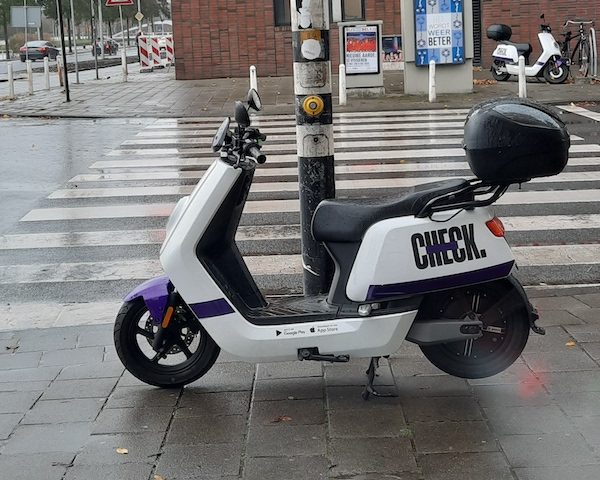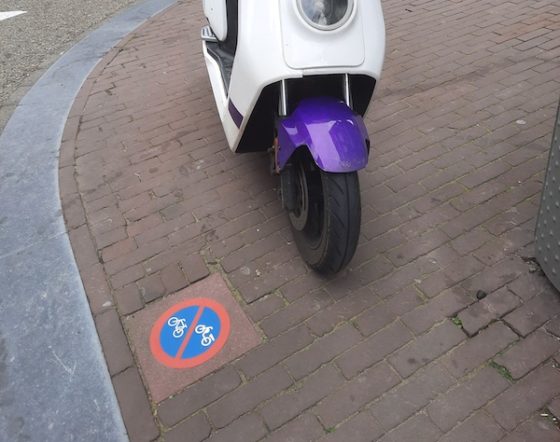 There is a new scourge in the Netherlands which is clogging up already overcrowded pavements – the supposedly environment-friendly, 'shared' electric moped, says Natasha Cloutier in this personal column.

They buzz up behind you at the traffic lights, they park on the pavement where ever they like and they are making money out of being able to do so. Felyx, Check and GO Sharing – the names might be friendly, but what looks like a new form of transport is negatively impacting public space.
Each moped company has an app that lets you hire one and zoom off. When finished zooming, you're supposed to leave your moped parked properly on the pavement or at designated parking spaces.
Problem is, many people are dumping them pretty much anywhere, blocking access to the pavement. People with mobility issues cannot go around these obstacles, forcing them and pedestrians onto cycle paths and streets.
People have the legal right to walk on pavements safely and unhindered, without it being an obstacle course. Shared mopeds are cannibalising public space they don't own – for profit.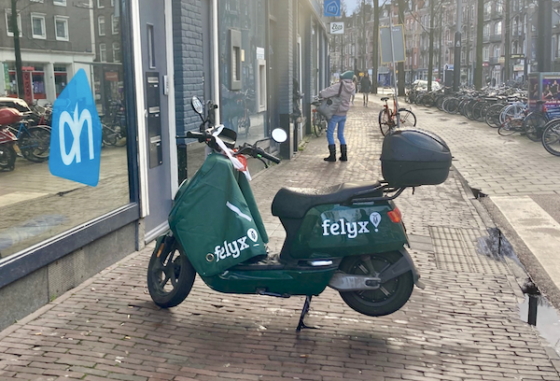 The companies have sold the promise of mobility and sustainability to the bigger cities and are now causing problems in smaller ones. Since 2017 when Felyx started in Amsterdam, people thought that this 'asociaal' behaviour would stop, but it's only getting worse. Thousands of scooters cannot possibly solve mobility problems by causing mobility problems – that's madness.
Besides the parking issue, there are several other arguments against the arrival of these mopeds in our cities, from Amsterdam to Zwolle.
Firstly, the lack of transparency. Take the deal the city of Amsterdam signed with these companies. In the NRC, journalist Erik Bouwer explains that there is no evaluation criteria for the two-year (plus one year) pilot. It's always presented as a success because there's no proof of failure.
'The concept of a shared moped doesn't work,' he writes. 'It's a solution for a problem that doesn't exist. The city is giving away public space to a profit-making company, which has nothing do with sharing. It's just moped hire.'
Fines
And while the owner of an illegally parked car can get fined by the city, Amsterdam at least is letting the companies police their own clients. All three suggest people lodge a complaint (Check, Felyx and GO Sharing) about their badly parked scooters.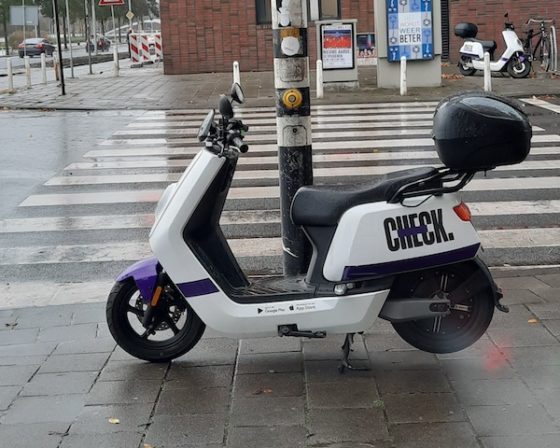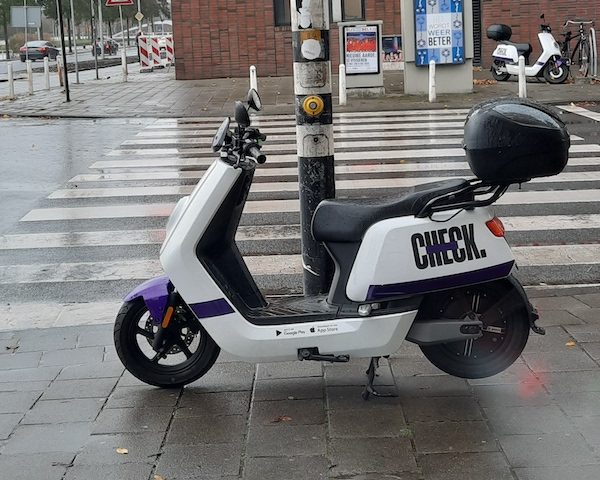 However, nobody knows what happens with the complaints. The companies do provide friendly answers on social media, but there's no structural solution in sight. Check out the hashtags #felyxchallenge on Twitter to get an idea of how creative some of the parking is.
And how green are these companies anyway? Even though the mopeds are forest green (Felyx), bright green (GO Sharing) or have friendly names (Check), it doesn't make them green or friendly.
To this day, no objective criteria has been established as to how they contribute to sustainability, so they can say whatever they want.
LEVs
The electric mopeds are only the start. Soon they will be joined by those infernal electric scooters, the children's toys with motors which the government in its wisdom has now decided can be allowed on the cycle paths next year.  They will be joined by all sorts of other weird modes of transport known as LEVs – or light electric vehicles.
More clogging up the bike lanes, more clutter on the pavements.
According to Amsterdam city council, 'shared mobility' is a good alternative for the car. But we already have a good alternative, in the humble bike – and cycling is a much healthier option to boot.
Thank you for donating to DutchNews.nl.
We could not provide the Dutch News service, and keep it free of charge, without the generous support of our readers. Your donations allow us to report on issues you tell us matter, and provide you with a summary of the most important Dutch news each day.
Make a donation