Transgender equality, better data ethics are both human right issues: Lisa van Ginneken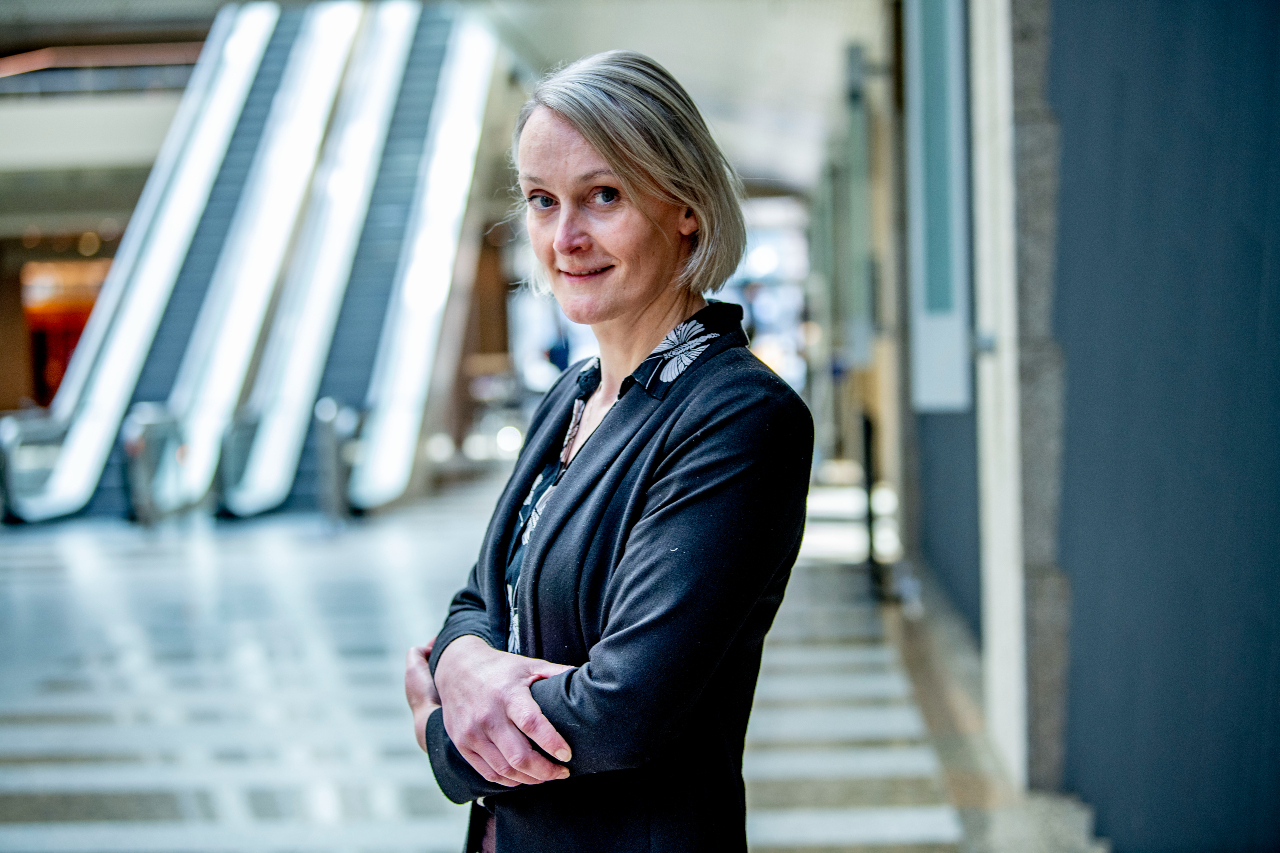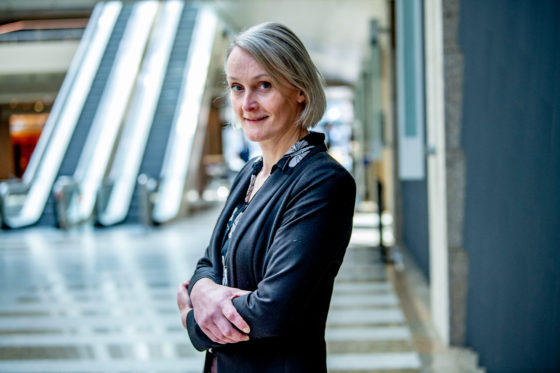 In a curious way, Lisa van Ginneken's political career might never have happened if it hadn't been for far-right nationalist leader Thierry Baudet.
Van Ginneken became the Netherlands' first transgender MP when she was elected in March for the progressive liberal D66 party. She had been a prominent activist as chair of the advocacy group Transvisie since 2017, but the moment that prompted her to stand for parliament came during the provincial election campaign of 2019.
Baudet's Forum voor Democratie party was surging in the polls and would go on to take 14% of the vote, eclipsing even the liberals (VVD) led by Mark Rutte. But Van Ginneken was appalled by the strident, provocative tone of Baudet's speeches.
'He said a lot of misogynistic things and set groups in our society off against each other. But the final straw was when he said he was disturbed by Dutch women being more concerned with their careers than with providing for offspring.
'He didn't say 'their offspring', just 'offspring'. He was reducing women to battery hens. That rubbed me so far up the wrong way that I thought: "I've had it with this man. I'm going into politics." Not that he's my political inspiration: it's important to make that distinction.'
Outside chance
Van Ginneken, 49, was ranked 22nd on D66's list of candidates this year, which appeared to give her only an outside chance of being elected for a party that won 19 seats in 2017. But D66 exceeded most pollsters' expectations by claiming 24 seats to become the third largest group in the new parliament.
Her election sparked a flurry of interest from both voters and the media. 'It's heartwarming that everyone sees how great it is to reach this milestone in Dutch society. And especially the many reactions from people saying: "Wow, it's never happened before? It's about time." I wholeheartedly agree.'
In her maiden speech she spoke of the long and difficult process of transition. The small North Brabant city of Oosterhout where she grew up in the 1980s was not a place where people were in the habit of examining their gender identity. Then, at the age of seven, she was watching television with her family one Saturday evening when a man came on the screen who explained how he was trying to become a woman.
'I saw a woman wrestling with the judgment of the outside world and wrestling with the masculine echo of her body,' she told her parliamentary colleagues. But unlike the regular diet of comedy shows featuring men in drag, there was nothing slapstick about this real-life drama. 'And immediately I realised why not: I felt a connection with this woman. It felt as if I was looking at myself.'
Surgery
But Van Ginneken also noted her father's reaction, an outburst of 'dirty creep' hurled at the screen. 'It was clear to me that what I felt was dirty,' she says. It would take nearly 40 years, following what she calls a 'long process of searching', before she felt ready to undergo gender reassignment surgery.
She is generous in her assessment of her late father, who she says was typical of his generation. 'His normative reaction was an attempt to protect me from the tough society that awaited us,' she said in her maiden speech. But she explains now: 'As a child the conclusion I drew was that there was something wrong with me. I tried to hide it away and in the long term that's not a good idea.'
As a teenager she earned pocket money developing games for the Commodore 64. Later she studied Business Informatics, moved from Breda to Amsterdam and started an IT consultancy. She married, had a son – now 19 years old – and divorced. 'It's not like I was deeply unhappy every day, otherwise I would have done it earlier. There is plenty to enjoy in life that has nothing to do with gender identity. But ultimately, I was too unhappy and I was denying who I was.'
Patience
Her advice to young people wrestling with their gender identity is to take their feelings seriously, examine them thoroughly and above all be patient. 'It's a quest to find yourself. Puberty is something that takes several years on all fronts. The danger is you say to yourself "my gender's not right" and make the full transition from man to woman or woman to man, but you don't necessarily have to. Maybe there's a better option, such as being more genderqueer or non-binary.'
Wary of the risk of being pigeonholed, Van Ginneken shares the issue of transgender rights with two of her D66 colleagues: Jeanet van der Laan is the spokeswoman for equality issues, while Wieke Paulsma is responsible for transgender health issues as part of the general health portfolio. Van Ginneken's speciality is the technical side of representing non-binary identities in passports and official records, reflecting her background in IT.
'If every time I step up to the podium people think, "oh, transgender issues again", that's not good for the transgender community. I want to demonstrate that we have expertise in all kinds of areas, in my case digital issues.
'But of course I'm a high-profile trans person and I'll continue to give trans people a face and a platform. If people make populist comments about transgender people I'll speak out about it on social media and in the media.'
Official channels
As a former lobbyist she is no stranger to the Binnenhof, but the changed perspective has taken some getting used to. 'In some ways I have more influence but in other ways less,' she says. 'In the past I could phone up an official at the health ministry whom I had a good connection with. And now I can't do that any more. Everything has to go through the official channels to the minister.
'But on the other hand, I know I can have a lot more impact on the laws and regulations and ministerial policy. I can put down a motion or an amendment, or a private bill.'
Van Ginneken's background in IT has become an essential part of lawmaking now that digital technology is so deeply ingrained in people's relationship with the government. The toeslagenaffaire, or child benefits scandal, which brought down Mark Rutte's last cabinet showed how over-reliance on systems could cause misery for ordinary people who were automatically classed as fraudsters by the tax office once their debts exceeded a certain threshold.
Algorithms
'We need to bake the human dimension into our legislation,' she says. 'That means allowing people to make judgments and giving them the authority to depart from the rules in exceptional cases.
'If the algorithms are capable of having drastic consequences, as we saw in the toeslagenaffaire, then we should ensure that before an algorithmic assessment is converted into a decision, it's reviewed by a human being. And we need independent supervision for the algorithms.'
Algorithms are prone to the same prejudices and errors of judgment as the people who program them, she warns. 'And algorithms that train themselves to become more intelligent, the artificial intelligence algorithms, are trained on the basis of real-world data. The way you gather that information makes a real difference.
'If you have a racist researcher who feeds the contents of his filing cabinet into an algorithm to predict criminal behaviour, it's pretty obvious what's going to happen: every person of colour is labelled a criminal. That's not how it should be. We've had the technical knowledge for a long time, but in practice it's not always applied well.'
Digital rights
Van Ginneken says the key to safeguarding digital rights is what she calls 'self-determination' – giving people control over where and how their personal information is used. 'We have perfectly good laws that say what you can and can't do with personal data, but we've also seen that in practice it very often goes wrong.
'You tick a box and that's more or less the only input you have. I think it's time for citizens to have more influence over how their information is used. And there needs to be more checks on how companies and the government itself handles people's data.
'There are a lot of data leaks but also a lot of abuses that go unseen. We have a regulatory body but it can't deal with the huge volume of work. So one important step is to give the regulator more resources.
'But you can't just keep making the regulatory body bigger. Oversight needs to be a shared responsibility, so that companies implement their own rules and the central regulator assesses those, just as we do with financial reporting.'
Social media
Van Ginneken cites social media as another area where companies need to take more responsibility. 'They need to be more actively engaged in filtering out messages and repeat offenders. But it's also important that they explain why they're taking down messages and blocking people so those people have a chance to correct their mistakes. A social media platform shouldn't act as some sort of Emperor Nero.'
A study by Utrecht Data School for De Groene Amsterdammer magazine found that Van Ginneken was the fourth most frequent target of hate messages out of all the women standing for parliament. 'The objective conclusion was that it was a deluge,' she says. 'It's evidently part and parcel of politics these days.'
Having experienced social media from both angles, she is acutely aware of how differently women are treated online than men. 'I never used to get replies on social media that were directed at me as a person,' she says.
'If I posted something people disagreed with it was always about the content. Now that I have a profile as a trans woman the reactions aren't about the content, but about who I am. To me that crosses a line.'
Discrimination
Van Ginneken says the Netherlands' reputation as a progressive, tolerant country should not detract from the discrimination that minorities continue to experience. 'Gay men increasingly no longer dare to walk down the street hand in hand because they're worried about violence.
'Many transgender people lose their jobs during transition. One in five employers openly admits that they don't want to take on a transgender person. Transgender people are twice as likely to be alone, three times more likely to be lonely and seven times more likely to face violence in the street. And sadly they're seven times more likely than the general population to take their own lives.'
When minority groups become emancipated there is inevitably a backlash from other parts of mainstream society that feel threatened, she says. The key is to reach out to the 'silent majority in the middle'. 'You hope that the good side wins on balance. You've seen it with Black Lives Matter and the horrifically racist responses to it. But we mustn't stop making ourselves visible and speaking out.'
At their core, transgender equality and better ethics in data management are both human rights issues, Van Ginneken agrees. 'Before I became an MP I was on the advisory council of the College for Human Rights, so that's a subject that's close to my heart. My slogan during the election was "iedereen telt mee en iedereen doet mee" (everyone counts and everyone has a place). That's what I hope to achieve.'
Thank you for donating to DutchNews.nl.
We could not provide the Dutch News service, and keep it free of charge, without the generous support of our readers. Your donations allow us to report on issues you tell us matter, and provide you with a summary of the most important Dutch news each day.
Make a donation