Much ado about canoes: Leiden environmental group may soon need to abandon ship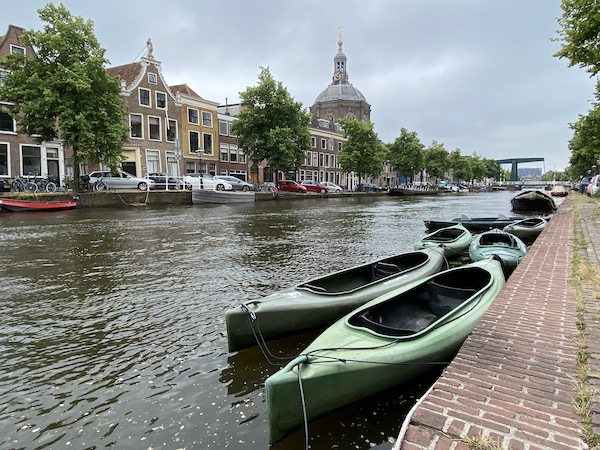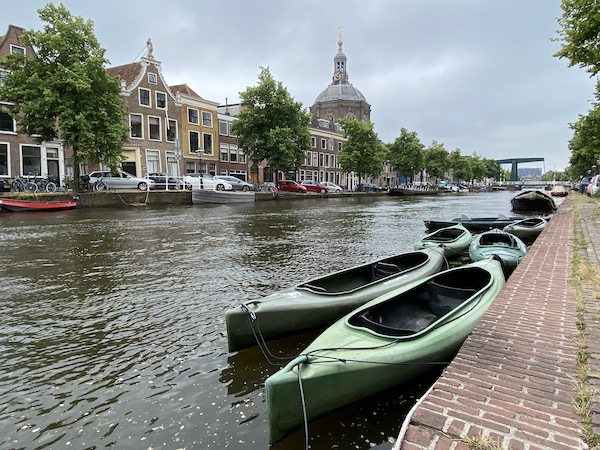 They've grappled with everything from cigarette butts to sunken traffic dividers, tackled an increasing amount of trash from the pandemic, and dodged the occasional angry duck. Now the Plastic Spotters are facing their greatest adversary to date: local council bureaucracy.
The non-profit organisation is devoted to removing plastic and other refuse from the canals of Leiden in addition to studying their impact on local wildlife. Since being founded in 2019, the group has assembled over 400 volunteers, earned headlines in international publications including The Guardian and National Geographic, and become a national leader in the fight to keep trash out of the country's waterways.
But these accomplishments weren't enough to discourage local officials from slapping their canoes with an eviction notice.
Two weeks notice
Co-founder Auke-Florian Hiemstra announced on Twitter on Tuesday that Plastic Spotter's fleet of six canoes, which have been moored along Leiden's Oude Vest canal since early 2020, would need to be relocated within two weeks because they didn't have permits. Unbeknownst to him and his fellow volunteers, they didn't even know they needed permits until recently.
Plots gebeld door handhaving: "Binnen 2 weken moeten ze uit de gracht zijn". De @Plastic_spotter clean-up kano's die al jaren de Leidse gracht wekelijks opschonen moeten weg. Wij en onze 400+ vrijwilligers snappen niet wat er gebeurt. "We doen toch iets goeds voor de stad?" 1/9 pic.twitter.com/K9Nd0u7g45

— Auke-Florian (@AukeFlorian) July 13, 2021
Their canoes had also been dubbed 'pleasure crafts' instead of small boats used to fish face masks, fast food containers, and other garbage out of the canals. Worse yet, the current waiting list for permits in Leiden currently has over 1,000 names on it. During a recent meeting with the group, one local official suggested moving the canoes to Hiemstra's garden (his home doesn't actually have one) or a storage facility outside the city.
Outrage on social media
Hiemstra's tweets went viral overnight. They sparked an immediate response among not just the group's volunteers, but everyone from politicians and poets to celebrities and environmental groups scattered around the country, many of whom were quick to critique the decision as an example of Dutch bureaucracy at its worst. On Wednesday, Hiemstra discussed the situation in interviews with media organisations including NPO 1 Radio.
'If we don't get an exemption, we will have to move the canoes to the other side of the city,' said Plastic Spotter co-founder Liselotte Rambonnet. 'We would have our equipment on one side of Leiden and our boats on another. It would be almost impossible to go out with our volunteers in them.'
Op de Maresingel komt een plekje vrij als er gehandhaafd wordt. Zie tekst op sticker. @AukeFlorian @Plastic_spotter
Dit bootje ligt al jaren ongebruikt zonder vergunning. pic.twitter.com/EK9RvPbQiQ

— Geert Crielaard (@crielaardgeert) July 14, 2021
Leiden residents, meanwhile, shared social media posts noting the number of empty mooring spots around the city. Others uploaded photos of neglected boats, one of which has a permit that expired back in 2017. Others expressed concerns over officials targeting a volunteer environmental group instead of tackling other problems like overflowing rubbish containers that typically cause trash to fall into the canals in the first place.
A possible change of heart?
A city council meeting on Tuesday night may have resulted in a solution that will let the canoes keep their current home. Members of pro-animal De Partij voor de Dieren called on alderman Yvonne van Delft to figure out a workaround. A 'hardship clause' in current regulations may give the Plastic Spotters an exemption.
'Van Delft has said she wants to do her best to make something happen regarding the policies and change them for special initiatives like ours,' said Rambonnet. 'At the moment, that isn't possible with the current policies.'
Local officials are currently scheduled to take a vote on whether or not the canoes must be removed during a meeting on Thursday night. Even if an exemption is made or if current policies are modified, it could be several more weeks until all the paperwork is completed and they're officially allowed to stay put.
'We won't believe it until the permit stickers are on the canoes,' Rambonnet said.
Thank you for donating to DutchNews.nl.
We could not provide the Dutch News service, and keep it free of charge, without the generous support of our readers. Your donations allow us to report on issues you tell us matter, and provide you with a summary of the most important Dutch news each day.
Make a donation