Partner content
Taalthuis offers summer crash course in Dutch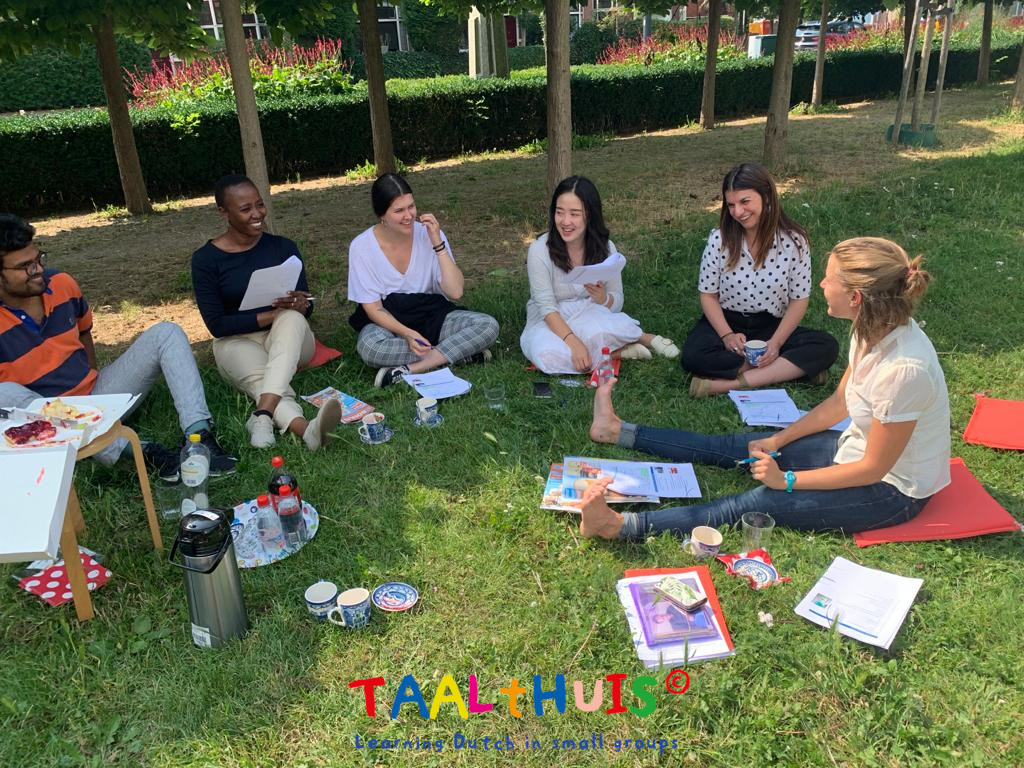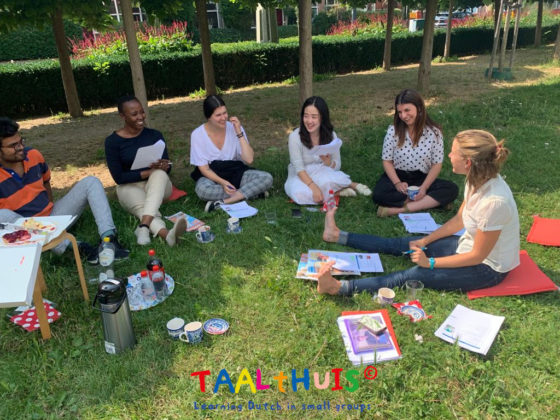 This August, Taalthuis is offering crash courses in Dutch for adults and children, both face-to-face and online, so newcomers can greet the re-opened Netherlands in its own language. We find out more.
When the second lockdown hit, Jessica Coetzee (19), a South African au pair working in Bilthoven, was concerned that she would have to cancel her Dutch lessons with Taalthuis. 'I was going to do a course in person, but with the coronavirus and everything, it was so confusing,' she says. 'But Taalthuis made it really easy to switch from the in-person course to online.'
The Beginners Plus (A0-A2) course she took to improve her communication with her host family has been a great success. 'This course has everything, from sentence construction to learning new words, to being able to do things in past, present and future tenses,' she says.
Jessica has made great progress on the 12-lesson course. 'In the beginning, I didn't understand anything the parents said to me or what happened. I couldn't even have a conversation when you go to the shops,' she remembers. 'Now I'm able to communicate freely with anyone.'
Face-to-face again
Online lessons like Jessica's were a big hit at Taalthuis and will stay for good, but now, with the country slowly opening up again, the face-to-face lessons are back on the menu. Students looking to freshen up their Dutch while on summer holiday can log into an online lesson or self-study course at the poolside or from their campsite chalet, while those based at home can now enrol for small group lessons in person.
All seven Taalthuis locations across the country will reopen for face-to-face lessons in September, but Haarlem and Amsterdam are also offering a Summer Crash Course in August. After a long period of restrictions, where meeting people was often not allowed, the crash course gives students the opportunity to brush up on the Dutch they need to rediscover the country they have moved to – buy tickets for an event, order food in a restaurant, or chat with their peers at school or work.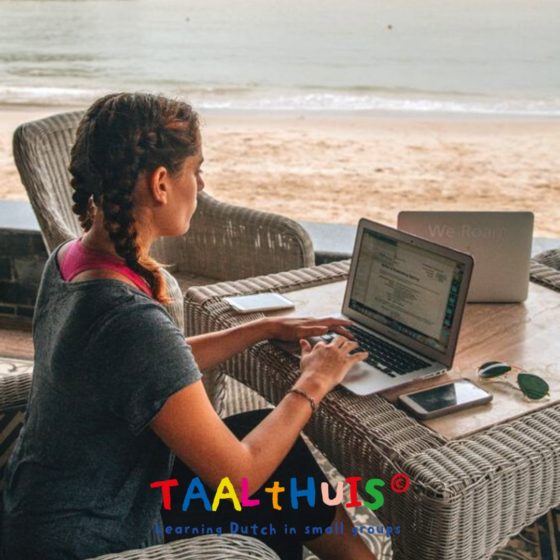 Summer crash course
With an intensive 30 hours of Dutch spread across a 5-day week, the Summer Crash Course is designed to help learners keep up their Dutch over the summer. In accordance with social distancing rules, groups are of no more than eight, so learners get plenty of teacher input. All course materials are provided, as well as e-learning resources so students can build on the lessons at home. Au pairs and students benefit from a discounted rate, and there's a shorter conversation course in Haarlem for learners who want to focus on speaking.
For children aged 8-12 who want to improve their Dutch before returning to school, Taalthuis are running a three-day course in Haarlem this August. Online lessons for children resume in September, giving learners access to Dutch lessons wherever they are, so even overseas families planning to move to the Netherlands can build a foundation in Dutch.
Children's lessons
Using cheerful materials especially adapted for children, the focus of the lessons is on speaking and listening, but e-learning access is also included, and Taalthuis provide each learner with a colourful children's textbook designed by the team to help the children work across all skill areas.
The interactive nature of the lessons makes them fun for children, with activities such as searching for objects to learn adjectives and colours, playing bingo to drill vocabulary, and drawing to practise prepositions. 'They really like the educational games,' says Carolien van Doorn, a trained Primary School teacher who teaches children's classes at Taalthuis. 'It's really different from school. At school you have to sit a lot and listen a lot − here it's more fun.'
'Children are easy and open-minded,' says Carolien, who notices how quickly they are at ease in the lessons. Each lesson has a theme − such as sport, family, holidays − and lots of Dutch is used alongside English so that the children become familiar with basic instructions. 'We want to fill them with confidence. The more words you know, the better you able to make friends,' says Carolien.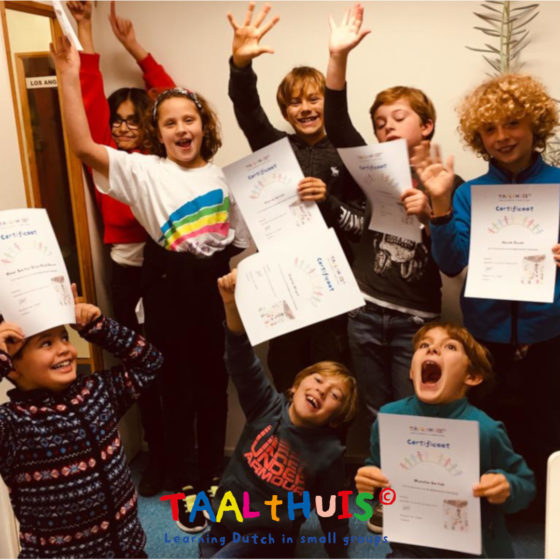 Fun
It's not only children that find the lessons enjoyable. Henry Roberts (31), originally from New Zealand, describes the lessons as 'the funnest language course I've done'. Having completed A2-B1 with Taalthuis 'to get a more formal education in Dutch', he is now signing up for their B1-B2 course.
As someone who commutes between Amsterdam and Utrecht and often works late, the online evening lessons gave Henry the flexibility he needed to take the class from anywhere. 'The teacher was just a very lovely person, so that always makes it easier,' he says. 'I really didn't mind spending another two hours on it at the end of the day.'
The lessons were a pleasant opportunity to share stories or let off steam – albeit in Dutch. 'What was nice is that at the beginning of the lesson we talked about our weeks,' he said. After that, exercises from the text book, question and answer sessions and small group work or role-playing in break-out rooms kept the lessons structured and varied.
Making the most of the Netherlands
Henry describes learning Dutch as 'one of the most important things you can do here'. 'It connects you to the culture and the people,' he says. 'I notice you get a much better reaction from people. It's a much more social thing to do.'
Jessica from South Africa agrees. 'The Dutch really appreciate it when you try to speak Dutch back to them,' she says. Having built a strong foundation in the language, she is looking forward to all the new opportunities to practise her Dutch as the Covid restrictions relax, such as ordering food in a restaurant of doing a Dutch tour.
And she won't have to explore alone. As a newcomer to the Netherlands, the social aspect of the lessons has been an unexpected bonus. 'I've actually made quite a few friends from the online classes and we hang out almost every weekend, which is really nice,' she says.
To find out more about summer courses at Taalthuis as well as their year-round face-to-face and online courses, visit their website.
Thank you for donating to DutchNews.nl.
We could not provide the Dutch News service, and keep it free of charge, without the generous support of our readers. Your donations allow us to report on issues you tell us matter, and provide you with a summary of the most important Dutch news each day.
Make a donation