New war memorial forces us to take a good, hard look at ourselves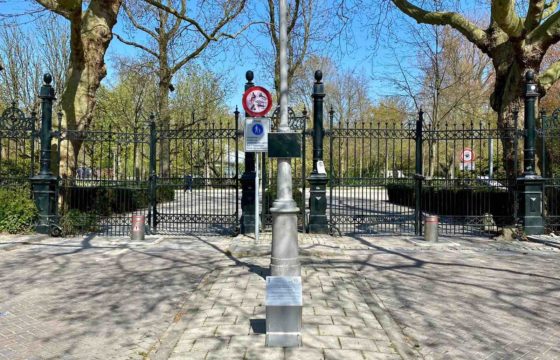 A modest mirror at one of the entrances to Amsterdam's Vondelpark will be formally unveiled on May 4, when the Dutch remember those who died in World War II. The mirror is in the same spot as a sign saying the park was forbidden to the city's Jews during the Nazi occupation. It aims to encourage people question their own actions when it comes to discrimination today.
Niels van Deuren (33) does not consider himself an activist or a political animal, just an ordinary citizen who sprang into action on hearing the king's Remembrance Day speech on May 4 last year. 'Sobibor started at the Vondelpark. With a sign saying 'No Jews allowed', Willem Alexander told a house-bound audience and the handful of people gathered on Dam square.
'When Willem-Alexander said those words I suddenly realised that a large part of the population stood by and did nothing when the Jews were being persecuted. It meant the Nazis could do what they wanted and every time it got worse and more absurd. That is how it happens, in small steps until people are stripped of their human rights. People get used to it and it's normalised. We need to be aware of that process,' Van Deuren told DutchnNews.nl.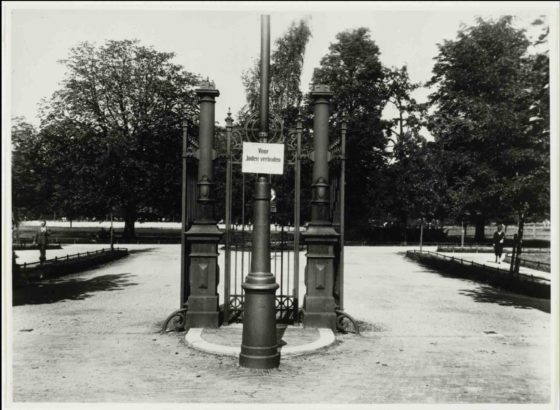 With true entrepreneurial spirit – Van Deuren invests in small start-ups in Colombia – he set about creating a memorial to the dead and a reminder to the living. 'I thought of it and wanted to get it done immediately,' he said.
He quickly discarded the idea of a big work of art which would have involved a long and bureaucratic trek past numerous local council doors, opting instead for the simpler option of a plaque and a mirror.
When Van Deuren thought of the mirror he found the idea to fit mirrors to y D66 and ChristenUnie councillors had who proposed to fit mirrors to memorials, such as the Holocaust Names monument and the National Slavery monument,  had been brought up last year by D66 and ChristenUnie councillers, he said,
'It coincided with my own idea of reflection, of people taking a good look at themselves and taking a good, hard look. Do you act when someone is discriminated against or victimised because of the colour of their skin?'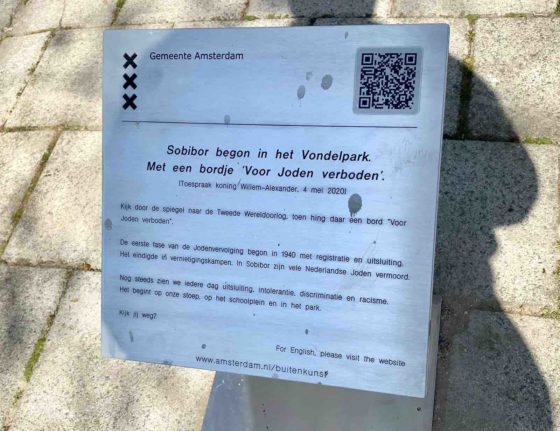 Armed with his idea, Van Deuren approached Amsterdam local council, offering to find the funding for the memorial himself himself to speed things up. He found that not only were they willing to contribute financially but that others, such as the Comité 4 en 5 mei, which organises the annual remembrance events, were happy to help.
'The whole process took about nine months from the first email to the council to the installation, which to my thinking was a pretty long time. But I was actually told that was very quick!,' Van Deuren said. 'The council really put its back into it, everyone wanted to help.'
The title of the memorial 'Sobibor – Wat doe jij' is a reference to a poem by resistance fighter Gerrit van der Veen who led the attack on the building that housed the city's population register in March 1943.
Destroying the register would make it more difficult for the Germans to find people but Van der Veen had reckoned without Dutch bureaucracy. A duplicate of the register was housed in the Hague.
Following a failed attempt to spring his friends from jail, Van der Veen was caught and executed by the Germans in 1944.
The first stanza of the poem reads : 'Wat doe jij, nu je land wordt getrapt en geknecht, Nu het bloedt uit ontelbare wonden. Wat doe jij, nu je volk wordt ontmand en ontrecht, Door de zwarte en feldgraue honden?' (And you, do you stand by, Now your country is being kicked and cowed, Bleeding from countless cuts, Do you stand by, Now your people is being emasculated, stripped of its rights, By the black and feldgraue dogs?).
Today's politicians
Gerrit van der Veen didn't look away but confronted injustice where he saw it and his poem illustrates the significance of the mirror perfectly, Van Deuren said. Does he feel politicians should hold up a mirror to themselves as well?
'People like Wilders and Baudet are frequently criticised by other politicians,' he said. 'There are parties which look away, for instance, you only have to look at the childcare allowance scandal, but fortunately they are being held accountable by the other parties. I think it's people in general who should be more critical if politicians – or a neighbour – makes a racist or discriminatory remark.'
A memorial service will be held at the site of the mirror at the Van Eeghenstraat entrance to the Vondelpark on May 4.  It will feature the story of Harriet Goldwasser who was forbidden to play in the park as a little girl. 
Thank you for donating to DutchNews.nl.
We could not provide the Dutch News service, and keep it free of charge, without the generous support of our readers. Your donations allow us to report on issues you tell us matter, and provide you with a summary of the most important Dutch news each day.
Make a donation