'The Dutch take being 'gezellig' to Olympic standards, it is very comforting'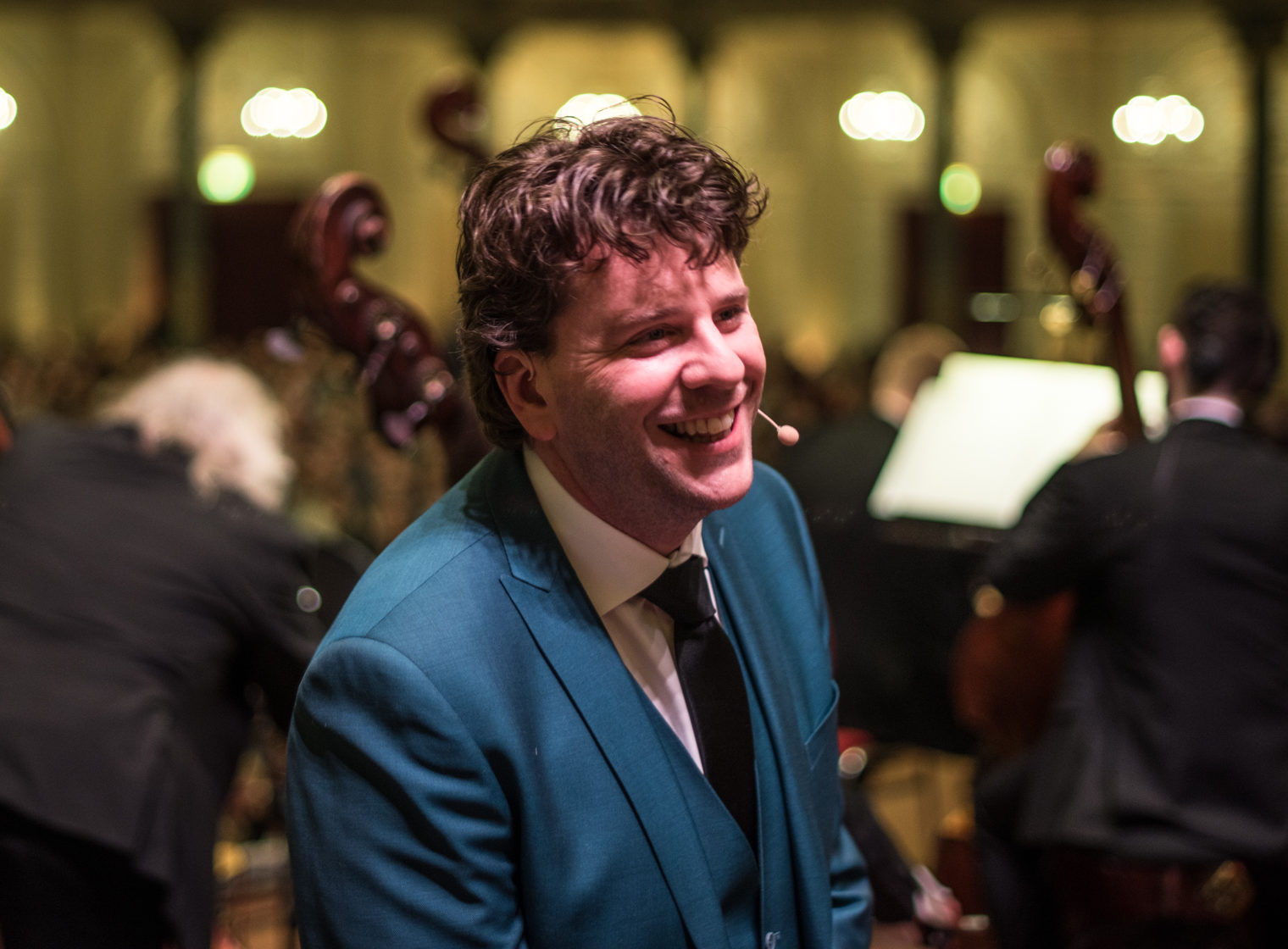 Weesp resident Dominic Seldis has just started his 12th season as a bass player with the Concertgebouw orchestra in Amsterdam. An English native, he has added to his musical career by becoming a Dutch television personality, and says the tikkie is the most terrible Dutch invention ever.
How did you end up in the Netherlands?
It is all down to Concertgebouworkest flautist Emily Beynon, who is Welsh, and used to play in my old orchestra in Cardiff. She told me there was a vacancy for a bass player, so I applied and I did not get it, and I applied again and did not get it, and then third time lucky I took it really seriously and I did.
It took 18 months from start to finish, and I then I came over here in October 2008. My family followed over on December 5, which was strange to say the least. I'd been here many times before, I'd played and taught here, so I knew the country pretty well an now I've made this pretty weird career for myself as the sort of English guy on tv. But I came for the orchestra and that has been amazing. I am very, very blessed.

How do you describe yourself – an expat, lovepat, immigrant, international?
What I have come to realise is that being an expat is very multi-dimensional. I am always described by others as the English guy, the English bass player, and I have learned not to be offended by it. No matter what my passport or residency permit says, you can't take away the fact that I am English.
How long do you plan to stay?
I'll go back if I don't want to be here any more. Life is too short to be doing something you don't want to do. And I have an incredible life here. I have a beautiful house and I work for the Concertgebouworkest. It's amazing. And if thought it was so great back home, I'd be there. And right now I am glad I am here, and suddenly paying all the tax has become worth it.

Do you speak Dutch?
I have learned not to be offended by the endless stream of negativity I get about speaking English on television. I get so many comments telling me 'you've been in the Netherlands for 12 years, you should be speaking Dutch'. And the reality is I do speak Dutch, badly, but I do speak it, and I am booked to go on tv because I am the English guy, not the English guy who speaks Dutch. But I gave up being offended by this a long time ago.
What's your favourite Dutch thing?
I like how the Dutch take being gezellig to Olympic standards. It's very comforting, that so much effort is made to make things nice. The Dutch need to issue you an invitation or state a time so that they can prepare for when you are coming round – the toastjes are ready and the candles are lit.

How Dutch have you become?
I live a completely Dutch life. I live in a pakhuis, I have sloepje [little boat] outside my door, I have a Dutch wife and a Dutch job. Everything about my life is Dutch apart from the language and the humour.
I've become much more tolerant of different nationalities, different attitudes and religions since I've been here because I too am an alien. Once you've got used to that, you realise that you will never completely belong. In that sense, I live a Dutch life but I will never be a Dutchie. So I look at things not through Dutch eyes or English eyes but with much more open ones.

Which three Dutch people (dead or alive) would you most like to meet?
Because of my job, I've been able to meet so many people, whether it be the king or Rene Froger. I'm very lucky in that respect.
I think the great painters and architects are our connection with the past, so I would like to hang out with Rembrandt. I'd like to ask him why he painted himself so much, given how ugly he is.
I would like to get inside the head of Rembrandt and Cuypers, the architect who designed Central Station and the Rijksmuseum, and of course Vermeer. I'd like to ask him how he painted the Girl with the Pearl Earring. Was it all this trickery with dots and mirrors as people say? I think I have seen 24 of the Vermeers in existence because of all the traveling I do.

What's your top tourist tip?
If you can get to Amsterdam without quarantine, its the best it has ever been, so quiet. Delft is beyond belief and Drenthe is staggeringly beautiful. The Netherlands is full of incredibly beautiful places. We've just got a dog and we are investigating all these little pockets. And sure, the countryside is one huge farmyard but there are places of real beauty. And of course, I live in a beautiful place in Weesp, but I don't want anyone to come here. Let me keep it to myself.

Tell us something surprising you've found out about the Netherlands
The tikkie [micro bank payment] is a terrible thing. I recently found out that around over 10,000 tikkie requests for under €2 are sent every day, which is absolutely bizarre. The Dutch give huge amounts to charity and then they won't buy each other dinner.
There are lots of anomalies in the Netherlands. Women are as well educated as men yet most of them work part time. And there are the endless meetings, and going over the same subject again and again. When you eventually come to a decision you have not necessarily taken the best one, because all the good things have been discussed out of it. You even have meetings to discuss when you are going to have another meeting.
If you had just 24 hours left in the Netherlands, what would you do?
I'd perform in the Concertgebouw, Mahler – the thing that brought me here – and then I would get on my boat because I love being on the water. If I could not do either of these two things again I would miss them enormously.
Dominic Seldis was talking to Robin Pascoe,
You can find out more about when Dominic is performing via his website.
Thank you for donating to DutchNews.nl.
We could not provide the Dutch News service, and keep it free of charge, without the generous support of our readers. Your donations allow us to report on issues you tell us matter, and provide you with a summary of the most important Dutch news each day.
Make a donation