It's time for action to defend European democracy, says Dutch MEP Sophie in 't Veld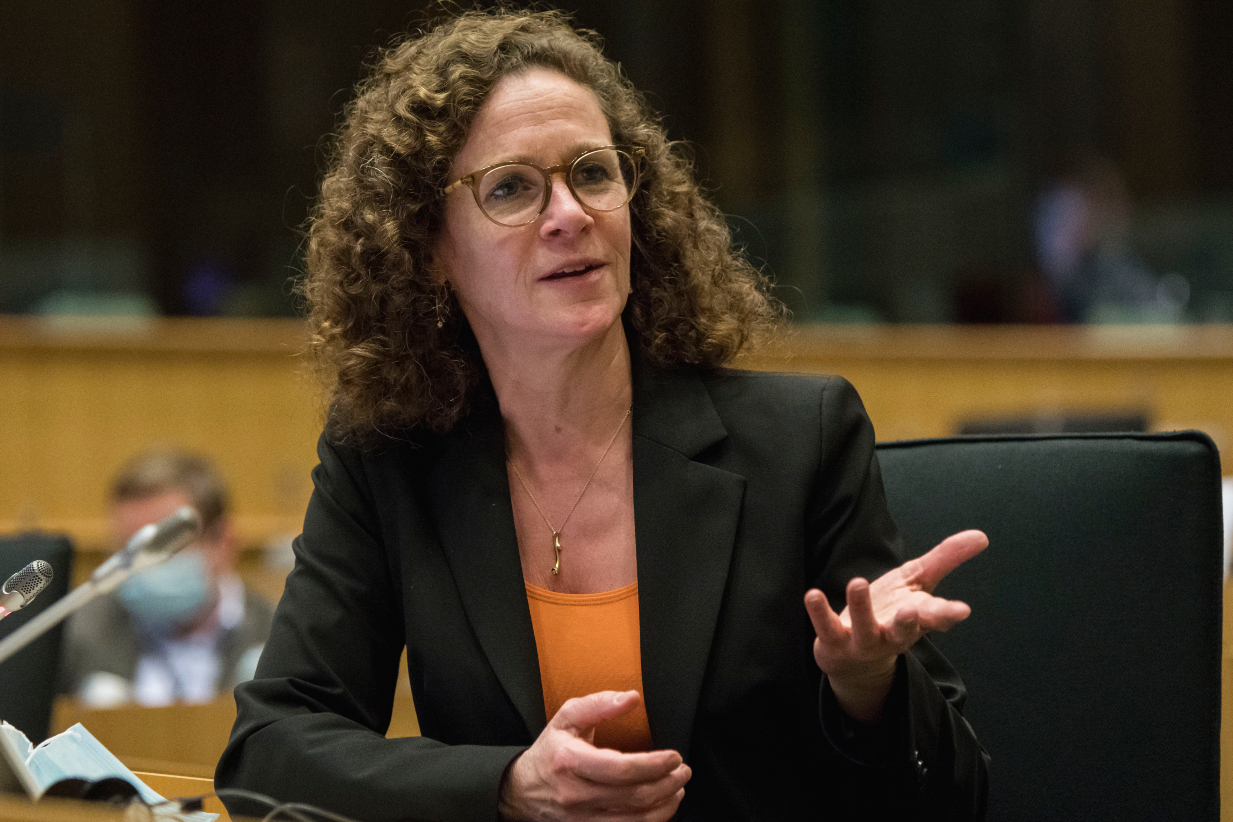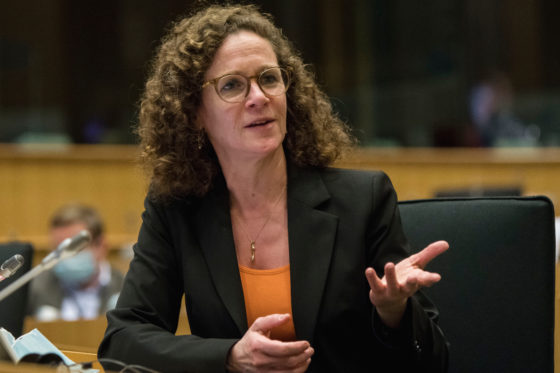 The European Union's stand-off with Hungary and Poland on the rule of law has been overshadowed by the more immediate crises of Brexit and the coronavirus pandemic, but that shouldn't obscure its significance, says Dutch MEP Sophie in 't Veld.
In 't Veld has been one of the most outspoken critics of the European Commission's reluctance to tackle the erosion of democracy in Hungary and Poland. An MEP with the progressive-liberal D66 party since 2004, she sees issues such as the rights of minorities, freedom of the press and the independence of the judiciary as core European values.
Last September she fired a typical broadside at commission president Ursula von der Leyen during a debate on moves in Poland to create LGBT-free zones by local councils. 'It's time to act, it's time to deliver,' she said. 'I don't want to hear her say again: nobody's perfect.'
Polish government taking the homophobic hate campaign to the next level: a full blown witch hunt for #LGBTI people. A gross violation of EU values and a provocation of the EU. Europe must speak out immediately and unambiguously @vonderleyen @EP_President @eucopresident @EU2020DE https://t.co/07uLPFlamu

— Sophie in 't Veld (@SophieintVeld) August 8, 2020

In December she was named as one of the 20 most influential members of the European Parliament in a survey by VoteWatch. At around the same time the EU agreed a budget deal that for the first time allowed countries that fail to comply with its democratic standards to have their funding withdrawn.
In 't Veld is cautiously hopeful that it marks a turning point in Europe's struggles to bring the two self-styled 'illiberal democracies' to heel. 'The problem with Poland and Hungary is that they have already got so far out of control,' she told DutchNews.nl. 'But I think that in other countries it's not as likely to happen. People who are in opposition or critical journalists in those countries feel they have the backing of the European Union, and that is very important.'
Hungary and Poland complained of 'political blackmail' and vetoed an early draft of the seven-year budget, worth €1.1 trillion, along with a €750 billion coronavirus recovery package that was tied to it. But they buckled when the other 25 nations threatened to cut them out of the recovery fund.
Conditionality
In classic European Union fashion, the deal was watered down so that the two governments could sell it to their electorates back home, but the principle of rule of law conditionality remained intact. The key concession was to hold off implementing the mechanism so member states can bring a case before the European Court of Justice. If, as expected, Poland and Hungary go down that road, it is likely to delay the process by 18 months to two years.
Until now the EU's response to the erosion of democracy in Hungary and Poland has been sluggish and pedantic. Article 7 proceedings, which can lead to the suspension of a member state's voting rights, were triggered against Poland in 2017 and against Hungary a year later.
But the only consequence has been a handful of hearings before the council of ministers, the last in December 2019, and a series of increasingly impatient resolutions in parliament. As In 't Veld has observed on Twitter, the EU is good at making laws but far less effective at enforcing them.
Her worry is that the judicial test will allow the two countries to delay the process further. If it leads to further deadlock, MEPs should take the commission to court. 'It's clear that the Commission is scared of crossing the member state governments,' she says. 'They're coming up with all sorts of pretexts why they cannot do it straight away.
Elections
'Next year there will be elections in Hungary and our fear is that the Commission is going to stretch it until the Hungarian elections, allow Orbán to win again, and only then will they apply it. So we're going to push very hard on the Commission to apply it fully and unabridged and immediately.'
Blending populism, religious nationalism and authoritarianism, Hungary's prime minister, Viktor Orbán, and the ruling Polish Law and Justice Party (PiS) have built strong power bases by claiming to defend their nation's culture and borders.
The European Commission has historically been relucant to get into a dispute with individual member states, but that laissez-faire attitude is changing, says in 't Veld. New mechanisms have been introduced to monitor how well countries comply with the EU's core values, such as an annual 'health check' on the status of the rule of law.
'If you'd said five or six years ago that the union is really a union of values and a union of law and that we're going to have all these tools, people would have said: that's not important, we're just an internal market,' she says.
'Even in the council, albeit grudgingly, they are acknowledging that this is an issue. They're moving from having general debates that don't harm anybody to more specific debates. So we are definitely moving forward, but it's not an easy process.'
Interference
During the budget talks Orbán denounced the rule of law mechanism as a 'political and ideological weapon', adding: 'In Brussels today, they only view countries which let migrants in as those governed by the rule of law.' His Polish counterpart, Mateusz Morewiecki, condemned the 'European oligarchy that punishes the weakest.'
In 't Veld dismisses the argument that Europe is interfering with member states' sovereignty, pointing out that Hungary was the first country to ratify the Lisbon Treaty. 'The rule of law, fundamental rights and democracy are in article 2 of the treaty,' she says.
'They couldn't have missed it. It's not in page 353 of the footnotes. It's not just a nice accessory. And if their voters feel they no longer want to comply with European treaties and European law, they are free to take a decision to leave the European Union.'
She says the 'health check' mechanism will make it harder for autocratic governments to cast themselves in the role of victim. 'What happens now is that Orbán and the Polish government say they are being singled out – that this is Hungary-bashing or Poland-bashing. They cannot hide behind that argument any more if all 27 member states are measured with the same yardstick.'
Complacency
In the week that Donald Trump left office, In 't Veld says Europeans should not be complacent about the challenge posed by populist autocrats closer to home. Slovenia's Janez Jansa, one of Trump's most enthusastic supporters, has a similar obsession with 'fake news' and picking fights with the judiciary. The European Commission recently took his government to task for threatenng to cut off funding to the Slovenian Press Agency.
Many of these governing parties are members of the centre-right European People's Party (EPP), the largest of Europe's political families, which also contains Orbán's Fidesz and the German CDU. Part of the reason Orbán has enjoyed such a free rein is his close relationship with German chancellor Angela Merkel, international relations specialist Daniel Hegedüs has argued.
In 't Veld fears that if Europe fails to stop Hungary and Poland backsliding on democracy, autocratic governments could proliferate.
'The EPP was always a moderate, centre-right, pro-European conservative party, but it has very rapidly been taken over by authoritarian corrupt right-wing autocrats and it seems to be a bit helpless. It's like the Republican Party: they hated Trump at first, remember, but at the same time they saw his electoral potential.
'It's the same with the EPP. I think it's going to lead to their downfall – maybe not today, but it will happen.'
Thank you for donating to DutchNews.nl.
We could not provide the Dutch News service, and keep it free of charge, without the generous support of our readers. Your donations allow us to report on issues you tell us matter, and provide you with a summary of the most important Dutch news each day.
Make a donation