MPs call on Blok to uphold democracy and ignore Trump's declaration of victory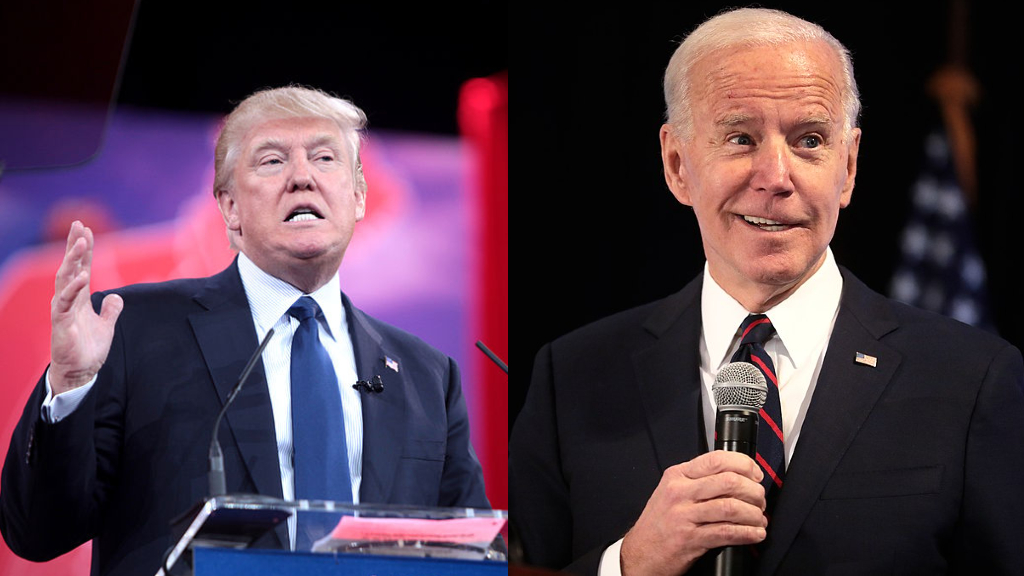 MPs have called for the Dutch government to publicly condemn Donald Trump's declaration of victory in the US presidential election before all the votes have been counted.
In a press conference at the White House in the early hours of Wednesday morning Trump openly questioned the legitimacy of mail-in ballots and threatened to go to the Supreme Court as his Democrat rival, Joe Biden, closed the gap in several swing states.
Trump denounced the vote as a 'fraud on the American people' and an 'embarrassment to our country', but produced no evidence of electoral fraud and did not specify how the Supreme Court might be asked to intervene.
Jesse Klaver, leader of opposition party GroenLinks, said the events in the US showed 'how dangerous it is when a president undermines democracy by claiming victory before all the votes have been counted. The Dutch government must call on Trump to abide by the rules of democracy.'
De situatie in de VS laat zien hoe belangrijk het is om te stemmen. Maar ook hoe gevaarlijk het is als een president de democratie ondermijnt door de winst te claimen voor alle stemmen zijn geteld.

De Nederlandse regering moet Trump oproepen de democratische regels na te leven.

— Jesse Klaver (@jesseklaver) November 4, 2020
Sjoerd Sjoerdsma, foreign affairs spokesman for coalition party D66, pressed foreign minister Stef Blok and his European colleagues not to recognise Trump's declaration of victory. The prime minister of Slovenia, Janesz Janša, is the only European Union leader so far to congratulate Trump.
'It's not for us to choose the American president, but it is our job to ensure our democratic partners stick to the rules. Blok must make plain, together with our European colleagues, that we cannot recognise Trump's declaration of victory and that all votes must be counted.'
Het is niet aan ons om de Amerikaanse president te kiezen, het is wel aan ons om bevriende democratieën bij de les te houden.

Blok moet samen met Europese bondgenoten duidelijk maken dat wij Trumps overwinningsclaim niet kunnen erkennen en dat álle stemmen geteld moeten worden.

— Sjoerd Wiemer Sjoerdsma (@swsjoerdsma) November 4, 2020
Not all Dutch politicians were critical of Trump's statement: Joost Eerdmans, alderman with populist party Leefbaar Rotterdam and a candidate for Forum for Democracy in next year's general election, tweeted: 'Whatever the ultimate outcome, nobody other than Trump is the moral winner of the 2020 US Elections'.
Hoe de uiteindelijke uitslag ook zal zijn: niemand anders dan Trump is de morele winnaar van #USElections2020

— Joost Eerdmans (@Eerdmans) November 4, 2020
Netherlands-based pundits said that the US election would ultimately lead to further polarisation in the United States and diminish its status further on the world stage.
Growing polarisation
James Kennedy, the American-born and raised professor of modern history at Utrecht University, told Trouw that the election confirmed the trend that has been evident since the turn of the century.
'Democrats don't seem to understand that a man they view as incompetent and narcissistic is still so attractive to many Americans. But many people have made progress economically in the last few years, and they noticed the difference in their wallets – at least until corona struck.
'Many people see Trump as a protector, the president who keeps them from socialism and riots by leftist demonstrators.'
Security expert Rob de Wijk said a Trump victory would accelerate European integration as the EU looked to fill the gap left by a retreating America, while even a win for Biden would only slow the corrosion of American influence.
'Biden has said that traditional alliances need to be strengthened,' De Wijk, founder of The Hague Centre of Strategic Studies at Leiden University, told De Volkskrant.
That's all very well, but what people often forget is that as vice-president under Obama, Biden was the architect of the reorientation of America towards Asia. Biden's rhetoric may be different, but even under his presidency the relative importance of Nato to the Americans will diminish.'
Conservative trend
Economic commentator Kees de Kort said the American public had become more conservative in the last four years. There had been no sweeping change to the balance of power in Congress and no sign of significant economic reforms by either party to support those hit by the coronavirus crisis.
'America is divided, so there is no broad majority for the programme,' he wrote on BNR's website. 'I don't think much is going to change.'
In De Telegraaf, meanwhile, columnist Roderick Veelo argued that Trump's achievements had been blurred by 'a relentless flood of accusations and rumours' in the media.
'Journalists, commentators as well as news consumers in this country are suffering from Trump derangement syndrome, in an advanced stage,' he said. 'Even a neutral article about Trump is scarcely to be found.
'We may have to wait a while for the final election results, but Trump is not badly placed. So permit yourself a little nuance in the coming four years instead of another four years of having your judgment tilted towards one side.'
Thank you for donating to DutchNews.nl.
We could not provide the Dutch News service, and keep it free of charge, without the generous support of our readers. Your donations allow us to report on issues you tell us matter, and provide you with a summary of the most important Dutch news each day.
Make a donation