Cross-cultural teens have 'tremendous advantages' and 'unique challenges'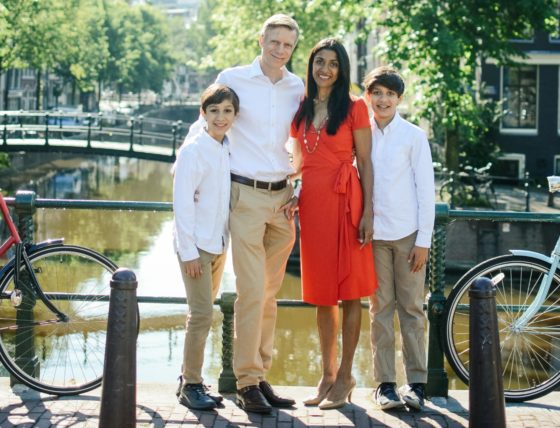 For children growing up between cultures or changing country of residence, building a strong sense of self can be challenging. So how can you best support cross-cultural teens and build a healthy foundation for adulthood?
The Netherlands may be the best place in the world to be a child, according to Unicef, but the experience of their cross-cultural peers (children who have lived in two or more cultural environments) can vary. Research undertaken in the writing of Raising Global Teens, published in October by paediatrician and serial expat Anisha Abraham, shows that more than half of this group associated a feeling of loss, and questions related to identity and belonging, with being a cross-cultural kid.
Globalisation
As the job market globalises and more families cross borders for work, the expatriate population is rising and expected to reach 87.5 million worldwide by 2021. In Amsterdam, half of the children are now of non-Dutch origin. And young people's attitudes are changing, too. A Western Union survey of millennials and Generation Z children in 15 countries revealed that 57% now see themselves as global citizens.
'Our world is becoming more mobile and connected and cross-cultural,' Dr Abraham told DutchNews.nl. 'More and more young people are now coming from homes where a parent has been an immigrant or has moved from place to place, or the kids themselves have moved from community to community … It is very important to be talking about issues related to identity and belonging among teens today because we are seeing such a change in mobility and demographics.'
Identity
Raising Global Teens is a bid to address the needs of this expanding group, and discusses all the big issues facing young people – puberty, sexuality, mental health and social media use, for example – but through the lens of a multi-cultural, cross-cultural experience.
Comparing teenagers' brains to 'a new computer that hasn't been fully set up yet', the book highlights the vulnerability of this group when required to cross cultures or relocate, a process when familiar anchoring elements can be missing and a sense of self may be fragmented.
'We need to help young people going through adolescence to think, not only about their physical identity and their gender and sexual identity, but also their cultural identity,' says Dr Abraham.
'It's so important that teens feel confident with their unique identity over time and can answer the fundamental questions of 'who am I?' and 'where do I belong?'. These concepts of identity and self-esteem have such a significant impact on teens well into adulthood.'
Case studies
Raising Global Teens is structured around questions adolescents and parents have asked Dr Abraham over the years, offering clear answers and advice. Liberal use of case studies brings the issues to life, while statistics on, for example, the prevalence of self-harm (17% of US teens) and depression (the third leading cause of illness among adolescents globally) help paint a broader picture of the experiences of this age group.
Often, Dr Abraham draws on her own experience of cross-culturalism. We hear about the challenges of reconciling two cultures and being the the first Indian American to graduate from her high school, as well as the joy of connecting with others with a similar background when she reached university.
With her German husband and their two sons (aged 10 and 12, and soon to be cross-cultural teens themselves), Dr Abraham has moved countries five times in the last 10 years, across three continents.
'As an adult expatriate, I realised that each time I moved, it took me 2-3 years to settle down in my new environment,' she writes in the book. 'I now know that finding a community and creating a sense of identity and belonging have been crucial to my happiness and sense of wellbeing in each country we lived in.'
Lessons from the Netherlands
The family's five years in the Netherlands have been fascinating for Dr Abraham, from a professional point of view. She was pleasantly surprised, for example, to see exhibition space devoted to sexual reproduction when visiting the Nemo Science Museum in Amsterdam with her children.
Dutch openness and communication, she says, 'really plays out in terms of the data', with low rates of teenage pregnancy and sexually transmitted diseases, and a high proportion of young people reporting a positive first sexual experience.
It is this confidence and willingness to discuss all aspects of adolescent health that Dr Abraham most wants to instil in parents and children, and she sees the book as 'a tool to start conversations'. 'Conversations create connections, and connections are protective against all the other high-risk behaviours that kids are involved with,' she says.
Cross-culturalism is an advantage
Despite this new handbook specific to their needs, it would be a mistake to see cross-cultural families as somehow disadvantaged. Asked if the pros of a cross-cultural upbringing outweigh the cons, Dr Abraham replies: 'absolutely', and points to the incredible resilience of cross-cultural children when faced with change.
'One of the biggest predictors of success is not having top grades or getting into the best university or having the most incredible job,' she says, 'but it's about 'having bounce' and getting back up on your feet after you had a challenge or even a failure.'
In Raising Global Teens, Dr Abraham raises awareness for the 'unique challenges' faced by cross-cultural children and offers strategies for navigating them, but there is also much celebration of 'the tremendous strengths and advantages' that cross-cultural children possess.
'Because of all these wonderful qualities that include things like adaptability, a world view, tolerance, and having more than one language, I truly believe that these kids are the future of our world,' she says.
Thank you for donating to DutchNews.nl.
We could not provide the Dutch News service, and keep it free of charge, without the generous support of our readers. Your donations allow us to report on issues you tell us matter, and provide you with a summary of the most important Dutch news each day.
Make a donation