'My final years in Holland have been most content. I hope for many more'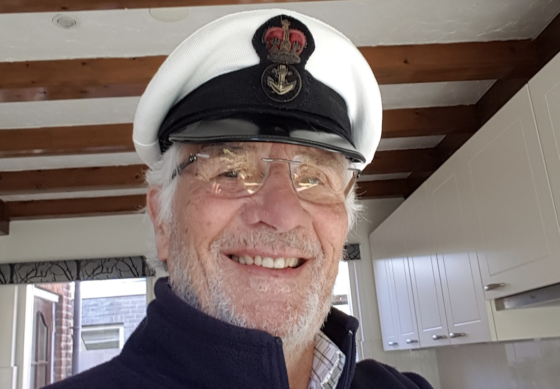 Leo's mother is the only person who ever called him by Royston, his birth name. He's a retired electronic technician who worked with international agencies including Nato and the European Space Agency over the course of his career. Originally from the UK, he currently lives with his family in Noordwijk.
How did you end up in the Netherlands?
I first came here with a small team of Brits to install digital satellite communications for Nato in their kazerne (base) in Schoonhoven. I have since heard that it has closed down. I sincerely hope that it had nothing to do with us. Later we repeated the operation in Germany, Belgium, Norway, Canada, and the USA. Then I took a contract with Pakistan's railway company to install microwave communication systems throughout Pakistan.
Once back at home in the UK and looking for more work, I was fortunate enough to be offered a contract at ESA. This was in Darmstadt in Germany, and I was appointed team leader to build the ground station that received the first signals from Giotto. Giotto was the spacecraft that we sent to investigate Halley's Comet.
This was a first, as we had little idea of what a comet was comprised of. From there, I was re-posted from Darmstadt to Noordwijk where I have spent the last 33 very happy years. I was finally together with my wife and two young daughters on a permanent basis. That was the culmination of a hectic career.
How do you describe yourself – an expat, lovepat, immigrant, international etc
For many years during my travels, it was customary to be called an expat. I have never been too excited about an epithet. Expat was accurate enough. But as the years rolled by and my daughters married Dutchmen, we looked upon ourselves as Europeans.
We were very satisfied with this status and so much enjoyed travelling throughout Europe with no restrictions. Not being beholden to ferry times and prices, or aircraft. Living here we could just jump into the car and go wherever we wished. Short haul or long haul. Many glorious summers we hooked up our vouwwagen (tent trailer) and headed south to the sunshine. Oh, and no currency changes! We often return to Darmstadt to visit old friends and enjoy the Christkindel märkte (Christmas markets) as well as warmer summers.
How long do you plan to stay?
When my contract with ESA ended in 2006, we had planned to settle in southern Spain. We had even bought an apartment in 2004. We enjoyed this for some 10 years but realised that we missed the closeness of our family too much to make it a permanent arrangement.
Thus we sold it and settled more easily back into Noordwijk. We still visit friends down there, and it has become a real comfort zone for some holidays. Without a doubt we are delighted to stay here in the Netherlands. It is a wonderful country, and there is so much more to explore than we have already seen. We all have Dutch passports, and we are very proud to say that we are Dutch citizens.
Do you speak Dutch and how did you learn?
I do speak Dutch, but it is very limited. I am far from fluent. When I first came here I attended a course in the University of Leiden.
I obtained a basic diploma, but my work at ESA found me travelling around Europe on various assignments. Later I signed up again for night school but, due to my travelling, I missed too many classes. Then there is the eagerness of the Dutch to demonstrate their enviable linguistic skills. They hear an English accent and respond by speaking English.
It takes a lot of determination to overcome that obstacle. Since retirement, I am more able to chat with my neighbours and shopkeepers.
My final excuse is that I have become somewhat deaf, and I don't often hear what is being said to me. But I persevere. My local library was a great help; they arranged for me to have what they call a Taalmaat. I meet a Dutchman of similar age and we chat over a coffee.
This has been a great success, and I enjoy our meetings once or twice a week. I feel sure my spoken Dutch has improved a lot. However, my understanding of what little I can hear leaves a lot to be desired. I have been fitted with hearing aids, but they are not all that efficient.
What's your favourite Dutch food?
As you can imagine with all my travels, I was also in the Royal Navy for nine years, I have a very eclectic taste in food. I think number one on my list is haring. It is so unique and so delicious. Also kibbeling and lekkerbekjes.
Frites are also special here. Far superior to the soggy chips I once enjoyed in the UK. This is due to the frituurvet (frying fat) used here. There is such a lot to choose from, perhaps not all of them originally Dutch, because of the many foreign influences.
Vlammetjes for one, appeltaart, very English. Another all time favourite was moorkop. They have a new name now, I believe. Finally, I cannot resist a pannekoek met spek (a savoury pancake with bacon). Never heard of it in the UK, though plain pancakes are common enough
How Dutch have you become?
As I said earlier, I am very proud to hold Dutch citizenship but, because of my language limitations, I do not yet feel Dutch.
I cannot join in with general conversations, especially when there is more than one person speaking at any one time. I do, however, feel very European and have no desire to return to my homeland. It sounds quite horrific to how I remember it.
Because I went to a Welsh school, I have no difficulty pronouncing the guttural Dutch sounds. We have them in Welsh too. So I am sometimes mistaken for being a local, which pleases me to no end. I honestly don't think I will ever feel really Dutch. The Dutch have a long and proud history, as we do in the UK, but we learn about it in school and that helps us to feel part of it. I will never have that advantage, but my daughters have and their children too, even more so.
Which three Dutch people (dead or alive) would you most like to meet?
Top of the list would be Baruch Spinoza. I would love to discuss religion with him, for the very reason that I am not religious. I would hope that he could lower his astounding intellect to nearer my level, so that I could follow his words and thoughts.
Because of my association with space, perhaps I would be enthralled to talk to Eise Eisinga of the Franeker Planetarium fame. A magnificent achievement for such a gifted man who was not even allowed to go to school as a child.
There are such a lot of interesting Dutchmen and women. Anna Maria van Schurman could speak 14 languages. Adriaen van der Donck of Manhattan fame and the even more famous Pieter Stuyvesant. Perhaps more up to date, I would like to try and understand what Geert Wilders is trying to achieve and exactly how?
What's your top tourist tip?
Explore ALL of the Netherlands. There is so much more to see than the regular tourist attractions. It's a much bigger country than you imagine. It cannot be done in one visit. Come back many, many times.
Tell us something surprising you've found out about the Netherlands
Having travelled so extensively, I am rarely surprised. I love the canal systems, and I guess what most surprised me was that the Kerstmarkt (Christmas market) in Leiden was completely afloat on the canal. I was quite stunned. I like to visit every year now.
At first sight, the huge store of bicycles at railway stations as well. When my brother-in-law came here to live, he thought it was a shop. He walked through the rows of bikes looking for a suitable second-hand purchase. Driving over the Afsluitdijk was a thrill and learning about how and when it was constructed made me respect Dutch ingenuity.
Oh, and because we bought an old veeboerderij (dairy farm) some 30 years ago, we were more than surprised to learn how that worked. The 16 cows remained in the barn all winter and then marched through the streets to the fields in the springtime. There they remained until autumn. That way the farmer did not have to own land. He just rented it from more affluent farmers. This also accounts for so many towns sporting a Koestraat. There were a few dairy farms in Noordwijk just 500 metres from the sea.
If you had just 24 hours left in the Netherlands, what would you do?
I plan to spend the rest of my life here. Several times I have seen an ambulance bring someone to the beach in Noordwijk where I live. This is clearly the last wish of the occupant, and the ambulance men carried them on a stretcher to the sand. Very commendable, and I admire them very much.
For myself, I would just wish to have my close and loving family by my side, if it were not too traumatic for them. I would also hope for a quick release, so as not to distress them for too long. My final years in Holland have been most content. I hope for many more to come.
But if we were going to move somewhere, those 24 hours wouldn't be much different. I would want to be with my family. We're very close, we're very loving, and we're always with each other. If I was, say, going to move to Spain, I would want them all to be there to celebrate. I wouldn't want to be anywhere but with my family.
Thank you for donating to DutchNews.nl.
We could not provide the Dutch News service, and keep it free of charge, without the generous support of our readers. Your donations allow us to report on issues you tell us matter, and provide you with a summary of the most important Dutch news each day.
Make a donation