The hospitality industry gets creative ahead of the June 1 re-opening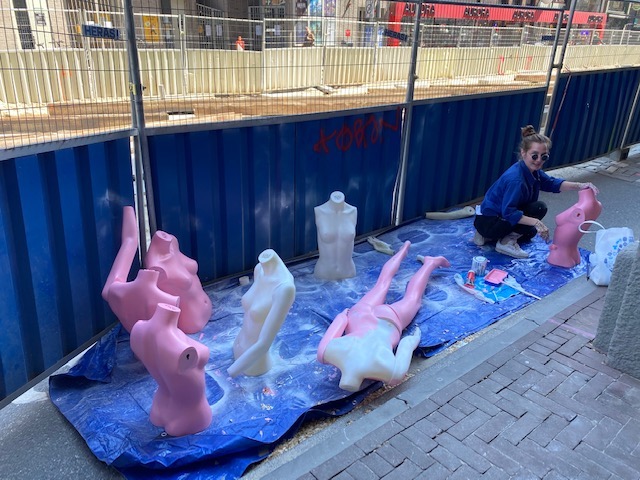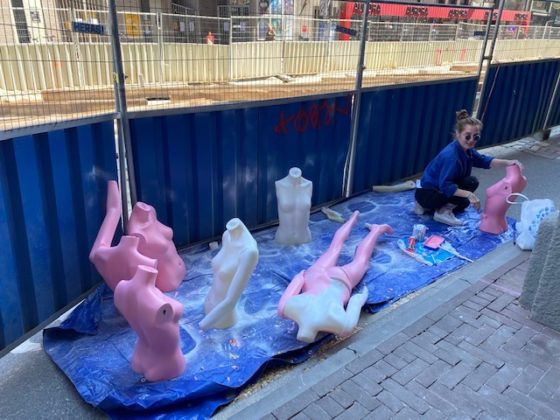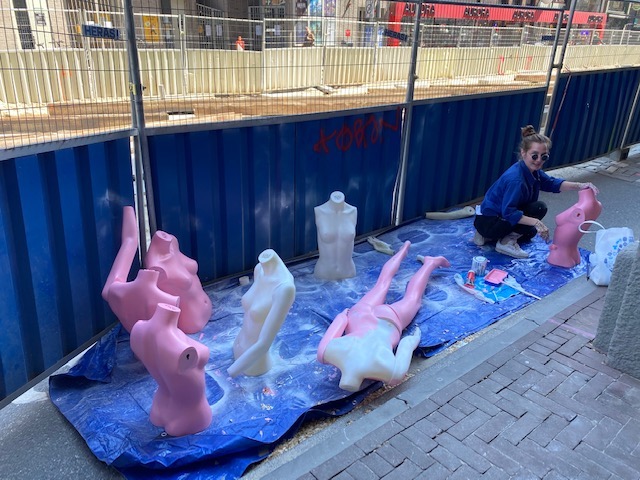 Nora Kalabokas is sitting on the pavement in front of Ter Marsch & Co restaurant on Amsterdam's normally busy Vijzelstraat thoroughfare. In front of her are dismembered mannequin parts—headless torsos, legs, arms.
This 30-year-old artist, who was fired from her job as a cook shortly after the city's restaurants were forced to close in mid-March, is painting the cadavers a fluorescent pink in preparation for their new life as human stand-ins and social distancing reminders when Ter Marsch & Co reopens its doors June 1.
'The restaurant hired me to fill up its space with mannequins so that we can keep the 1.5-meter distance between guests and give a feeling of ambiance and that the place is a bit more full,' says Kalabokas.
As the country's restaurants, cafes, pubs and bars get ready to reopen Monday at noon, they will be following strict government guidelines that include 1.5 meters distance between people (except those living together), a reservations-only system, questioning customers beforehand about any corona-related symptoms and a 30-person maximum indoor seating capacity.
Arrows
'Most places will have arrows and lanes where people can move,' says Kalabokas. 'It's practical, but on the other hand, those symbols of arrows and lanes are a bit restricting…especially in a space that's beautiful and cosy.' With 36 playfully-painted mannequins ('How many?' asks one torso decorated with shot glasses) to 30 diners, the number of live and lifeless guests will be roughly equal.
Ter Marsch & Co's creative approach to social distancing is being echoed throughout the country. Art centre and restaurant Mediamatic has gone viral with its individual greenhouses providing cosy and safe socially-distant-dining for groups of two to four on its waterside terrace. Having sold out for June and July, Mediamatic recently added six more greenhouses to its original five to accommodate demand.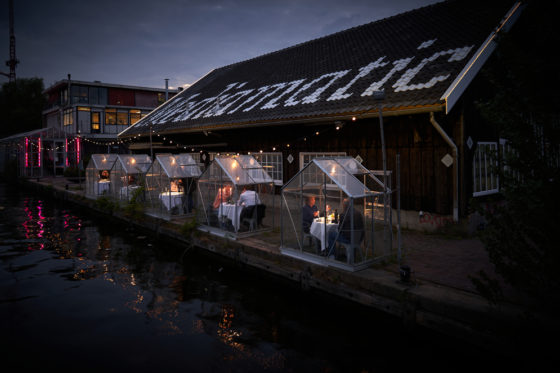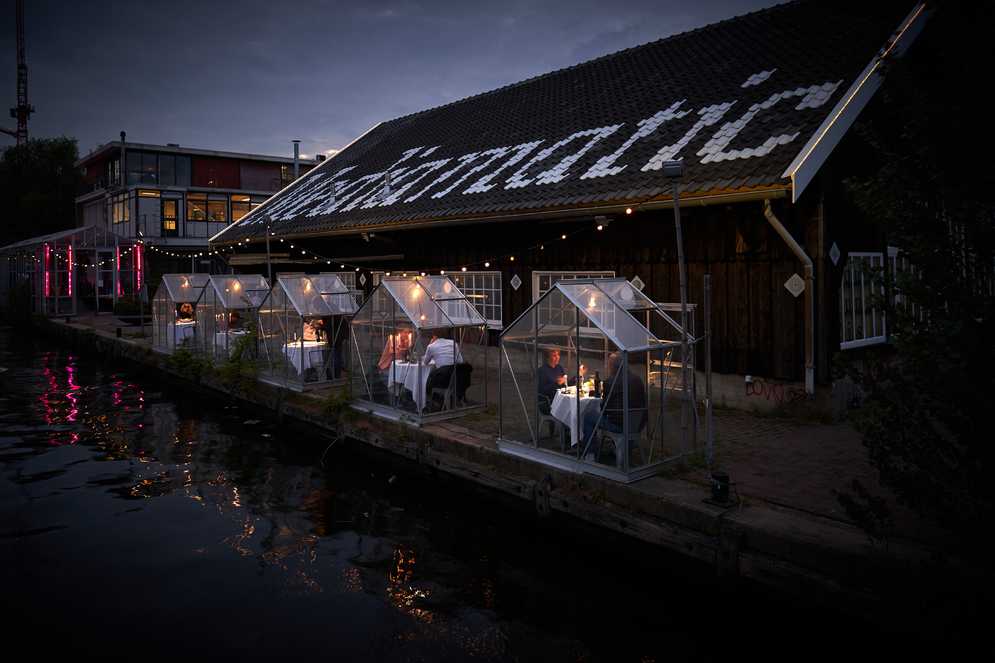 'For sure we were surprised by their success,' says Margot Holtman, Mediamatic's venue manager, who attributes the idea to a brainstorm. 'We already had the glass houses and used them for art projects. We thought about renting them to people to have drinks at home, but then realized we could have people come here.'
Bikes
But many Dutch establishments haven't waited for reopening day to get creative. Restaurant-Café In de Waag, located in a 15th century former weigh house in the centre of Amsterdam's Nieuwmarkt, used its location as the medieval gateway to the city as a bike-thru for customers picking up meals to go.
'It was a great PR stunt, and people love to cycle through,' says In de Waag co-owner Priscilla den Ouden, who will stop the popular service when she reopens in June. She is now turning her attention to innovative ways her regulars can once again enjoy reading newspapers at the restaurant's long tables.
'Maybe it will be with an iPad you can clean,' she says of management's ongoing deliberations. 'We are also discussing with local newspapers about possibly having a code where people can read the papers on their phones without having to buy a subscription.'
What is certain, though, is that In de Waag, blessed with a huge terrace, will be part of the Nieuwmarkt's efforts to open up the square to the area's other eateries that lack outdoor seating space of their own.
Shared space
An initiative of the Nieuwmarkt Entrepreneurs Association, the square, if permission is granted, will serve as a shared terrace for some 25 neighbourhood eating and drinking establishments working as a cooperative, including those on the cramped Zeedijk that risk going under in the crisis.
Serving as a blueprint for how the rest of the country's catering industry might navigate the new 1.5-meter economy, the fenced-off square, which is expected to open mid-June, will feature 25 tables and 100 guests maximum, although if all goes well, it could be expanded.
Visitors must make reservations beforehand via an app and will dine in shifts, with tables and chairs being cleaned in between seatings. Food and drinks will also be ordered by app and can then be picked up or delivered. Heineken Netherlands, which is working with the Nieuwmarkt cooperative, is also involved in similar plans at Amsterdam's Leidseplein, the Ziggo Done and the Rai.
Street closures
Other parts of the city are also taking advantage of the new terrace expansion rules released by the mayor last week. In addition to requesting space on squares, restaurant and bar owners can also apply to use streets, parking spaces, barges and other public spaces for outdoor seating.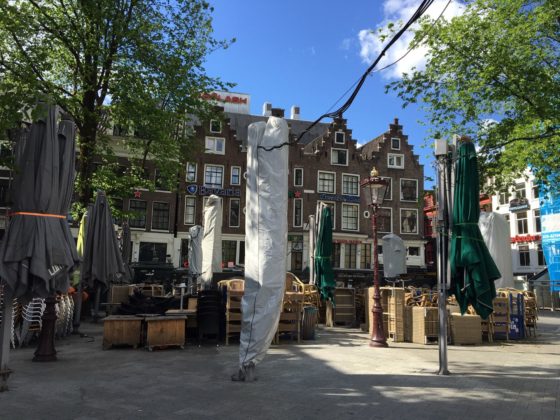 Strict conditions apply, including providing enough space for pedestrians and traffic flow. In return, terrace heating, umbrellas and pouring alcohol on public roads will be temporarily permitted and terrace taxes won't, for the moment, apply.
For restaurants and bars on the popular but narrow 700-meter long Utrechtsestraat that runs through Amsterdam's eastern canal district, the new rules could prove a lifeline. Brasserie Nel on the nearby Amstelveld has applied for a terrace extension to accommodate about a dozen more tables. Manager Thomas van Bogget says in addition to losing some 40 percent of its indoor seating capacity, terrace seating has dropped by more than half.
'We used to get a lot of big groups, including companies and birthday parties, but that's not possible anymore,' he says. Larger tables will now cater to families, who are allowed to dine together, but that will not make up for the café's mainstay of group drinkers imbibing on its leafy terrace.
Profit
The situation is even more dire, Van Bogget says, for his bar-owning neighbours, who either have no or limited outside space and are too small to fit enough people inside under the new rules to turn a profit.
'For them it's really hard, so hopefully they'll be able to expand here to the Amstelveld,' he says. 'Like in the Nieuwmarkt, to make it one big terrace for smaller bars that are a little further away. I hope that's the case, because it would be a nasty situation if a lot of small businesses go under.'
While creative use of outdoor space may bring a temporary respite from the financial effects of the coronavirus, especially with an unseasonably warm and sunny spring, the dark cloud hanging over the hospitality horizon is winter.
Colder weather means moving indoors to smaller spaces. For Mediamatic, it means returning their dining greenhouses to their original use as art installations. 'We will 100 percent continue as long as the weather allows,' says Holtman.
'We need to do something now so we can survive the winter as well,' adds Van Bogget. 'Hopefully, it will be nice summer, because winter will be a completely different story for everyone, including the bars. You need to make money now so you can keep your head up if winter is the same story.'
Thank you for donating to DutchNews.nl.
We could not provide the Dutch News service, and keep it free of charge, without the generous support of our readers. Your donations allow us to report on issues you tell us matter, and provide you with a summary of the most important Dutch news each day.
Make a donation