Meet Pixie the school dog, Amity International School's classroom assistant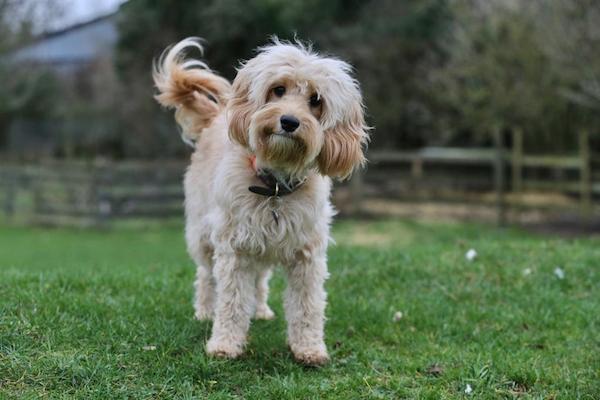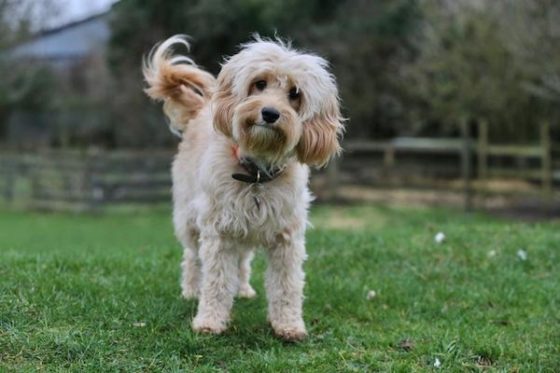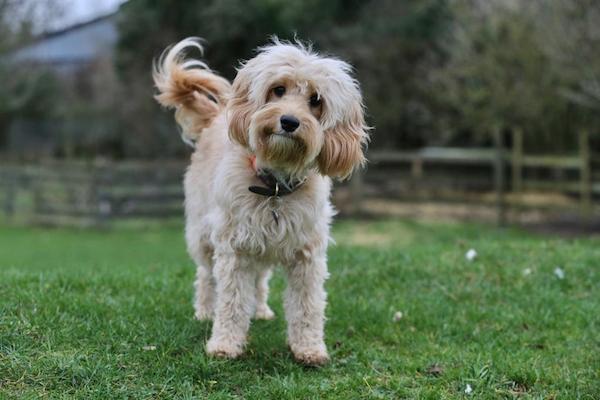 The newest recruits to the classroom are furry and four-legged. We visit Amity International School Amsterdam to learn how their school dog helps create an innovative and nurturing learning environment.
It might sound barking mad, but the staff list at Amity International School Amsterdam includes Miss Pixie, a three-year-old dog. Fitting in snugly with the school's caring philosophy, where social and emotional development is as important as academic excellence, the adorable cockapoo – a cross between a miniature poodle and a cocker spaniel – has been supporting staff and students for almost a year now. The school opened its dazzling Amstelveen campus in 2018 and still has places for children aged 3-13.
A dog fit for the job
Pixie was accompanied to the Netherlands by her owner, PY1 teacher Miss Rosie, who had team-taught with her back in the UK, where school dogs are more commonplace. 'She's such an intelligent dog,' explains Miss Rosie. 'I think she needs a job, and she fits the role really well.' 'Pixie is really, really happy here,' she says. 'She marches in, she has her purpose … she knows the routine.'
Pixie is like a playful puppy outside school, says Miss Rosie, who lets her run alongside her bike on the commute in, or pops her in the basket on the front. But once inside the school gates, she says, 'Pixie is a complete professional,' greeting all the children at the door and displaying the 'incredibly calm and patient personality' which makes her so well-suited to the role.
Parents received a letter about Pixie's arrival and were very supportive – unsurprising given her hypo-allergenic fur and gentle temperament. All children are briefed on how to behave with Pixie. 'So many children have overcome their fear of dogs,' says Miss Rosie. 'Children visibly relax around her.'
Loved by all
Today Pixie is working with PY1 and PY5, who have a paired reading session in the school's stylish library. One child, who has achieved superhero status on Miss Rosie's reward system, is allowed to take her there on the lead as a special treat. Pixie clearly loves the children's company and her little tail wags all the way. As we join the other group among the beanbags and books, her name is whispered excitedly around the room, like diners who have just spotted a celebrity at a neighbouring table.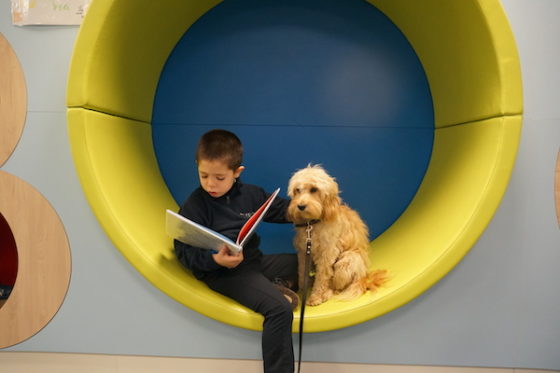 Children take a shared responsibility for Pixie's welfare, explains principal Mrs Sarah Wade. 'There is a change in the classroom atmosphere when Pixie enters the room. The children are keen to make sure Pixie feels comfortable in the room and ensure that there are no loud noises.'
Miss Rosie explains that many expat children have had to leave their pets behind. 'Pixie fills that gap in the family of having a pet, where they learn empathy and how to care for another creature. It unites the class,' she says. On Fridays, when the school has a half day, families can ask to take Pixie on an afternoon walk in the park.
Helping children feel at home
Amity recognises that adapting to a new school in a new country can be a challenge for some children and has seen how Pixie has been a comfort to newcomers. 'My son had no English at all. He had very little confidence,' says parent Mrs Lital Shir-Shniper. 'Playing with Pixie gave him a place of peace. He cannot be judged by Pixie – she will always understand him.' Reluctant to read in front of the class, the boy would curl up with Pixie, reading stories to her. Whether they were from his head or from the book, it didn't matter. 'Pixie was there to listen,' explains Mrs Shir-Shniper, 'without any judgement'.
A new school is overwhelming for some children, Miss Rosie tells me. 'But as soon as we brought in Pixie,' she says, 'that completely changed. They were skipping into school, and they knew that the first part of the morning, they could just sit with her next to her basket and just stroke her and talk to her and that immediately made that first coming into school moment a lot easier.'
Older children feel the effect too. 'If you're having a bad day, she can really warm your heart,' 11-year-old Jonathan* says. 'She helps some shy kids as well sometimes. Any new kids, Pixie can help them calm down and ease into the system.'
Across the school
Initially, Pixie was intended as a reading dog, but it was soon clear that she could do so much more. Six-year-old Connor* says he enjoys playing with Pixie at breaktime, but also describes her as 'very calm' and says she helps him concentrate in lessons. Pixie is like a 'mobile sensory station', says Miss Rosie, smiling. Allowing some children to run their fingers through Pixie's fur can be a great way to keep them relaxed and tuned in, she says.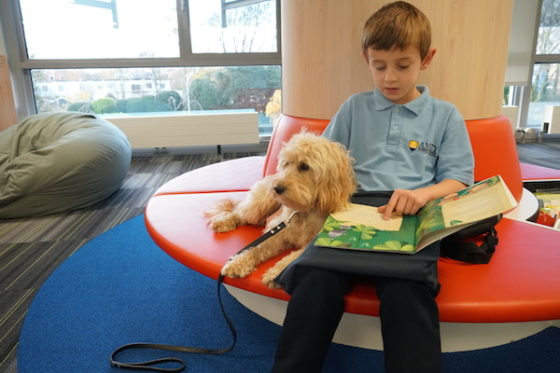 In fact, Pixie can help children in the most unexpected ways. She occasionally launches into a funny stretching routine on the carpet, for example. When this happens, the children are allowed to join in for a bit of impromptu yoga, giving them a fun little brain break.
Early Years students recently called on Pixie to play the role of the tiger in their Tiger Who Comes to Tea party. And in the new Senior School, which opened in September, she joined a science lesson as a living learning resource for a discussion on adaptation and breed traits.
Research supports the cognitive and socio-emotional benefits of school dogs which are plain to see at Amity, but it is the joy she brings which is the most palpable. Children love nothing more than spending time with Pixie, grooming her, or – if they are very lucky – feeding her a treat. Miss Pixie might be smaller and furrier than the other members of staff, but she has classes eating out of her hand – and sometimes the other way around too.
To find out more about Amity International School Amsterdam, visit their website or contact the admissions office.
*names have been changed
Thank you for donating to DutchNews.nl.
We could not provide the Dutch News service, and keep it free of charge, without the generous support of our readers. Your donations allow us to report on issues you tell us matter, and provide you with a summary of the most important Dutch news each day.
Make a donation