Brexit and me: Retiring to the Netherlands – for the skiing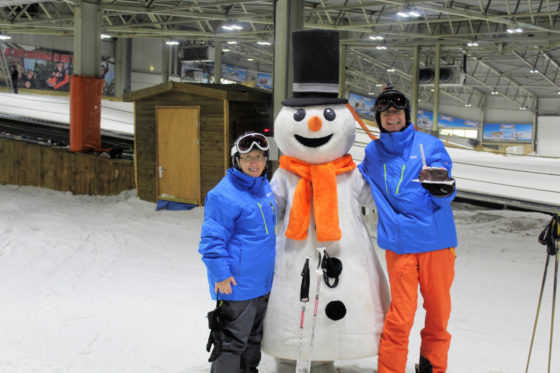 How are British nationals in the Netherlands coping with Brexit? In the run-up to Brexit and beyond, we are talking to Brits about how the issue is affecting them personally, what they are planning to do to regulate their stay, and how they view the UK.
Gillian Benjamin, 61, and her husband Ron, 64, moved to Kerkrade from Suffolk in October 2018. She says they are 'finished with the UK' and plan to take Dutch citizenship as soon as they can.
'Believe it or not, our connection to the Netherlands started with a 'taste of ski' lesson in Hemel Hempstead in 2010. We'd always loved watching skiing on TV but we'd never tried it, so we went along, got hooked and started looking for other places with ski slopes.
'And we found SnowWorld in Landgraaf, which has about 400 metres of slopes. We went over for the first time in 2011 and kept going back, and as we got to know the area we thought: this is a really lovely place, and we decided we would move here when we could. So we actually moved to the Netherlands for the skiing.
'In a sense Brexit was good for us because we made the move sooner than we might have done. But when the vote went to leave, we thought: no, our dream is to move to Limburg and we need to put that plan into action.
'When I took up skiing I was 51 and my husband and I were both working full-time. Finding jobs here is difficult when you're 360 miles away, so in the end we bought the house in February 2017 and then travelled over every month to furnish and look after it.
Pension
'When I was 60 I got a civil service pension and my husband was able to draw a couple of private pensions early without losing too much money, so we were able to retire here in October last year. So we might not be the richest people in the Netherlands, but we're probably among the happiest.
'There's something very gezellig about Limburg. I can't put my finger on why, but we feel totally at home here. The scenery is lovely and hilly, but it's not just the scenery: it's the whole feel of the place. We have a beautiful house in a beautiful location, 800 metres from the German border.
'And Kerkrade is a fantastically friendly place with a nice atmosphere. The attitude of the people and the way they do things is very calm and friendly and helpful. We've got to know a group of older skiers on the slopes and we feel like this is where we want to be.
Learning Dutch
'I've been learning Dutch for years, although it was hard work trying to learn it while we were in England. The group we ski with have been helpful, as have our neighbours, and we're doing two online courses as well. The local library in Kerkrade has a taalcafé every week and they have a great selection of books in Dutch and English. It's a more Belgian type of Dutch in Limburg: you don't have the hard 'g' sounds round here, so that probably helped me feel more at home.
'We haven't been back to the UK since we left. We've got family there but it's easy enough to keep in touch by phone or the internet. If people want to come over they're very welcome. But the very thought – it's a long drive and then you get to the border and there's that scent of death.
'Everybody in the place is angry about everything. People keep posting messages about politics on Facebook and I think: please, just annoy your MP about it. I've had enough of it. But if Brexit does happen it will affect people here and all over Europe, and that's actually really sad.
No planning

'The British government has spent all this time arguing about Brexit instead of sorting out all the problems of poor people, of education, of health. They've been concentrating on something they should never have started. There's been no planning for anything.
'Our Dutch neighbours are totally bemused by it. They find it really quite strange that you would do that to your own country. And the saddest part is it will affect the poorest people in Britain.
'One of the things we like about living here is the sense of community and trying to make things better for people. Just buying a house was a revelation. There was none of the hassle that we used to get with buying and selling houses in England.
'And then when we met our neighbours they asked us straight away if we wanted them to look after the house. So we gave them a key and off we went. We feel far more positive and energised and a lot less stressed since living here.
Citizenship
'We try not to watch what's happening in the UK now because we can't change it. What we can change is working towards our Dutch citizenship. We've got another four years to perfect our Dutch and learn the history and everything else we need to know for the tests.
'That's the most important thing for us and the politicians will just have to sort themselves out. We're finished with the UK. We need to concentrate on the new life and leave the old one behind.
'The Dutch government are dealing with it in the only way they can because nobody knows what's going to happen. They've said that they're not going to throw anybody out and I hope that's true. We aren't in need of help from the state, we have our own income, so I feel confident they'll let us stay.
'If we can't, we'll put ourselves on the internet and say: here are two nice citizens looking for a country. But I don't think it'll come to that. We're just going to keep calm and carry on skiing.'
Thank you for donating to DutchNews.nl.
We could not provide the Dutch News service, and keep it free of charge, without the generous support of our readers. Your donations allow us to report on issues you tell us matter, and provide you with a summary of the most important Dutch news each day.
Make a donation