The deadliest woman in the Netherlands: Goeie Mie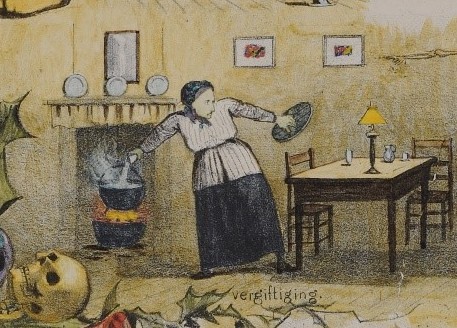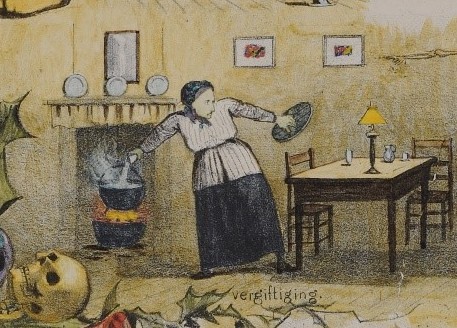 Maria Swanenburg is arguably the most prolific female serial killer of all time, so why isn't she world famous? Here's a look at a fearsome former Leidener, and a group of modern day residents who are keeping her macabre legend alive.
How many people did Maria 'Goeie Mie' Swanenburg kill in Leiden during her murder spree in the 19th century? Teacher and author Stefan Glasbergen believes he found the answer while he was working on a new biography about her.
'The story of Goeie Mie is surrounded by myths,' the lifelong Leiden resident said. 'If you go to Wikipedia, for example, I could point out at least six or seven statements on the page that are just not true.'
Glasbergen's book, titled Goeie Mie: Biografie van een seriemoordenares, will hit bookstore shelves on 1 November. It's set to become the most definitive account of her life and crimes to date.
Arsenic
Best known by her nickname 'Goeie Mie', Swanenburg poisoned no less than 65 people by sneaking arsenic into their food and drinks between 1864 and 1883. At least 23 of them later died. For decades, rumours and even news reports have falsely claimed she poisoned closer to 100. Other accounts have also painted her as an alluring femme fatale when she actually lived and dressed like a pauper.
But the biggest enigma surrounding the notorious murderer is arguably why so few people have heard of her, especially outside of the Netherlands.
An infamous killer

Josine Heijnen grew up in the nearby town of Katwijk. She didn't know about Goeie Mie until she found a short biography about her sitting on a bookshelf in her own childhood home.
The tales of her crimes, which often involved poisoning food like porridge, scared Heijnen so badly that she refused to eat oatmeal for a long time afterwards. Years later, she was enjoying a meal with her friends when one of them made a silly joke about their food being poisoned.
''Oh, like Goeie Mie', my friend said, but nobody knew what she was talking about,' Heijnen recalled. 'That's when I realised that her story isn't very well known, despite her being such a big deal.'
The joke helped inspire Heijnen to create a line of gin along with the help of a colleague who runs a distillery in Amsterdam.
'History isn't always about heroes, and she definitely wasn't a nice character, but she's a big part of the history of Leiden,' Heijnen said. 'I tried to think of a way to bring her story to a new generation, and I'm also a gin fan.'
Responses to it have been largely positive so far, and she's received orders from as far away as Hong Kong. It's also inspired an array of cocktails currently available on menus in local bars like Einstein, which serves one called 'The Poison'.
Wait, what's in those bagels?!!
Heijnen isn't the only local who has worked on projects devoted to Goeie Mie. Along with an escape room that puts players in the shoes of detectives determined to capture her, she's inspired a bagel at Leiden's Better Bagels.
Owner Frank Zweerus has spent much of his life in Leiden. During a recent interview, he and a few members of his staff who also grew up in the city wondered why more people don't know about Goeie Mie. While trying to come up with a Leiden themed bagel a few years ago, he created one devoted to the killer to help promote a local film project.
The crew at Better Bagels still make Goeie Mie Bagels, but only on the day preceding a full moon. Unlike others available in the cafe, these bagels come with a catch. Anyone who gets a "poisoned' bagel must return to the cafe for the 'antidote'.
"It's a regular poppy seed bagel but with poppy seeds all around,' Zweerus said. 'They help hide the 'poison', which is actually just a blueberry, but every once in a while they burst. The seeds hide which bagels have the poison in them.'
World famous, but only briefly
It's somewhat remarkable that Goeie Mie isn't better known, given the hysteria following her arrest in December of 1883. She managed to hide her crimes for years due to various factors including high death rates caused by the deplorable living conditions found in the destitute Leiden neighbourhood where she lived. Local doctors often shunned the area and 'house calls' were a rarity.
No one ever suspected the humble Goeie Mie of being anything other than a saint. She spent her life in poverty and was always eager to help her friends, family, and neighbours during times of trouble. This is how she earned her 'Goeie' nickname, which means 'good' in Dutch.
Her matronly persona made the revelation of her increasingly brazen murders (she once poisoned several people attending a funeral by sneaking arsenic into their coffee) all the more shocking once she was finally caught.
Needless to say, she was nearly lynched by angry mobs after authorities were forced to move her from Leiden to a jailhouse in Den Haag while she awaited trial. Journalists from around Europe and beyond breathlessly reported on her crimes and possible motives.
Psychopath
Some claimed she killed her victims as part of insurance scams, but that didn't explain why she lived so humbly and owed money to businesses all around Leiden. Others stuck with the simpler explanation that she was a bloodthirsty psychopath.
The media made her famous around the world, if only for a short while. Goeie Mie became so notorious in this country that the Nederlandsche Panopticum wax museum in Amsterdam added a figure of her to their 'Chamber of Horrors'.
It stood in a gallery of various killers and torture devices and helped make the museum the second most visited attraction in the city in 1884. Elsewhere others cashed in on Goeie Mie's crimes by selling morbid songs and drawings featuring her. A photo of her taken in prison also became a big money maker.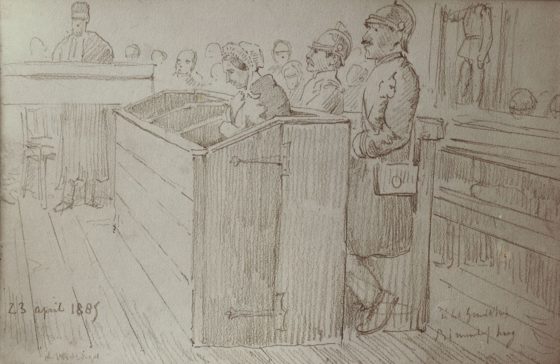 The ambassador of the United States was one of the many who packed the courtroom on the first day of her trial. While politicians and members of the public hotly debated whether or not to restore the national death penalty because Goeie Mie's crimes were so horrific, various legal authorities quibbled over what to do with her. She was eventually sentenced to life in prison.
A brutal legacy erased
Even in a world that remains fascinated by serial killers, it's unlikely that Goeie Mie will get her own Netflix documentary or miniseries on the BBC anytime soon. Meanwhile in Leiden, aside from the projects listed above, there are few reminders of her crimes.
'I think Leiden has mixed feelings about her,' Glasbergen said. 'It's very sensational and it's murder and it's crime and it's super interesting. On the other hand, is this really the person you want to be the most famous woman to ever live in Leiden? There's no traces of her or a museum. The house where she grew up and the others where she lived as an adult were destroyed. There's nothing to remind us all of her.'
After she was sent to prison, many in Leiden, especially those related to her, were eager to forget all about her. Following a serious illness, her husband even managed to remarry. Glasbergen said he reached out to several of Goeie Mie's surviving relatives (she gave birth to seven children, three of whom survived into adulthood) while working on his book, and they were reluctant to respond. He eventually managed to speak with two of them.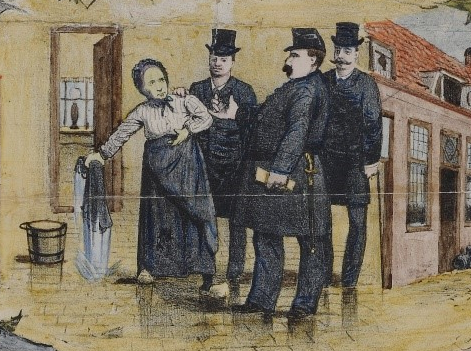 Of the various misconceptions and outright myths that still surround Goeie Mie, one of the most prevalent is that many public records for the police investigation and trial were destroyed during bombings in World War 2. As Glasbergen discovered, there is actually plenty of information available in Leiden's city and police archives. Along with the help of newspaper archives, he was able to piece together an accurate portrait of her life.
The deadliest in history?
Goeie Mie could be the most prolific female serial killer in history. The trouble with determining if she deserves this dubious title depends on which metrics you use. The American serial killer Jane Toppan confessed to 31 murders when she was arrested in 1901, but only around 12 victims were confirmed.
There are also others to consider like the notorious Amelia Dyer of Victorian-era Britain whose unspeakable crimes may have involved up to 400 victims, earning her the nickname 'The Ogress of Reading'. Juana Barraza, a former professional wrestler later dubbed 'La Mataviejitas' ('The Old Lady Killer' in Spanish), is currently serving 759 years in prison for killing at least 11 elderly women in the late 1990s and early 2000s. No one seems to agree on the actual number. Some sources claim it could be as high as 48.
A 1936 biography mistakenly claimed Goeie Mie killed no less than 100 people, and this has often been repeated over the years. Glasbergen is confident that 23 is the true number based on evidence from the police investigation and her trial, which arguably means she's the deadliest female serial killer of all time.
'During her trial, even her own attorney claimed the number was 23,' he said. 'I would say that's accurate. If you look at all the interviews the police did and consider the fact that it was the trial of this attorney's life and he was surrounded by reporters from all over Europe, I'm sure he would have gotten it right. If you compare it to the number in all the primary sources, it's pretty correct. You can trace all those murders back.'
Thank you for donating to DutchNews.nl.
We could not provide the Dutch News service, and keep it free of charge, without the generous support of our readers. Your donations allow us to report on issues you tell us matter, and provide you with a summary of the most important Dutch news each day.
Make a donation