Amsterdam museum withdraws statue from sex worker exhibition after protests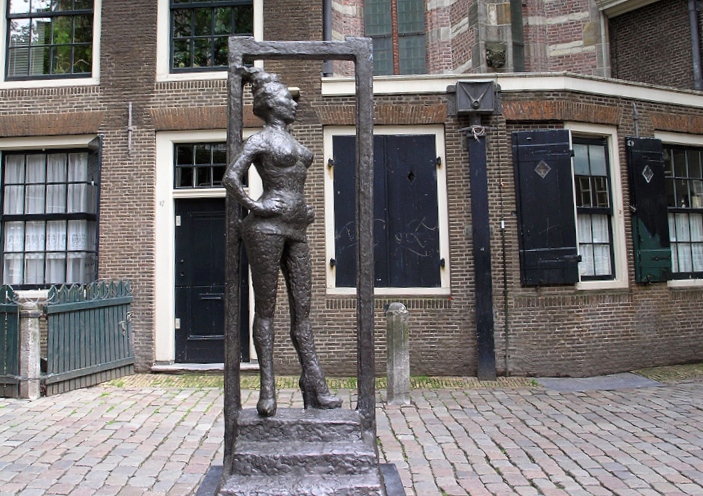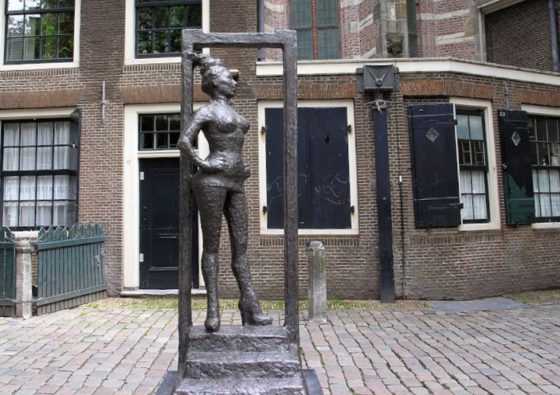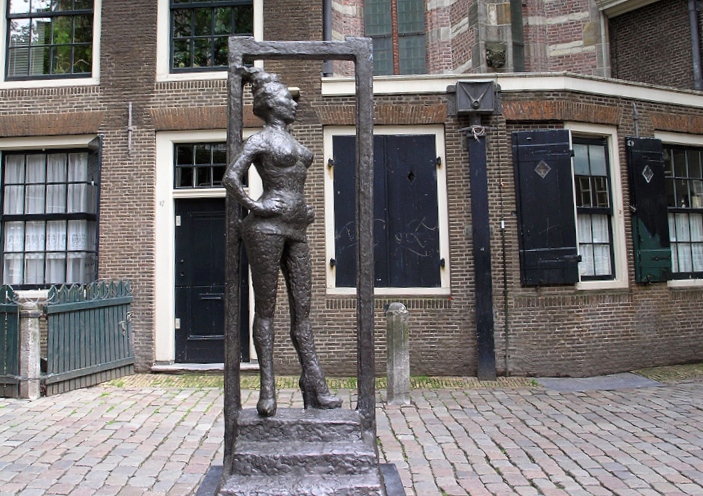 A mutilated model of a famous statue of a prostitute in Amsterdam's red light district has been withdrawn from an exhibition, after sex workers complained that it could incite violence and increase stigmatisation.
Nadia van der Linde, chair of the Prostitution Information Centre (PIC) wrote to the Amsterdam Museum calling for the No 1 Tourist Attraction exhibition, opening this Friday, to be scrapped or modified.
The exhibition, by British artist-activist Jimini Hignett, features artefacts and images that the 2.5 million visitors to Amsterdam's red light district might take home and re-enacted interviews with sex workers that tell 'the story of inequality, double standards and human trafficking.'
It was also due to include a human-sized, wooden version of a famous bronze statue, Belle, which depicts a sex worker in a door frame and stands in the centre of Amsterdam's red light district. Belle was placed there to honour 'sex workers all over the world' in 2007 by Mariska Majoor, a former prostitute who founded the PIC to share information, run tours and campaign for workers' rights.
The new display was also set to include videos of people chiselling their initials into this wooden model to demonstrate the violent side of prostitution, but these and the model will now be withdrawn. 'When you see the red light district and tourists posing with the statue, the image it displays of a sex worker is for me shallow,' said Hignett.
'It shows a romanticised image of a woman selling sex who is happy and independent and not subservient or beaten; my experience with people who have been trafficked, and who have made the decision to be in sex work is that there is a lot of violence in general. The performative act of carving is a display of the culpability we all have: we know this violence exists and we turn away and don't do enough to prevent it on a political or personal level.'
Unacceptable
In comments on Twitter, responses on Facebook, and letters to the Amsterdam Museum and Hignett, sex workers said the carved artwork was unacceptable. One of De Linde's team called it a dangerous stunt.
'An exhibit like this makes me fear for my physical safety,' she wrote. 'If people are encouraged to carve into a wooden statue of an independent worker, why wouldn't they think it's ok to harm one in real life?'
The letter added that the display in general could contradict the museum's aim to be there 'for all Amsterdammers' and increase prejudice towards a socially stigmatised group.
Criminalisation
Hignett said that she supports the Nordic model – criminalising the clients of sex workers – and not the Dutch one, where sex work is legal and regulated, but withdrew the statue so as not to 'distract from the wider discussion about prostitution in general…Dutch policy and about the Nordic model'.
A spokeswoman for the Amsterdam Museum confirmed that they have had 'negative reactions' to the Belle replica and entire exhibition but that the it will continue.
'The Amsterdam Museum, in collaboration with CBK Zuidoost, has been inviting a contemporary artist every year for seven years to present his or her personal vision of a specific issue or development in the city through a work of art,' she said. 'This year it is artist Jimini Hignett, who uses her installation to cast her eyes on human trafficking and sex workers.'
Alternative red light districts
Amsterdam mayor, Femke Halsema, is currently investigating alternative sites to move prostitution from the Red Light District, and earlier this year outlined four plans for change to reduce sex tourist nuisance and better protect sex workers, raising concerns about human trafficking, money laundering and fraud.
A new Dutch sex work law proposing a national registration scheme is also subject to public consultation. On Thursday, Amsterdam sex workers plan a Halloween march in protest at the new law.
Thank you for donating to DutchNews.nl.
We could not provide the Dutch News service, and keep it free of charge, without the generous support of our readers. Your donations allow us to report on issues you tell us matter, and provide you with a summary of the most important Dutch news each day.
Make a donation