What's brewing? A quick look at a few of the Netherlands' best brewpubs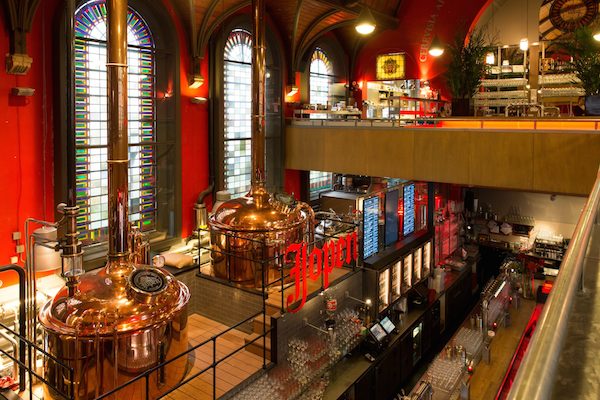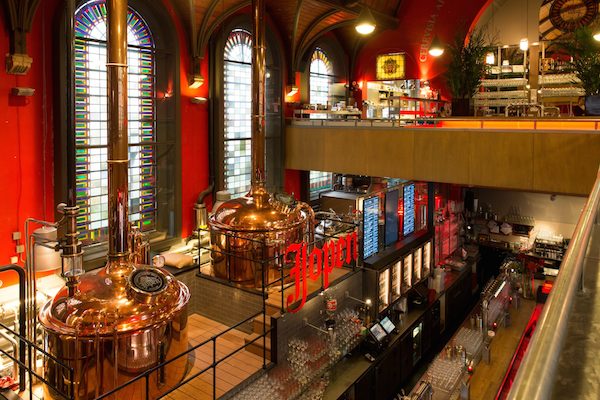 Have you been searching for a place to enjoy a quality craft brew along with some tasty eats here in the Netherlands? While beer snobs might quibble over whether or not these operations technically qualify as brewpubs, tasting rooms, or something else entirely, here are a few spots that combine some of the country's best suds with great food.
Brouwerij de Prael – Amsterdam, The Hague and Groningen
Brouwerij de Prael was originally called De Parel and began brewing in a business park in Amsterdam Zuid back in 2002. After clashing with another organisation that had laid claim to the name, the founders switched around a few letters, redubbed their business De Prael, and relocated to the red light district.
They now crank out a variety of Belgian, German, and Dutch-style ales, some of which are named for famous Dutch singers like Amsterdam crooner Johnny Jordaan. They pride themselves on using organic grains and malts in their beers, which are also unpasteurised, unfiltered, and contain no artificial flavours.
De Prael hires employees with disabilities who might not be able to find work elsewhere and now operates a bottle/gift shop in a 17th century canal house along with two cafes in Amsterdam. The cafe at Oudezijds Armsteeg 26, which is filled with vintage furniture and decor, is considered a must stop for many beer aficionados visiting the city from abroad. They also recently opened additional locations in Groningen and The Hague.
Brouwerij 't IJ – Amsterdam
For years, beer lovers have flocked to this small brewery's taproom located in an old bath house beneath the De Gooyer windmill. The terrace is definitely a great place to spend a summer's afternoon chatting over a pile of bitterballen or cheese, but the real attractions are the brews on tap. Brouwerij 't IJ specialises in blonde and dark beers, but the brewery often produces limited editions and seasonals like the light Biri, which their marketing team describes as 'Heel Tropisch, Heel Nederlands' ('Very Tropical, Very Dutch').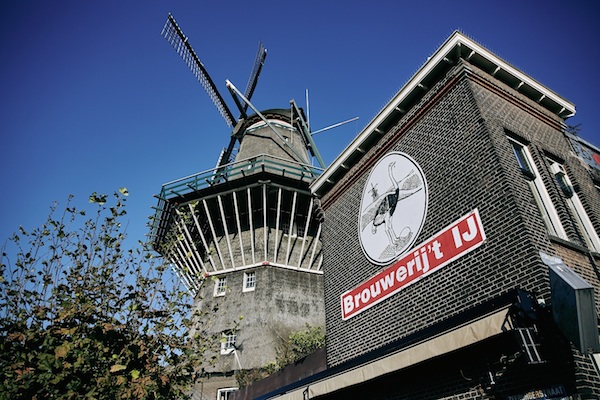 The brewery itself, which is currently in a different location nearby, was opened by former musician Kaspar Peterson in 1985 after he decided to go pro with his home brewing experiments. Since then, its operations have grown to become a small empire. If you're not willing to venture to the tap room, there's also now a second one with a more extensive food menu in Vondelpark's historic Blauwe Theehuis that opened in the spring of 2019. 
La Trappe – Berkel-Enschot
The Koningshoeven Abbey has come a long way since its humble beginnings in the 1880s. That's when a group of French monks moved to a small farm in the province of Brabant and held their first mass in its sheep barn. To raise funds to convert it into a proper abbey, they started brewing beer. They later dubbed their business La Trappe, and it's now one of the most popular Trappist beer brands in the world.
The abbey is currently home to a tasting room and a cafe along with a gift shop that are all surrounded by picturesque gardens. Not only do the staff put the beer in glasses, they also use it in a few items on the menu. Give the ale cheese a try with some on La Trappe Quadrupel syrup on the side while you relax on the outdoor terrace. There's also a variety of locally-sourced dishes that include beer-battered fish and chips, and 'boeuf beer-guignon' stewed in La Trappe Dubbel.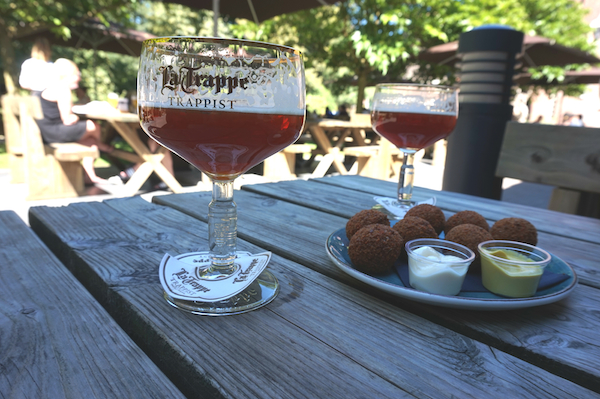 You can also go on a tour through the brewery, but just a quick heads-up: the monks who still live on site go to bed early. Even on weekends during the summer months, visitors are given the boot at around 19:00. Be sure to check the hours on La Trappe's website before you pay them a visit.
There are also a few other rules to keep in mind. Smoking is only allowed on the terrace, and don't even think about showing up dressed in your favourite carnival outfit. Costumed party-goers are not allowed on the grounds.
Brouwerij de Molen – Bodegraven
The simple, black and white labels used by this brewery in Bodegraven conceal the complex flavours behind them. Brouwerij de Molen began crafting beers in a 17th century windmill called De Arkduif in 2004. The brewery has since expanded its operations in a larger brewery down the street, but it still uses the windmill to make small batches. De Arkduif currently overlooks a taproom, a gift shop, and a cafe with a menu that changes a few times a year so there's almost always something new to try. 
The brewery has racked up a variety of awards and honours over the years, including repeatedly nabbing the top position in RateBeer's list of the best ones in the Netherlands. Many of their experimental beers are only made once and the brewers come up with a new one about every six weeks. An '(Incomplete) Beerography' can be found on the brewery's website that lists their various brews by style and sort. 
Uiltje Brewing Company – Haarlem
The Uiltje Brewing Company is known for whimsically named beers like F*ck, The Christmas Tree is on Fire! and Old Enough to Drink as well as their now iconic owl mascot. He and his feathered friends can be found on every can and bottle that soars out of their brewery located along the edge of Haarlem.
There are few varieties of beer they haven't playfully done their own spin on since founder and Brouwerij Jopen veteran Robbert Uyleman began laying the groundwork for the craft brewery in 2012. Their current lineup consists of IPAs, wheat ales, a barley-wine, and an ice-distilled imperial stout.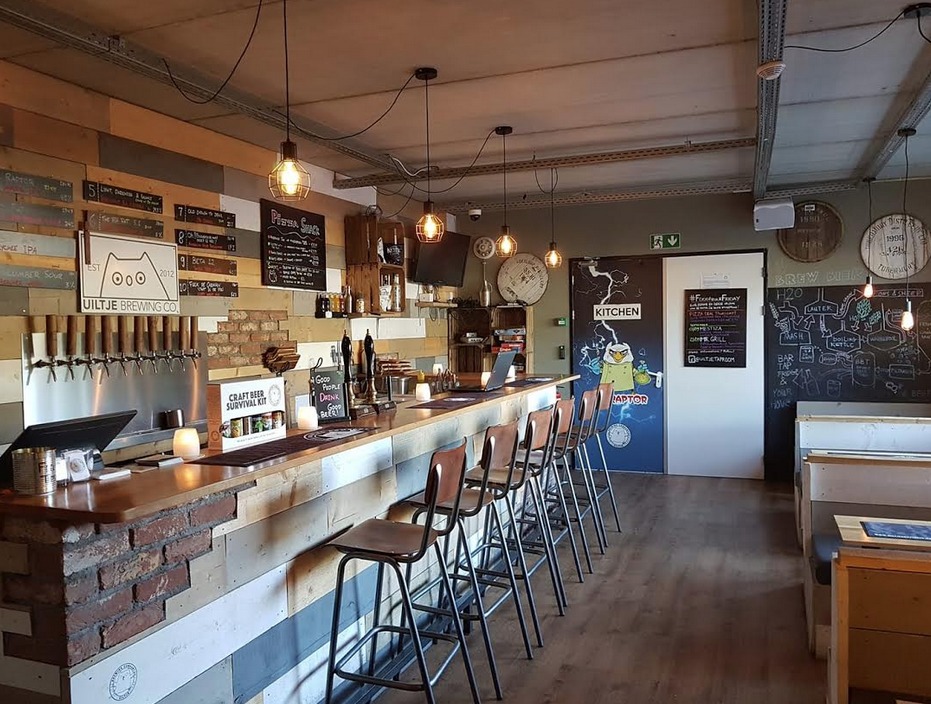 Many of these brews and more can be found at the company's two taprooms and cafes in Haarlem. The Uiltje Brewery and Taproom near Schoteroog Park serves stone-baked, Italian-style pizzas. Over in the centre of the city, you'll find 30 craft beers, over 120 bottled ones, and a full menu at the Uiltje Bar.
De Pelgrim Brewery – Rotterdam
Since the mid '90s, this brewery has occupied a historic building that dates back to the 16th century in Rotterdam's picturesque Delfshaven district. Founded by brewer Harry van de Wiel, the name serves as a tribute to the American Pilgrims who sailed to the New World from a nearby port after living in Leiden.
Over the years, the brewery has produced more than 700 different brews including Mayflower, a Belgian-style Tripel that serves as a tribute to the ship that carried the Pilgrims across the Atlantic. 
Now operated by Harry's son Chris, the brewery offers tours and has a tasting room and a cafe with an adjacent terrace and inner courtyard garden that serves lunch and dinner. You can enjoy cheese made with Mayflower beer in both their soup and fondue along with a variety of meat and vegetarian options. 
Jopen – Haarlem
The history of this Haarlem-based brewery dates all the way back to the 15th century. That's around the time breweries began popping up along the Spaarne River that often used a type of barrel called a jopen. Flash forward to the early 1990s when the Haarlems Biergenootschap (Haarlem Beer Society) was established to produce two beers for the city's 750th anniversary. They dusted off two recipes from 1407 and 1501 that had been tucked away in the city's archives and got to work.
The two beers proved so popular that a company called Jopen was established and additional ones followed, but they were produced in breweries in the Netherlands and Belgium. Jopen eventually found a permanent home in Haarlem's Jacobskerk.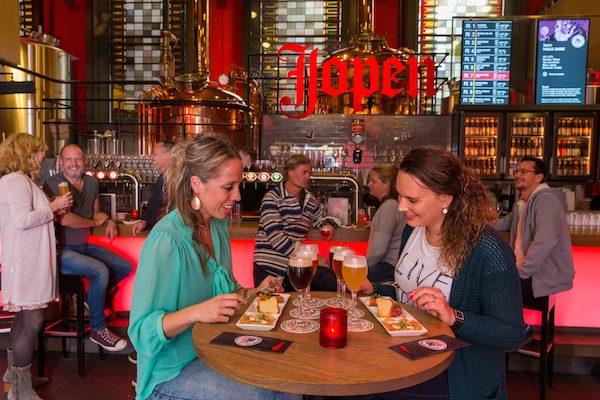 The now dubbed Jopenkerk opened to the public in 2010. It's since been declared the 'Most Beautiful Bar in the Netherlands' by visitors and members of the media alike. It's a fantastic place to sip their 'divine' brews while enjoying a meal in the splendorous grand cafe or restaurant.
There's also the Jopen Proeflokaal Waarderpolder, a more contemporary restaurant in the middle of the company's second brewery over in the Waarderpolder industrial area.
Stadsbrouwhuis – Leiden
This brewery, cafe, and tasting room is the youngest one on this list. The Stadsbrouwhuis opened in the centre of Leiden in 2016 and has helped revive the city's craft brewing industry, which had largely lain dormant for over a century. Their selection of beers can be overwhelming. First off, there's their own ones, which include Leidsch Moons (Leiden Moons). Made with a 15th century recipe, it's a spicy and blonde oat beer.
You can also try one or several of the other 30 or so perpetually changing beers on tap, which at the time of this writing includes Flying Buffalo Imperial Stout from the Griffin Claw Brewing Company over in the United States. Apparently, its recipe was inspired by a group of steadfast brewers who attempted to impress the Russian Czar with a powerful stout back in the early 20th century.
The food menu, meanwhile, is comprised of meat-heavy dishes like burgers and a veal stew made with Guinness. In the spring of 2019, the brewery also took over operations of the Cafe de Spijkerbak, one of Leiden's oldest bars.
Thank you for donating to DutchNews.nl.
We could not provide the Dutch News service, and keep it free of charge, without the generous support of our readers. Your donations allow us to report on issues you tell us matter, and provide you with a summary of the most important Dutch news each day.
Make a donation