Donald Duck is 85 and still going strong in the Netherlands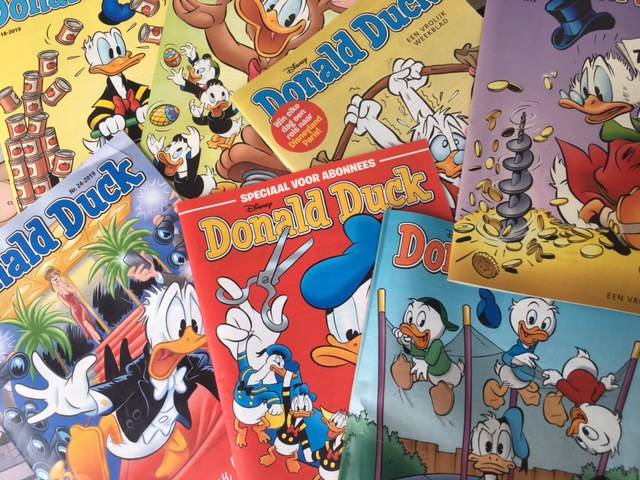 You wouldn't say so to look at him but Donald Duck is 85. The irate duck, full name Donald Fauntleroy Duck, was born on June 9, 1934 and in 1952 Donald Duck, 'the happiest weekly of the Netherlands' started life. The weekly comic is still, apparently, the biggest selling publication in the country.
Since then millions, children and adults alike, have enjoyed the (mis)adventures of Donald, who, after many years residency in this country has become more popular here than in his homeland, the Volkskrant writes.
Donald resembles his readers, senior editor of the magazine Joan Lommen told the paper. 'Donald is a plodder, like them. He represents the middle classes, he's a jack of all trades and master of none. He can never hold down a job. He's bossed around by Daisy. But for Donald it is just that little bit worse and so the readers can derive a little comfort from that.'
Donald cannot be classed as an American-style winner. Unlike his cartoon colleague Mickey Mouse he is not a responsible home-owner and his get-rich-quick schemes never go anywhere.
Flaws
'In the Netherlands and other European countries Donald's flaws are the most appealing thing about him,' cartoon expert Robin Vinck told the paper. 'He is struggling with hierarchical society and that makes him likeable. He's stubborn and has a temper, which is much more interesting than boring Mickey Mouse.'
The present Donald is a more benign creature, a result, Vinck said, of the fact that he is no longer as angry as he used to be and that his very effective squawking cannot be rendered on paper. 'He's lost his edge a bit in the magazine.  I think he could perhaps be a bit sharper.'
The character development of Donald Duck came to a halt when draughtsman Carl Barks left the Disney studios in 1963. His creatures Donald, Scrooge MacDuck (Dagobert), Gladstone Gander (Guus Geluk), Gyro Gearloose (Willie Wortel) and nephews Hewey, Dewey and Louie (Kwik, Kwek and Kwak) were then left in the hands of artists all over Europe, including the Netherlands.
Remain true
'We remain true to the essence and look of the characters, so Donald will always wear his sailor's uniform and the nephews their caps. We won't be sending Grandma Duck into space, as happened in the Scandinavian version,' Lommen said.
He does remove elements that he thinks Dutch children will no longer recognise, such as phone booths and the scarecrow in Grandma Duck's field. He only introduced the mobile phone when everyone had them: 'We are not trend setters but trend followers.'
Societal changes also seep through. In April this year the cartoon featured a lesbian couple, 'not at all a big deal', according to Lommen. 'We had been thinking about it for a while because readers had made it clear they wanted more  diversity. The time was simply ripe.'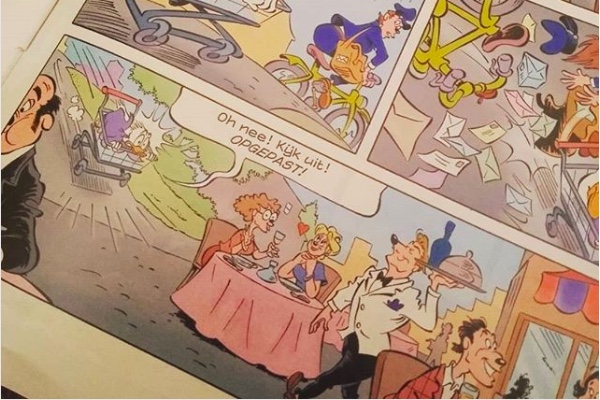 The changes proposed by Lommen and his team are hardly ever disputed by the Disney representative in the Netherlands, and oddly enough the only time a cultural difference surfaced the Dutch editor wanted to feature weapons and Disney did not.
'Sometimes Disney objects to weapons more than we do, although the streets of our Duck Town will never be bloody. But we can't have the Beagle Boys gang robbing a bank using rolling pins, can we?'
Donald Duck magazine is still going strong with 200,000 copies sold each week, mostly to boys and their fathers. 'We lose the adolescents on the way but they often return once they are students, Lommen said.
To celebrate his birthday Donald now has his own art collection at the Rijkmuseum, not (yet) in the museum proper but in the shop. It features the Duck Watch by Zwembandt van Rijn of which the celebrated artist commented to the museum: It was eggstremely difficult to get all the ducks in, it took me all night.'
Here are some of the Dutch names of the inhabitants of Duck Town
Thank you for donating to DutchNews.nl.
We could not provide the Dutch News service, and keep it free of charge, without the generous support of our readers. Your donations allow us to report on issues you tell us matter, and provide you with a summary of the most important Dutch news each day.
Make a donation