Marry for a day? Dutch mock weddings which are surprisingly sincere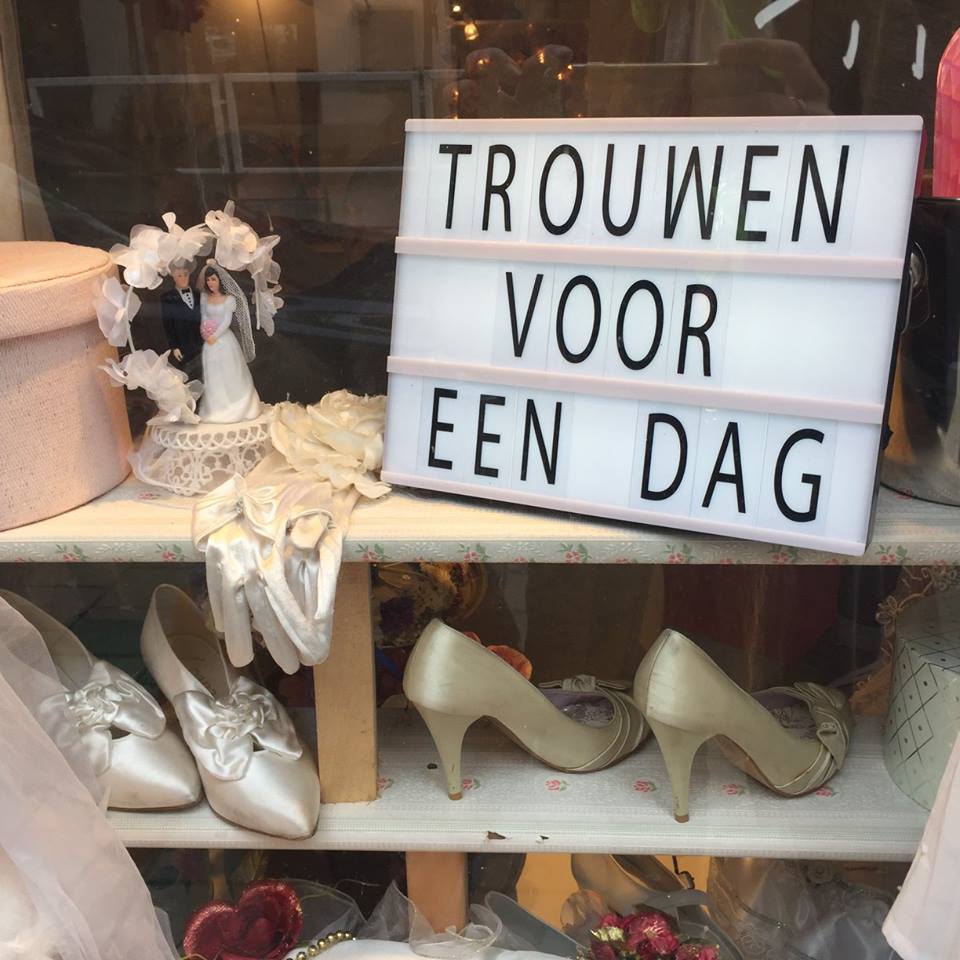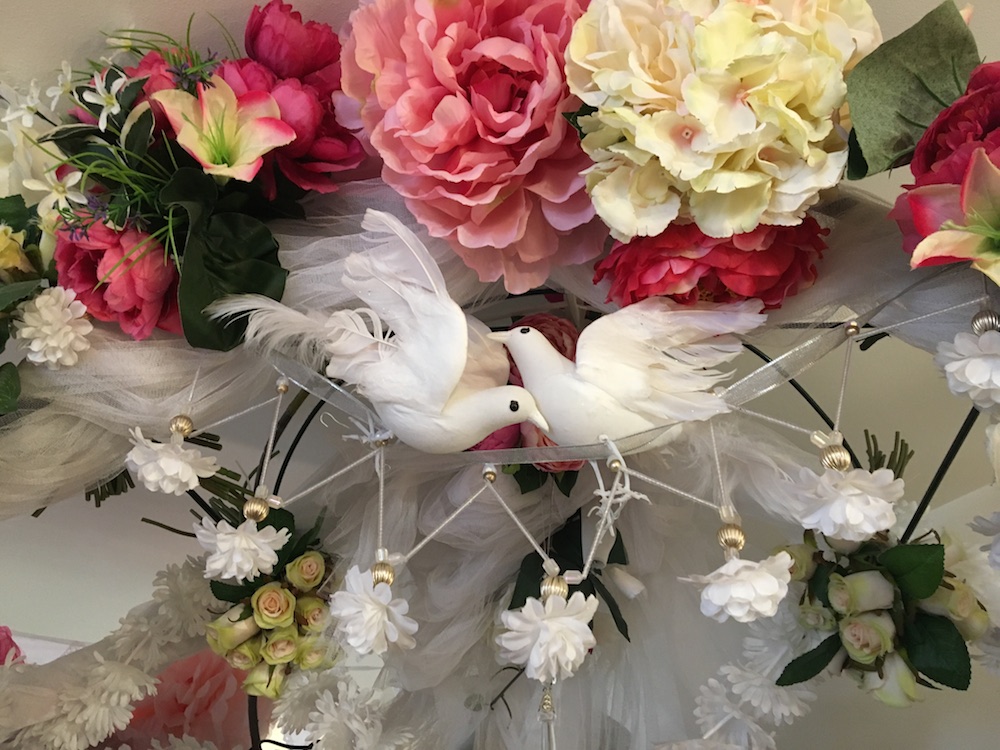 At Wed and Walk, marriage isn't for life, it's for just one day. Deborah Nicholls-Lee finds out why romantics are flocking to Amsterdam to take part in a mock wedding.
Toon and Tetty exchange rings under an arch festooned with roses and ribbons and crowned with two white doves. The birds, flowers and wedding are fake, but the sentiments are all real.
Despite having presided over around 6000 mock weddings, Jona Rens (39), whose business Wed and Walk 'marries' people for just one day in the Netherlands' only fake wedding chapel, still often finds herself in tears. She's not the only one. 'Nine out of ten men start crying,' she tells me. 'They just break down – it's beautiful to see.'
Kitsch
Jona is on the train, but I'm sat on the red carpet (her 'aisle') in the middle of her shop in Amsterdam's Pijp district, whispering into my phone. Around me is a cornucopia of kitsch: plastic cakes, love-heart sweets, and trays of thrift-store rings. Frilly wedding dresses jostle for space on crowded rails, and dressing tables with vintage mirrors display a selection of flamboyant hair accessories.
Jona explains that brides often choose an over-the-top outfit for the mock ceremony, telling her: 'For my real wedding, I would never choose this, but I always dreamt of wearing a dress like this.'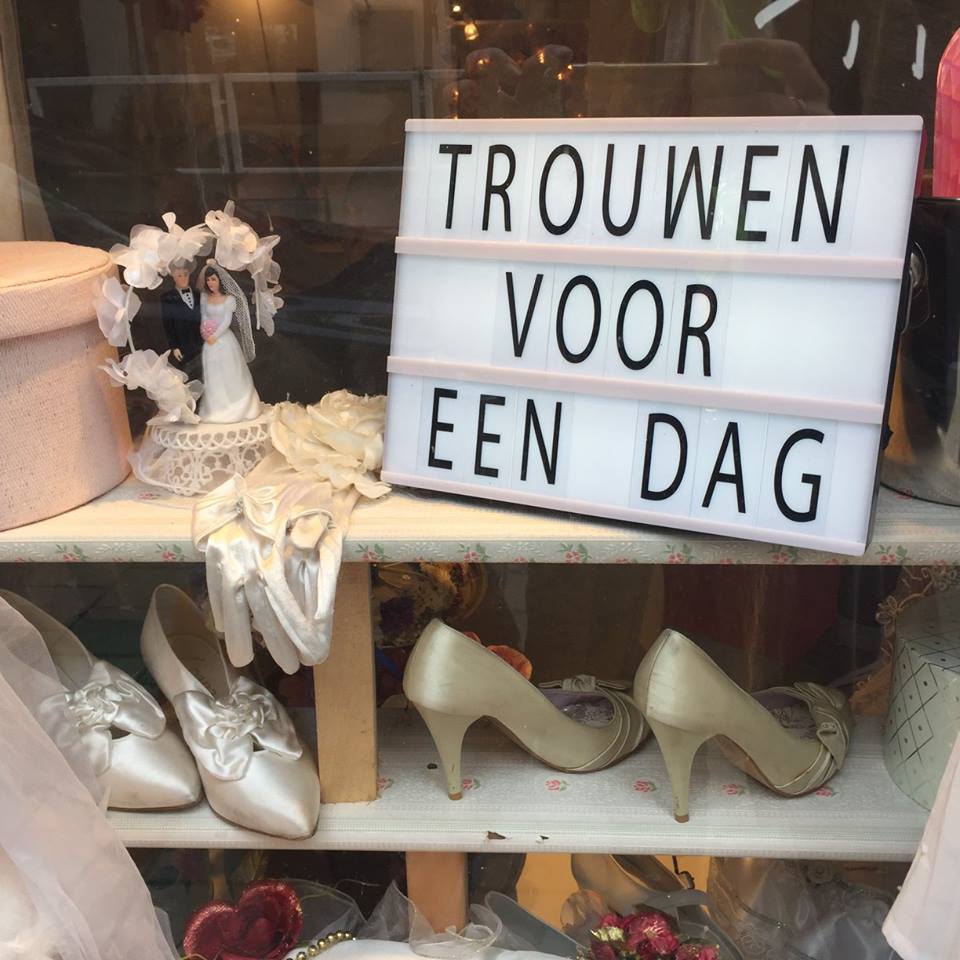 Toon de Vree (50) from Hellevoetsluis in Zuid-Holland received the ceremony as a Christmas present from his girlfriend Tetty de Haan (50) and they 'married' in early January. 'I was totally surprised,' he tells me, but he loved the idea. 'We enjoyed it so much,' he says. 'When you are there and you see your lovely girlfriend in a nice dress and you choose your music and you walk towards each other, you don't have the feeling that it's for one day. You are so in love, you think it's for real and forever.'
Founded by accident
Jona, a theatre director, is used to creating atmosphere. 'Because of my work in theatre, I know how to build something from nothing, just with timing and expectations and with my attention,' she explains. This sideline career in weddings, however, was unanticipated.
The business 'sort of founded itself', she tells me. On Queen's Day in 2003, Jona was selling rings in the Jordaan district when a friend walked past with his new boyfriend. 'Oh, we'll marry you for Queen's Day!' she told them, a little tipsy on vodka. 'Sit down and we'll make this whole show about it!'
Suddenly, a circle closed around them and then a queue began to form. 'We spent the whole day marrying people,' she remembers. 'And the only thing we had was this big bowl of rings and enthusiastic first-floor neighbours who threw out rice every time someone was done.'
The next year it was even busier. In 2005, Jona offered mock weddings for Museumnacht. She received around 300 emails from people wanting to take part and ended up working until 4am marrying people. 'We were totally blown away by the success,' she says. Jona built a business around the concept and in 2015 she opened her shop, much to the relief of her husband, who, she says, 'really got crazy with all these wedding dresses in the bedroom'.
Varied Clientele
Today, her weddings, which start at €75, are not just popular with drunk party-goers and hen parties. 'It became more serious over the years,' Jona explains. 'Some people are so serious about it. They come dressed up really nice and they bring their own bouquet and they bring grandma – and everybody's dressed up…' One couple invited 50 guests.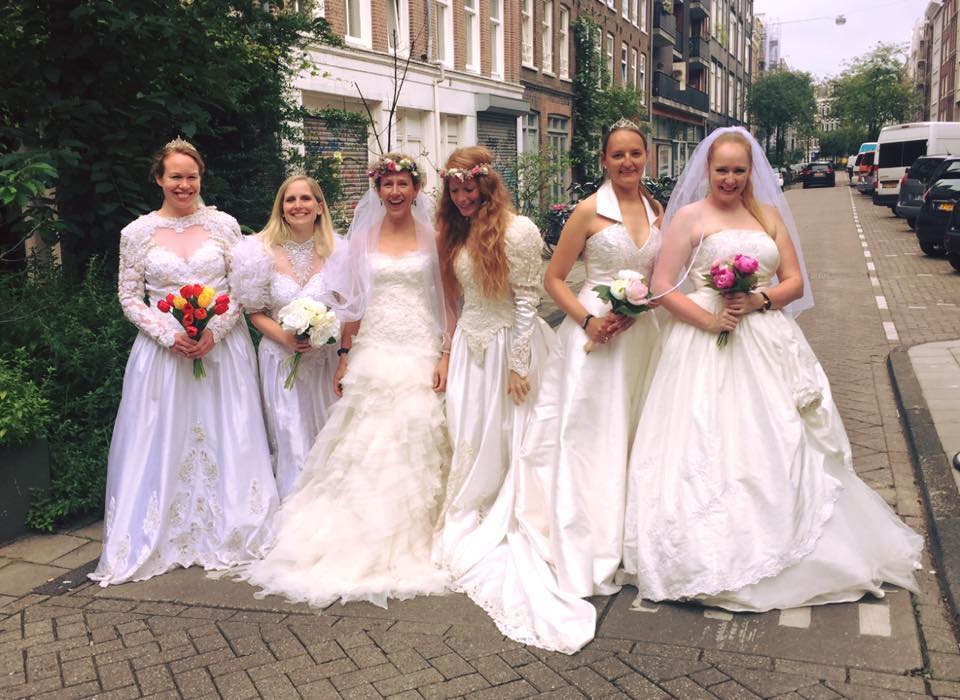 The reason for the mock wedding is often poignant. Jona has married terminally ill couples who want to express their love to the people they are leaving behind, and she once married a lesbian couple from China who cried throughout the ceremony despite not understanding a word of it. 'In their country it's forbidden to be lesbian, so it was important for them that they came all the way to Amsterdam to do the ceremony.'
Young and old have taken part, from octogenarians proceeding up the red carpet in wheelchairs, to a three-year-old girl whose adoptive parents wanted to do a ceremony for her 'because they wanted to let her know that she was really wanted and welcome'.
You can also have a laugh. 'We're really open-minded,' says Jona, who once married a man with a work of art he'd just bought. 'Apparently, it took him a lot of effort to get this piece, and when he got it, he wanted to marry it.'
Demand has been steady, but Jona has noticed a change in the clientele. During the economic crisis, her couples were mostly people who wanted to experience 'the real thing' but lacked the means. 'Now the economy is going well again, the serious people now have money again to do the real wedding, and the customers are people that are already married and want to do the renewal of the vows or celebrate an anniversary or more fun stuff,' she says.
Better than the real thing
In the Netherlands, real marriage is in decline, but Jona's business is booming. Though the vows have no legal implication and the outfits are pulled to size with safety pins, the gravity of the occasion still makes itself felt, but without the pomp and stress of the real thing. 'The ceremonies are really, really powerful, but we do it in a fun way,' Jona says. 'People tell me by email sometimes that they liked it more than their real wedding day.'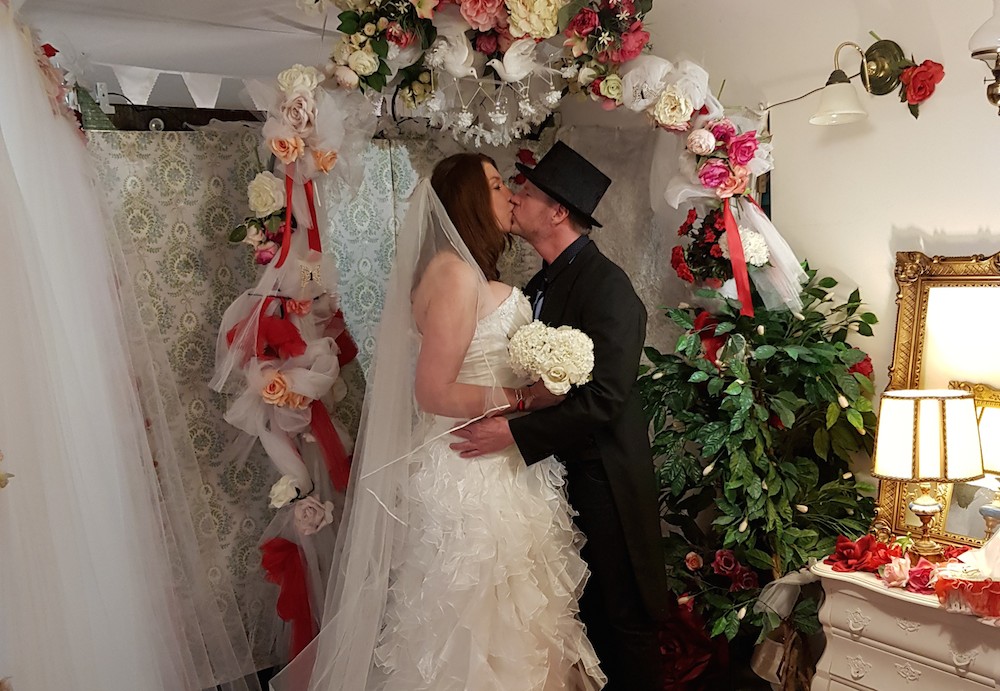 Toon and Tetty are enthusiastic about their experience. 'I want to tell everyone what happened and what we did,' says Toon. The couple made the most of their wedding day by going for lunch, exploring Amsterdam and spending the night in a hotel. When they awoke the following morning, and the one-day spell had broken, Toon tried to keep the mood going. 'I told Tetty, we're not married now for real, but in my heart, you're always my wife.'
Toon and Tetty's friends were astounded when they saw the wedding pictures on social media. 'They all though it was for real,' he laughs. 'And they asked: 'Why weren't we invited?''
'Everyone we told about it, they all liked it, and I think there are going to be more friends who are going to do it,' he says.
Toon hesitates when I ask him if he and Tetty plan to marry for real one day. 'We have only been together for half a year, so we still have a long way to go,' he says. 'But maybe. We love each other, so let's hope so.'
Thank you for donating to DutchNews.nl.
We could not provide the Dutch News service, and keep it free of charge, without the generous support of our readers. Your donations allow us to report on issues you tell us matter, and provide you with a summary of the most important Dutch news each day.
Make a donation