Blogwatching: Opening night (a play about women, sex and porn)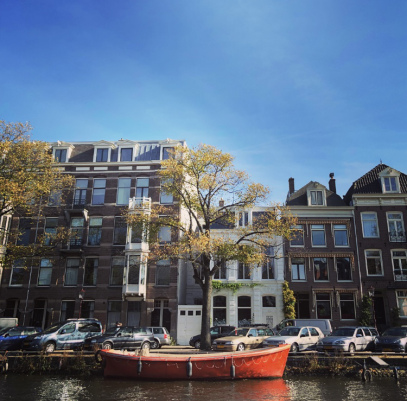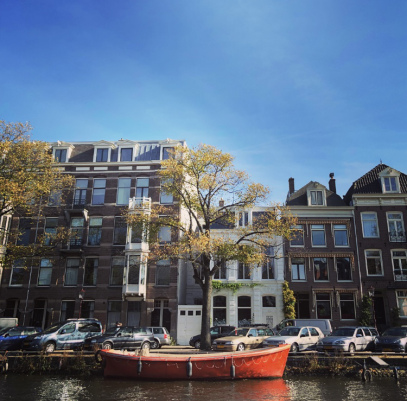 The writer of Amsterfam moved from London to Amsterdam nearly two years ago with three kids. She switched school systems, ditched the car and threw her children into the box on a cargo bike. She has also been known to swear.

In my privileged capacity as Tulse Hill's greatest export to Amsterdam, twice Mumsnet's blog of the day, guardian of #stevethebakfiets, fair-weather Instagrammer, diarist, documenter of disaster, dealer in schadenfreude – ALL my stock is in schadenfreude, that's my only horse in the race, if you start to yearn for some actual useful intel about Amsterdam then I am FUCKED, I tell you, FUCKED – I am often, these days, on the receiving end of a phenomenon that I believe is called reaching out.
The people who reach out and find me in their unwitting grasp are public relations consultants, and they have googled Amsterdam Bloggers – or, worse, Amsterdam Mummy Bloggers (Christ) – and, look! They found Amsterfam! Here's a woman with 1.4 more children than average. She's made some weird decisions. Let's see what else she'll do!
It's usually clear that they haven't read the blog. No, I won't review a baby car seat. I don't have a baby. Or a car. I am not the droid they are looking for. It's a little depressing, though; mothers only appeal to other mothers, and mothers who write? Well, you're WordPress's bread and butter, ladies! You've got some stuff to say? Say it into the internet! Or scream it into your pillow. Your choice. No-one else really cares.
But every now and again, something lands in my mailbox that makes me think I won't end up having a fourth baby just so I can review chamomile-infused teething earrings, or womb-music CDs, or pelvic floor rehabilitation retreats.
"We'd love to invite you to review a performance of our Dutch première of 'WET'", says an email from Screw Productions. "A play about women, sex and porn." How many tickets would I like? Well! I will take ONE TICKET! For myself! This is what happens when you're an artist in Amsterdam, I think to myself. People say to you, do you want to come to this sexy sex thing? And because you're very cool and easy-going, you say, yeah sure. I'll go to that, on my own.
I can do this, because I am comfortable in my own skin, and also too embarrassed to ask any of my friends if they'd like to come to a porn play with me. HELLO! We haven't known each other long, but I thought it would be nice to sit next to each other whilst we watch something called "Wet", which is about women, sex and porn. Our elbows might brush against each other whilst the pornographic pornography play is happening in front of us and I would be FINE with that. ABSOLUTELY FINE.
Okay I'm going on my own.
As I cycle into central Amsterdam on opening night (OPENING NIGHT! NUDGE NUDGE! Because, you know, SEX!), it strikes me that this will be the first time I've ever been to the theatre alone. I've never even been to the cinema on my own. It's strange, that these passive activities are normally associated with accompaniment.
Since my father died, my mum has been to countless plays and films on her own. She knows all the tricks to get the cheap tickets; what time to phone, where to go, which days are usually available. She takes herself off into central London, which she now knows like the back of her hand. She takes in an afternoon show, thinks it's good or shit, and then she's home in time for Coronation Street. Tell me you've got better retirement plans?
The theatre, Perdu, is at the bottom of De Wallen – the red light district. The sex for sale is a few streets up from here, and as I lock up my bike I see families walking in that direction, to tick it off on their Amsterdam To Do List. The odd lone man wanders in the same direction; he also has a To Do List, but it's probably shorter. I look down at my feet and find a silver turtle, which I find incredibly funny. It's just as well I came by myself. (AS IT WERE! HAHA! YOU KNOW, SEX!)
Waiting for the show to start, I realise that I am the only person in the room who has, um, come on their own. This, I realise, as I sit drinking bad white wine, is why we enjoy company at the theatre. The vulnerability of being your own date, the apparent audacity of pleasing yourself, is embarrassing.
I think again of my mum. What does she do at this bit, when the theatre is filling up around her? She will always be early, as I am now, for fear of last minute disruptions. People leave gaps either side of me, assuming that someone will join me. Does this happen to my mum? A funny thing, about being alone – you are afforded more personal space than you need, as if you are contagious.
The play, Wet, isn't really about porn. The starting point is porn – we see Holly flicking through some generic snippets of internet porn, unable to find anything that really turns her on; men deliver packages and then get to the real package, women have been very naughty and need to be spanked, a secretary wants to know if there's anything else she can do for her boss.
Meanwhile, Holly's flatmate, Sophie, has just been dumped by her boyfriend in favour of an Instagram Influencer called Simply Saskia who, I'm sure, has never been asked to review a fucking baby car seat. Holly is The Sex One, with a long list of conquests, and Sophie has only ever slept with her ex. In order to stop Sophie internet-stalking Simply Saskia, Holly suggests that they make a porn film – a good one. For women.
This is where pornography exits, stage left. Because it quickly becomes apparent that pornography as we know it – spanked, shaved, oily and badly acted – is predominantly made by and for men. The women are sex-bots, tongues hanging out of their mouths, nymphomaniacs, begging for it. Men looking for pornography do not want a challenge; there can be no suggestion of failure, because you know what failure means? VULNERABILITY! And you know what doesn't like vulnerability? PENISES!
But do you know what turns women on, as Holly and Sophie discover? VULNERABILITY! Messy sex, not knowing what will happen next, telling each other what you like, what you don't like, having these desires accepted and fulfilled by a sexual partner who is listening to you. It doesn't mean you have to cry, or be in love, or even know each other's name; it means not having to pretend that your labia are extensions of your clitoris. It means embracing mistakes and clumsiness in order to get to a place that feels good. It means intimacy, with or without emotional dependency.
The writers of Wet, Bryony Cole and Grace Carroll, discussed pornography with groups of women whilst researching for the play, and their conclusion is the same one that Holly and Sophie come to – female arousal is hard to bottle; it's ours, and ours alone. Sorry, fellas. No package deliveries today.
The house lights come up, and this the best bit about going to the theatre on your own; no-one immediately says to you, "WHAT DID YOU THINK?", when you're still not quite sure what you think and you also really need a wee.
On the ride home, heading out of the red light district as more men head in, I remember the only porn film that I have ever watched, during my Masters degree in Gender and Sexuality in Cinema.
'According to the university's safeguarding guidelines, I can't tell you to watch porn,' said my tutor, 'but this will be a tricky seminar to participate in if you haven't.' At the time, I lived in South London with a group of opera singers. If you know any opera singers yourself, you'll know that they are salacious animals. Quite insatiable. They hooked me up, and I hid in my room, watching a man fuck a lady over some gym equipment.
Occasionally, the opera singers would pop their heads around the door to watch me watching porn, because I'm really very sweet. I remember two things about this pornography. Firstly, that there was an extreme close up of the penis going into the vagina, like something from the Discovery channel.
As if to say, 'Look! It is really going in! We didn't pretend! PENIS CAM!' Secondly, that it was clearly filmed in an actual functioning gym. Imagine if that was your gym! It was on the thigh cruncher machine, if you really want to know. I guess the angle worked. My father found it very funny that I had to porn as part of my Masters degree, and he told many people about it, to show that I was cutting edge, unafraid, a modern woman. Imagine if he saw me now! Blogging to many tens of people about my life as an Amsterdam housewife. Imagine.
Some would say it is strange to be thinking about my dead father after watching a play about porn; others would say it's inevitable. Either way, I'm at Museumplein before I know it, smelling the Heineken brewery on the air and dodging drunk Brits and rich Dutch people walking their dogs before bed. I cycle past the giant Iamsterdam letters in front of the Rijksmuseum, and then I think I should have stopped to take a photo – the night is beautiful, and the letters may shortly disappear in a move to dampen down tourism in the city. I'm annoyed with myself that I didn't stop.
Two minutes further on, I turn back. You can do that, when you are on your own. You can please yourself. No one's watching.
This blog was first published on Amsterfam.  
Every month we feature a blog post from one of our favourite bloggers. Interested? See if your blog meets the criteria to be included on the site.
Thank you for donating to DutchNews.nl.
We could not provide the Dutch News service, and keep it free of charge, without the generous support of our readers. Your donations allow us to report on issues you tell us matter, and provide you with a summary of the most important Dutch news each day.
Make a donation