Blogwatching: The best flexible work spots in Hilversum for freelancers
The Bitterballenbruid moved to Hilversum in 2014 and has been living there with her Dutch husband and her cat ever since. She writes about about Hilversum and 't Gooi area, eating too many bitterballen, getting married in Holland, learning how to be Dutch… and the language on her blog The Bitterballenbruid. 
Freelancer? Remote worker? Me too! (The latter.) I often work from my office at home, but sometimes you need to get out of the house! Maybe you need some human interaction… or even just a good coffee! Enter the coffee shop… no, not that kind!! We're in the Netherlands but I'm talking beverages here!!
Freelancers need a good cafe where they can hang out and work… somewhere with strong wifi and equally strong coffee…
I've visited A LOT of cafes in Hilversum over my 4 years of working from home, so let me share my favourite spots with you:
1. MOUT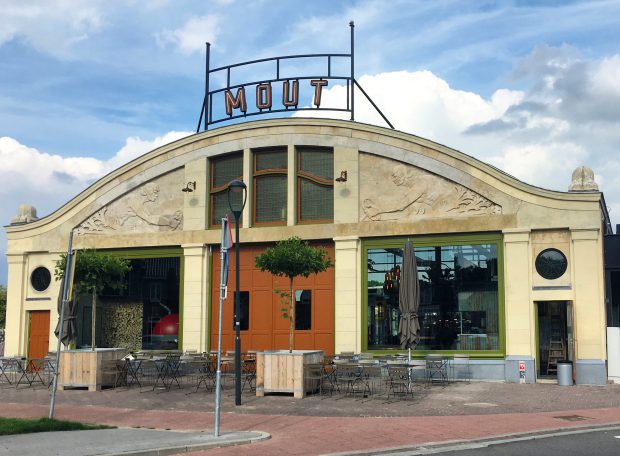 If you follow me on Instagram, you will know I'm here, A LOT. And why? Because it's so damn good. Food halls are fantastic concepts in general but here it's done really well. Drinks are ordered at your table by waiting staff, and food is ordered at each individual food stall using your table number. A lot of food halls require queuing and waiting for your food, but here they will bring it to your table as soon as it's ready. Simple and effective.
The choice is massive, from Vietnamese food to salads, Italian to fish and chips, to Latin American food and Dim Sum. They really have it all. My personal tip: the sweet potato fries with Parmesan and basil mayo are THE ONE!!
Oh and there's free, open wifi, a water dispenser, and the place is massive so there's loads of seating to choose from, inside and out. (They also do bitterballen, but not very good ones unfortunately… )
Mouthilversum.nl | Naarderstraat 8
2. Bagels & Beans
It can get a little noisy in here, so it depends what kind of work you're doing. I can't go here when I'm working on spreadsheets!! But other than that, it's a good bet. The food is delicious, the wifi works and it's split on 3 levels so you'll almost always find a place to sit.
The best thing on the menu is without a doubt the Paddo burger (mushroom burger). They have gluten free and low gluten bagels and there are lactose free options too. Everyone's a winner.
Bagelsbeans.nl | Kerkstraat 3
3. Presto Coffee & More
This is a cute little place slightly out of the centre. Which is good, because generally it means it's quieter than the other places I've mentioned so far. The wifi is good and the interior is really cool – industrial meets homely. Bag yourself a seat on the turquoise sofa if you can!! There's also plenty of outside seating but unfortunately not much view to speak of.
They have gluten and lactose free options and a page of specials, so there's always something new to try. The banana bread (gluten/lactose/sugar free) comes highly recommended! 😀
Presto Facebook page (no website) | Herenstraat 20
4. Your Coffee
I think everyone in Hilversum knows this place… hence it's always packed! But you can usually find a table as there's loads of seating inside (2 levels) and out. There's also a section / play area for kids upstairs… but this post is about remote working, so moving swiftly on!!
If you've built up an appetite whilst working they do an excellent Buddha bowl and the chicken thighs with spelt bread is also really good!
There's no service upstairs, but if you can't be bothered to walk downstairs to order they have these little notes where you can write your order and then put it inside a ball and drop it down a drainpipe-esque chute! A fun way to order and it works!!
Yourcoffeehilversum.nl | Kerkstraat 38A
5. Doppio Espresso
I went here this week and had a Bountyccino!! OMG. And it's lactose free… WIN! There's a terrace outside and plenty of space to sit inside. It's actually quite deceptive just how large it is inside, so I doubt you'll ever struggle to find space. Lots of staff so service is attentive. Recommended!
Doppioespresso.nl | 's-Gravelandseweg 14
So, those 5 are all in Hilversum but if you fancy going a bit further afield I can also suggest the following:
6. Heidezicht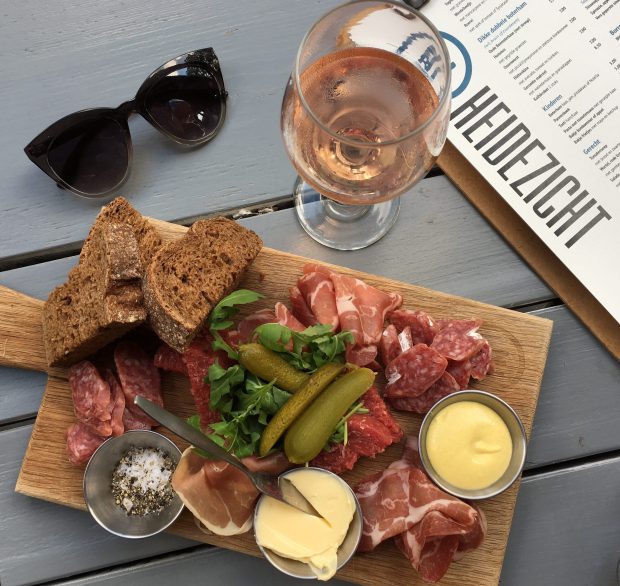 This place has also featured on my Instagram account a fair few times recently! To be honest I haven't worked here yet – but I don't see any reason why you couldn't! The location is great, in the middle of the Hei (heathland) hence the name… and it's just a lovely, peaceful place to hang out.
Not too many food options on the menu, but the charcuterie platter (pictured above) is pretty good. In terms of borrelhapjes (for once you've finished working, as it's open til 8pm): the garnalenkroketjes are good (8/10), bitterballen are ok (7/10) but unfortunately the groentekroketjes are decidedly average (5/10).
Heidezicht.nl | Randweg 203, Bussum
7. Theehuis 't Bluk
This place also has a great view. It's *technically* located in Laren but from Hilversum it's a nice walk or cycle through the Hei to get to it!
Good wifi and menu – the borrelplanken are very good – especially the cheese one! Service can be a bit hit and miss… but hey, we're in Holland remember!
Bluk.nl | Zuiderheide 2, Laren
8. Brambergen
I'm a sucker for a view!! What can I say!? This place is also located a bit out-of-the-way in 's-Graveland. But it's well worth the drive or cycle as you're surrounded by nature! I wouldn't recommend walking from Hilversum because it's too far, about an hour walk according to Google.
It's situated right next to the visitor centre for the Natuurmonumenten – "Nature Monuments' (jeez, how do you translate that?!) Here it is in Dutch anyhoo: Bezoekerscentrum Gooi en Vechtstreek – Natuurmonumenten)
It can get a little busy at times, but usually it's quiet enough to work. (Tip: avoid Wednesday afternoons as many kids are off school then and it does get rammed!) The kaasstengels are excellent and they also do gluten/lactose/sugar free banana bread!
Brambergen.nl | Noordereinde 54d, 's-Graveland
This blog was first published on Bitterballenbruid. 
Every month we feature a blog post from one of our favourite bloggers. Interested? See if your blog meets the criteria to be included on the site.
Thank you for donating to DutchNews.nl.
We could not provide the Dutch News service, and keep it free of charge, without the generous support of our readers. Your donations allow us to report on issues you tell us matter, and provide you with a summary of the most important Dutch news each day.
Make a donation