'An expat feels like an outsider and I don't feel like one. I feel like I'm home'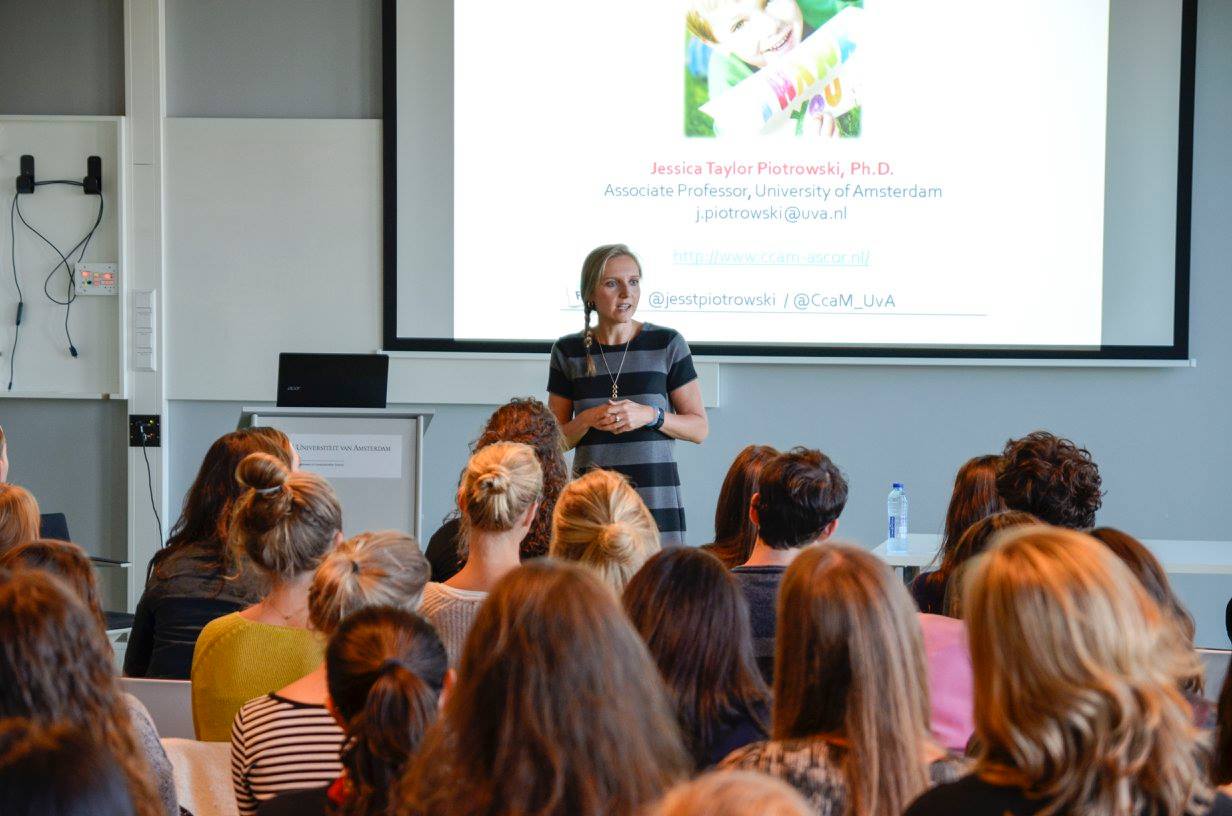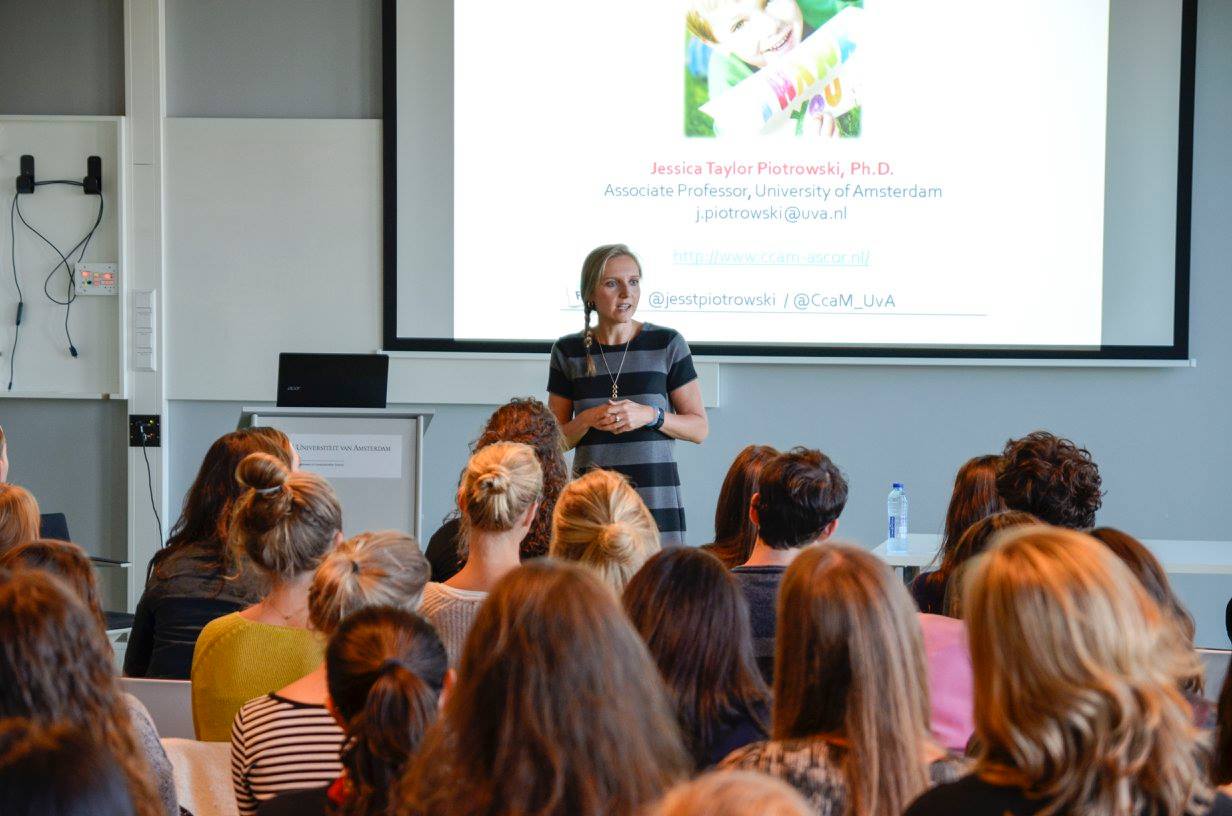 American national Jessica Taylor Piotrowski is an associate professor at the University of Amsterdam. Happily settled here for six years with her husband John, she's had little sleep in recent days. As spokeswoman for the United Expats of the Netherlands movement, she is busy campaigning against plans stop the 30% ruling tax break for current beneficiaries and hopes their petition will hit 25,000 by the time they present it to MPs later this month.
How did you end up in the Netherlands?
I moved here for work, of course. There was a position that opened at the University of Amsterdam focusing on children and the media; I did my PhD studies in communication science, with a focus on children and media. And the funny part was that, when that position came out, I must've had 10 different people send it to me. And I kept saying: 'I'm not going to move to Europe, I live in Philadelphia!' Eventually I applied and next thing you know we accepted a position here. It was definitely fate.
I remember the starting over again. We had nothing. Nothing. I remember it was January when we landed – the coldest, darkest time of the year. I remember I said to John: 'All I wanna do is get a bottle of wine, just sit here on the floor, and we'll deal with everything tomorrow.'
So we go to the store, figure out how to pay for wine – we didn't have a pin card yet – come home with a little bottle of wine into our temporary apartment. John goes to open the bottle, and he looks at me…'We don't have a corkscrew.' So he grabs his American phone, and finds a YouTube video that tells you how to open a bottle of wine with a wall and a shoe. It worked! That's my very first memory.
How do you describe yourself – an expat, lovepat, immigrant, international etc?
I describe myself externally to people as an expat. But 'expat' always feels like an outsider, and I don't feel like an outsider anymore. I just feel like I'm at home.
How long do you plan to stay?
Well that's a dicey question. I mean, this is where the 30% ruling comes in. My department and I had an understanding that I was planning to stay on at least as long as I could financially afford to – which would've gone through to 2021. But, with the current proposal for the changes to the 30% ruling, I will no longer be able to afford to stay.
If you hear how happy I am living here, you'd probably understand how I feel…broken-hearted. I do feel like this is my home and my community. And to be getting this message that 'We're going to affect your financial well-being'… you know I have to pay into an American pension plan while I live here. People don't realise that. So my short answer to everybody is: I will stay for as long as I am happy. But the long answer is: happiness also means being financially smart.
Do you speak Dutch and how did you learn?
I can speak bar Dutch. I also speak very good conductor Dutch, which is a particular skill. It's usually in that moment where they say: '…and the next stop will be Den Haag,' and you're thinking I didn't think this train was going to The Hague? Early on I was as confused as everyone else … at least now I know what they saying!
My favourite word is lekker. Why would you not love that word? You can use it to describe food; you can use it to describe a soft sweater; you can use it to describe a good-looking man. It's brilliant! I don't know an equivalent word – it's not 'nice'… And you can use lekker for verbs, like lekker zitten. It's the most useful word I know! I always tell visitors when they come here: 'Lekker. Just fall back on that; you'll be good.'
What's your favourite Dutch food?
It is a tie, but I'm going to have to give it to pepernoten. Just delicious! In Amsterdam there's a whole Pepernotenfabriek, and you can go and there's so many different versions of this deliciousness – dark chocolate, milk chocolate, white-chocolate. I mean, the basic pepernoten are still my favourite, I'm a purist, but I'd say I'm well versed in options now.
I also love the tradition of the chocolate letters. There's a whole debate because, apparently, there is one letter that weighs more than other letters – I think it might be the letter 'M'. So all the kids always want to have the letter M. What I love about it the most though, it's not necessarily the tradition per se, but when it's Sinterklaas and you give someone a chocolate letter, they immediately have this nostalgia for their youth. And they talk about what Sinterklaas was for them, and you get all these stories. And they're authentic.
How Dutch have you become?
Well, I practically live outside now. I think you are encouraged to when you live here – it's such a beautiful city. I'm a runner. And I became a runner living here. You run down the Amstel river, at 7 o'clock in the morning and no one is there and the water is still, and the sun is reflecting off the water, and you just think: is there a place more beautiful than this?
It's interesting here, because the weather is so notoriously bad that, when it's beautiful, everyone goes outside. I'm Dutch in that now…I remember when I moved here and there was a nice day and I'd say to my husband: 'Everybody kind of has their faces up to the sky…?'. And I do it too now – I'm like 'Oh! It's here! Face up!' And I really enjoy it.
Which three Dutch people (dead or alive) would you most like to meet?
Well there's one who comes to mind: Anne Frank. Without question. She's the one that stands out to me so much. I read the diary as a schoolgirl, like many of us have done, but I didn't understand it – not really.
During my first visit to Amsterdam (my job interview), I went to the Anne Frank house. It happened to be a day when it wasn't that crowded – very rare. I remember reading her writing on the wall, which they had preserved. In the US they'd have turned it into something you could see but not be near, whereas here they'd left everything as it was. And it hit me so hard. I tear up thinking about it right now – how she still tried to find happy in awful.
I just want to know how you do that. When you read her notes and stories you still see a little girl who's trying to be a little girl. I was in that room alone, just alone, and I don't know how long I stood there for.
What's your top tourist tip?
When you're at local places, ask the locals where they go. That's where I got all my tips from. My husband and I will be at a local bar and if anybody comes in who's visiting I'm always saying: 'Here's my list of top 25 things to do, and none of these are in your guide books!' I really try to point people to places they might not have thought of, and see things differently.
Tell us something surprising you've found out about the Netherlands
I was surprised to see how quickly a community can care for you. It wasn't very long after I moved here that my husband became sick – he was diagnosed with multiple sclerosis.
And I remember thinking: 'Oh my gosh. I have so much to do at work, I have students to teach, I have a presentation to give, and my husband is in the hospital for brain lesions.' I remember sending an email [to colleagues] and saying: 'Guys, I have to take a temporary leave while my husband's in hospital.' Not a single person asked me about my work tasks.
The responses were: 'Are you OK? What can we do for you? How is John? We send our love. We'll be here for you.' Unbelievable support. I remember saying to John at that moment: 'This is why I love being here; this is the temperament of this country.' I received love and support and flowers, and I will never forget that. Which is why this 30% ruling feels so opposite to what I know. This proposal makes me feel I'm unwelcome. It makes me feel they want me to leave.
I would love for people to know about us expats, to know how we love it here and are contributing – I'm a university professor teaching, researching, and supporting scientific discovery. But this policy will hurt people like me and our families.
If you had just 24 hours left in the Netherlands, what would you do?
My day would start out with a run along the Amstel. A very long run. Super early morning, so I get to smell bakeries making their croissants, I get to see the Albert Cuyp market being set up with its fresh flowers. I come home, and the husband and I go out for brunch at one of our favourite restaurants.
After brunch, we head to the market and we see all our favourite market vendors – favourite cheese, favourite flowers, and the guy who knows how to make my Belgian waffles just right.
We'll head to the park, do a long walk, probably in the Vondelpark. We'll be outside all day – my favourite hashtag here is #naturegirl, isn't it amazing you can do that in Amsterdam? And then we will probably head to our favourite wine bar where all of our friends are, and spend the evening laughing with friends. That's my perfect day. And I'm not yet ready for that final day.
Jessica Taylor Piotrowski was talking to Joshua Parfitt. You can find out more about the United Expats of the Netherlands here.
Thank you for donating to DutchNews.nl.
We could not provide the Dutch News service, and keep it free of charge, without the generous support of our readers. Your donations allow us to report on issues you tell us matter, and provide you with a summary of the most important Dutch news each day.
Make a donation