'I plan to stay here forever, no question. My wife and everyone I love, is here'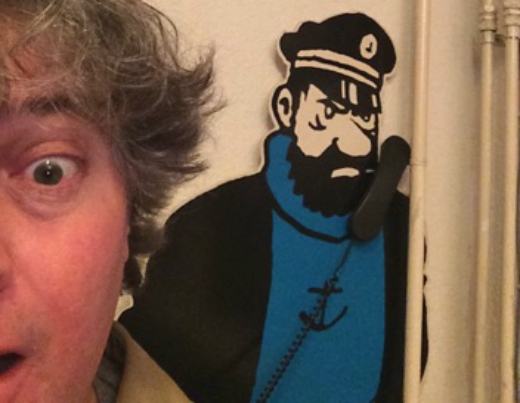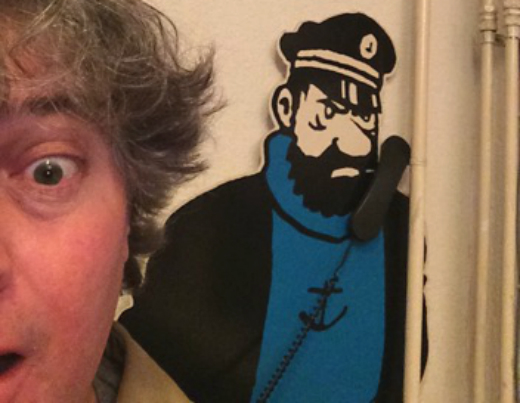 While he was working at NASA, Houston resident Carl Guderian decided he was ready for a change. A trip to an event for hackers in Lelystad wound up changing his life forever. He now lives in Amsterdam where he works as an engineer.
How did you end up in the Netherlands?
Around 1990, I was besotted with Mondo 2000 and Wired Magazine and I hung out with hackers. By 1991, I'd also gotten most of my way through a graduate study of Futures Forecasting and picked the newfangled Internet as my subject of study. In 1993, I went to a hacker camp out near Lelystad called Hacking at the End of the Universe. I'd been working for seven years at NASA and I was looking for a change. I was also tired of working for a government contractor.
I visited Amsterdam and the Hague and liked both, but I had no definite plans to move here. At that camp out, though, I met someone else from Houston and we got together a year later.
As luck had it, those hackers I'd hung with all went to work for an internet company in Virginia in 1996. One of them called me up out of the blue and said I should quit my job because I could easily work there. Two years later, the company opened a data-centre in Amsterdam and I managed to talk my way into that, too. The company sort of evaporated, but the remains were bought by another company, so here I am, 18 years later.
How do you describe yourself – an expat, lovepat, immigrant, international?
A cross between immigrant and lovepat, I guess. I'm not with the person I came here with, but who I'm with now, we're both lifers and wouldn't really live anywhere else. It helped that I came here when times were relatively good in the US.
It was 1998, the height of the dotcom boom, and during the relatively benign Clinton years. I was also living in DC at the time, so the higher cost of living relative to that of Houston wasn't so much of a shock. I was ready to try something different. It also helped that I had met a lot of Dutch people before I moved here, and we had common interests related to my field, which was rare at the time.
How long do you plan to stay?
Forever. No question. My wife is here and everyone I love is here. I certainly love the labour laws, many of which don't exist back in the US or even the UK. I live in Amsterdam and my life is generally relaxed, even though it's a world capital and mobbed by tourists.
I can walk everywhere or ride my bike. There's also the way that people live. When you leave work, you generally don't take it with you and people just appreciate life. They also generally push back if there's any attempt to make things, how shall we say, more 'Anglo American'.
Do you speak Dutch and how did you learn?
I get by. I can speak it for awhile and can understand spoken Dutch most times, with some effort. I can read it very well and write it in a pinch. When I first came here, the company I worked for paid for a basic-level course. I also subscribe to De Volkskraant, and have collected a lot of old Dutch prints, especially the rude cartoons about the 1720 financial bubble.
There were three bubbles, actually, and a lot of people invested in some really shady companies. The Dutch ones were fairly legitimate, like for public works projects, but there's no way they could guarantee the returns. There were lots of satirical cartoons about them and they're really hard to find.
They're very funny, they're very rude, and I've spent a lot of time trying to make sense of them. So I practised my Dutch by studying 18th century cultural references and that sort of thing. It's an odd way to practice Dutch but that's what I did. I still collect old prints, optical views, and maps.
What's your favourite Dutch food?
Broodje haring, no question. Erwtensoep in the winter, though I normally don't like peas.
How Dutch have you become?
Hmm, hard to say. I've lost my Texas drawl, mostly. Maybe it's more of a European thing than a Dutch thing, but I tend to take a longer view than I used to. I'll be 55 in June. I try not to get too worked up about daily news.
Of course, I follow it and jump on it like anybody else but I try to adopt a slower attitude, I suppose. It helps that I can have that though, with the kind of work I do and the hours I keep at my workplace. I'm not always stressed, like a lot of American or British people.
Which three Dutch people (dead or alive) would you most like to meet?
Pieter Teyler van der Hulst: He was a fellow collector and I collect a lot of things myself. He collected mostly old drawings by artists from Italy and France and some Rembrandts as well. What he intended as a sort of 'Cabinet of Curiosities' turned into a massive collection instead.
Hendrik Goltzius: He's the artist in Haarlem who influenced Peter Paul Rubens. He'd travelled down to Rome and he helped popularise Caravaggio. During the 80 Years' War Rubens actually came to Haarlem from Antwerp to visit him. I read an article recently about how it was fairly easy to travel back then. There were even time tables for the barges along the canals. It was just like taking the train now. Slower, of course, but still as dependable.
Maria Sibylla Merian: She's the artist of nature who travelled to Suriname and was one of the remarkable women from Dutch history. Merian was interested in naturalism and her father was an engraver from Germany. She did a lot of drawings and her engravings were complied in a collection that was published shortly after she died.
What's your top tourist tip?
The Kröller-Müller Museum. It's down by Apeldoorn in the Hoge Veluwe National Park. There's a really big sculpture park with a museum that has a large collection of Robert van 't Hoff drawings. You can walk around on one of the sculptures. It's by Jean Dubuffet and it's pretty impressive.
Arranging a trip there requires a lot of organisation, though. If you take public transport, you need to get started really early in the morning. You've got to get on a train to Appeldorn and ride a bus to the park. Then you've got to bike to the museum since it's pretty far into the Hoge Veluwe. It's a lot of fun, especially if the weather cooperates.
Tell us something surprising you've found out about the Netherlands
The Palace on the Dam's main floor has the first global map that shows part of Australia.
If you had just 24 hours left in the Netherlands, what would you do?
I'd go see the Jesuit art caves in Maastricht. There's a lot of old salt and coal mines in the area. Once they were emptied out, they left behind caves that were quite useful. A Jesuit order had an art school in one of them, I believe, and it has a lot of drawings and paintings on the walls, many of which are based on works by famous artists. Maybe I should pick something more practical but I have always wanted to see them.
Carl Guderian was talking to Brandon Hartley.
Thank you for donating to DutchNews.nl.
We could not provide the Dutch News service, and keep it free of charge, without the generous support of our readers. Your donations allow us to report on issues you tell us matter, and provide you with a summary of the most important Dutch news each day.
Make a donation