Give everyone the opportunity to learn about Anne Frank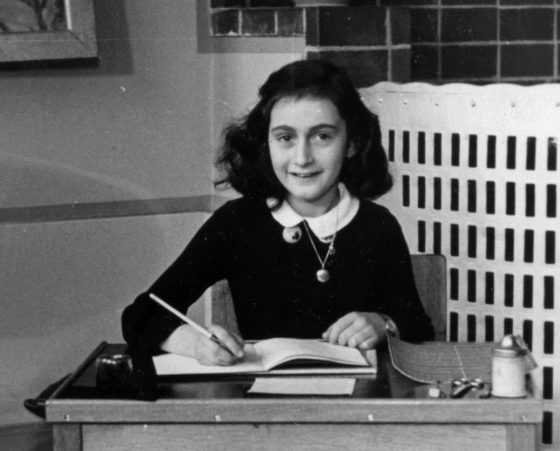 Hardly a day has gone by in recent weeks without Anne Frank cropping up in the news. What is going on? asks Ronald Leopold, executive director of the Anne Frank House.
Football fans used her photo for an antisemitic provocation of their opponents, American stores were offering an Anne Frank costume for Halloween, the German railway company wanted to name a train after her, and there was an outcry – including threats of legal action – in connection with a new play loosely based on her diary.
Seventy years after the publication of her diary the significance of Anne Frank seems only to be increasing. But this significance is not the same for everyone. Anne Frank has traditionally been seen by many as the face and the symbol of the Holocaust, even though objections have been raised against this, often based on good arguments.
For example, it is often pointed out that the diary ends where the horrors of the camps begin, that Anne is 'only' one of the millions of victims of the Holocaust, each with their own life story, and that so many other remarkable personal accounts of life in wartime have been preserved.
History fades away
This does not detract from the fact that for many people all over the world Anne Frank forms their first and most important introduction to the history of the Second World War and the Holocaust.
But time does its work. History fades away. Children who are now the same age as Anne Frank when she was writing her diary often have grandparents who were born after the war. So it is important not to view the life story of Anne Frank, which is still as powerful as ever, in isolation from its historical context.
Symbol
At the same time, Anne Frank has entered a public domain in which she increasingly exercises a powerful attraction on those who are searching for a symbol of all kinds of things; often with good intentions that take on an educational form, sometimes rather unfortunate, frequently tasteless, occasionally downright antisemitic.
In a rapidly changing media landscape and with a growing distance in time from the Second World War the public expressions surrounding Anne Frank, in all their diversity, will only become stronger (think for example of the applications of hologram or virtual reality technologies that are increasingly used in Holocaust museums in America).
Public domain
Attempts to control that pubic domain are futile, even assuming that you would want to control it. That would be selling Anne and ourselves short: it is precisely this diversity of meanings that gives everyone who wants it the opportunity to learn more about Anne Frank and her life story, and so learn more about themselves.
And the responses to the incidents of recent weeks show that the pubic domain is self-correcting when the borders of what is seen as acceptable are crossed.
Significance
What does this mean for the future? Firstly, we must continue to provide a historically reliable, authentic and accessible presentation of the life story of Anne Frank in the context of the persecution of the Jews and the Holocaust.
This can help to prevent the fading of history gaining the upper hand. Secondly, it is wise to not recoil too quickly from contemporary expressions that make reference to Anne Frank. They can form an effective impetus for reflection on the significance of her life story for the world today.
And finally: time has not done much work for those who still bear the scars of the Holocaust within them. For them it is as if the war happened yesterday. The history of Anne Frank is also their history. It is not too much to ask that we show empathy with this.
Thank you for donating to DutchNews.nl.
We could not provide the Dutch News service, and keep it free of charge, without the generous support of our readers. Your donations allow us to report on issues you tell us matter, and provide you with a summary of the most important Dutch news each day.
Make a donation