What the Dutch papers say about insulting women, Jewish traditions and young Turks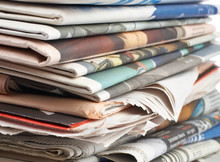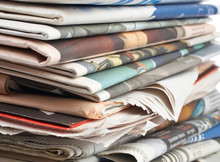 Introducing a new DutchNews.nl regular, a round-up of some of the week's best or most provocative columns. This week we tackle insulting women as entertainment for boys, the way politicians harp on about the Netherlands Jewish-Christian tradition and why young Dutch Turks voted to give president Erdogan more powers.
Insulting women
Micro biologist and NRC columnist Rosanne Herzberger takes on Telegraaf Media's website Dumpert.nl which features a show called DumpertReeten (Dumpert arses) in which 'a couple of men children are slouched on the sofa watching infantile videos. They express their appreciation via a special rating. If it's a bad video, one woman wearing a string and bra turns around to show her backside. If the video is good four or five women do the same.'
Referencing Fox News' Roger Ailes and Bill O'Reilly, both fired for sexual harassment, Herzberger suggests that women hit back with a well-aimed kick, not quite in the balls of TMG but fairly close: the pocket book, i.e its advertising revenue.
'Fortunately capitalism provides a great solution to this sort of situation. Women, apart from having breasts, legs and backsides, are also America's most important consumers. They decide which make car is bought, they decide where to go on holiday and they do the shopping. So when the women working at Fox all began to start legal procedures against their bosses one advertiser after another distanced themselves from the show.'
'Humiliating women is big business,' Herzberger writes, so who why not have a closer look at the advertisers who 'apparently have no problem with this sort of content at all.' Herberger kicks things off with a screenshot on Twitter and asks Who's with me?  #wiebetaaltDumpertReeten
The Jewish-Christian tradition
Elsevier's outspoken columnist Gerry van der List wonders why politicians' first reaction is to trot out the 'Jewish-Christian tradition of the country as a frontline against the militant faith of large numbers of immigrants'. The Jewish-Christian tradition, he says, is 'a dubious concept that has little unifying power in secular times'.
What unites the Dutch is not being Jewish or Christian, but the liberal-humanist tradition, Van der List says.
'This liberal humanism is under pressure from immigration. Fortuyn and Wilder's concerns about Islam have a basis in a worrying reality. But the decreasing attraction of religious feasts is not a reason for worry. In a civilised and tolerant country everyone can do what he likes during Easter, whether it's listening to the Matthäus Passion, going to church, visiting the Keukenhof, reading the Koran or eating sausage at the HEMA. Tolerance for different lifestyles – it's a virtue that has not always been prominent in the Jewish and Christian traditions'.
Turkish vote
In the Volkskrant journalist and documentary maker Sinan Can explains why he is not surprised so many Dutch Turks voted for an extension of president Erdogan's powers in the Turkish referendum.
'It's a natural impulse to look for rational arguments for the vote for Erdogan. You go down the list: feeling ignored, discrimination, feelings of alienation etc. While there's a small kernel of truth in all of these, I think there is something else at work here,' Can writes.
According to Can, part of Erdogan's appeal is his glorification of Turkey's past. 'Turks are crazy for the faded glory of Turkey's history. He shows himself to be a forceful leader with a big mouth who dares to call the Dutch and the Germans Nazis. They think that's fantastic. They also like that he's from humble beginnings. And he exudes a feeling of 'I'm gonna make Turkey great again.'
Coalition
Meanwhile fellow Volkskrant columnist Bert Wagendorp predicts work on the 'GreenRight coalition' will continue, particularly as everyone involved seems to have a soft spot for GroenLinks leader Jesse Klaver.
'As formation watcher I see Klaver's ambition and eagerness: he wants to be part of this. Add to this the fatherly feelings I seem to detect in Buma ( I saw a photograph in which he smiles at Jesse), Pechtold's wiliness (he needs Jesse, things would become much more complicated with CU or Labour) and Rutte's sunny disposition (Jesse is a bit of a lefty but a great guy) and I we may even see a successful end to the negotiations.'
Thank you for donating to DutchNews.nl.
We could not provide the Dutch News service, and keep it free of charge, without the generous support of our readers. Your donations allow us to report on issues you tell us matter, and provide you with a summary of the most important Dutch news each day.
Make a donation