The net broadcaster helping refugees connect in the Netherlands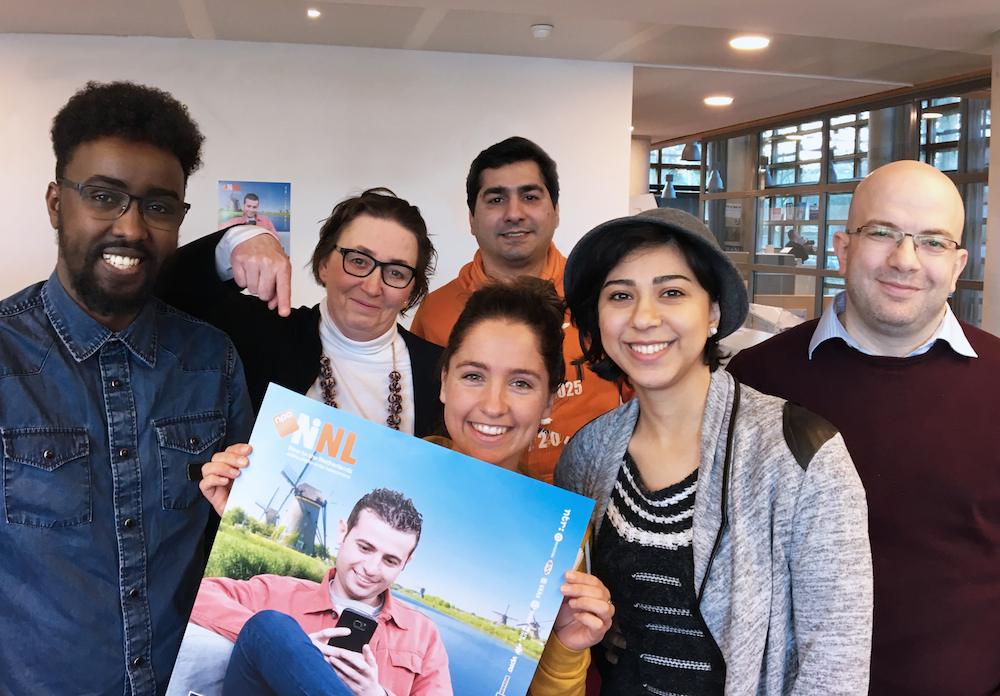 In a modern office complex in Hilversum, all sleek elevators and glass walkways, are four journalists who know the value of free speech. Deborah Nicholls-Lee went to meet Arash, Basel, Besan and Kowfurow – refugees who were denied the right to speak their mind in their home countries.
It is a far cry from fleeing your homeland to working in the heart of the Dutch media landscape, but Arash, Basel, Besan and Kowfurow have been lucky. In November 2016 they were selected to be part of an expanding editorial team at Net in Nederland (NiN)  a new website that uses subtitled Dutch television to help refugees improve their Dutch and to integrate into their new lives in the Netherlands.
Kowfurow Ali (31), a Somalian who came to the Netherlands in 2009, explains how their work at NiN office mirrors its mission: 'It is a learning process for us as well, as we are learning about the Dutch samenleving in depth [and] we're learning the Dutch language because we speak, read and write in Dutch every day. It gives us a lot of skills that we will use for our future.'
The team's composition also reflects the refugee demographic in the Netherlands, he says: 'The diversity that we have here we also want to represent on the website. We have different perspectives and that comes across on the site.'
Motivation
Besan Zarzar (27), one of the site's Arabic editors, is a Palestinian who fled from Syria, where she worked as a radio presenter. She has seen how the NiN team benefits the website's users: 'Because we have been a newcomer, we know exactly which things we need to talk about.' Kowfurow agrees: 'They can see people who have been through the same struggle and it gives them motivation. If that person did that, I can do it too. It is an inspiration for them.'
The team has already built quite a following on social media among other newcomers who are eager to get help. 'We have regular customers,' says Arash Sametipour (40) from Iran, before explaining that the team receives many personal messages from refugees in asylum centres with questions or translations that need to be done. The team collapses into giggles as they tell me about the rising popularity of Besan – their unwitting poster girl – who has a lot of people asking about her. She laughs it off, happy to brighten a refugee's difficult first months in the country.
Smoothing the path into Dutch life
Net in Nederland, created in April 2016 in association with the Dutch public broadcaster NPO, is a kind of 'Netflix for Newcomers', says Kowfurow. It's a cherry-picked choice of recent television with the needs and interests of the immigrant in mind. There are topical items, such as the Dutch election, and vlogs on subjects like the OV Chipkaart or the healthcare system. The NOS news broadcast on weekdays comes with a choice of Dutch, English or Arabic subtitles.
'After two, three years sometimes you get stagnated in the asylum centre,' he explains, 'and when you're given permission to stay sometimes you don't know what to do with the papers. But if you're already informed how to look for education, get a job, then you can easily integrate.'
Besan adds: 'I really wanted to learn more about the Dutch but I didn't know how to do it. If I had known about Net in Nederland when I was in the AZC [asylum centre], I would definitely have logged in and tried to search there for information.'
Central to Net in Nederland's mission is improving people's language skills. Basel Aal Bennoud (38), from Damascus, who has been here two years, believes that basic Dutch is essential for refugees. 'There are a lot of people who are facing real obstacles in their daily life. They cannot explain if they are sick.' There is a chorus of agreement in the group. Arash says he realised early on: 'If I want to develop myself, I need to learn Dutch.'
'People tell what they need to tell'
Arash appreciates the open and honest culture in the Netherlands, which allows him to work without censorship. 'People are straightforward here. They tell what they need to tell. In some other cultures, including my own country, people are not allowed to.' He left Iran when a disputed election in 2009 led to mass arrests and the closure of many news outlets, creating an impossibly toxic environment for journalists.
He found out about Net in Nederland on these very pages: 'I check DutchNews.nl every day. I noticed that you had written an article about Net in Nederland. I was very excited to find that this kind of platform had begun.' At NiN, Arash can gain training and earn money while he completes his Masters in New Media and Digital Culture at the University of Utrecht.
Kowfurow, a student at the Radio Nederland Training Centre, found the job through onfile, an association for refugee journalists. He fled to Europe when his work in Somalia became life-threatening. 'It was extra dangerous for people who work in the field. When the danger became quite concrete, I had to leave.'
He moves the subject on quickly and the convivial atmosphere around the table is restored. The cream from the complimentary tompoezen cakes is all over my fingers and I can't switch off my recording device. I let it play on and the last few minutes are mostly laughter. It tells the story of people who are quite at home and want to help others feel the same.
Net in Nederland is an initiative of Dutch broadcasters AVRO TROS, BNN VARA, KRO-NCRV, VPRO, EO, MAX and HUMAN, and is supported by NTR and the NPO.
Line up (left-right): Kowfurow, Pamela (English Editor), Jasmijn (Dutch editor), Arash, Besan and Basel.
Thank you for donating to DutchNews.nl.
We could not provide the Dutch News service, and keep it free of charge, without the generous support of our readers. Your donations allow us to report on issues you tell us matter, and provide you with a summary of the most important Dutch news each day.
Make a donation