The Secret Diary of Hendrik Groen, 83 1/4 Years Old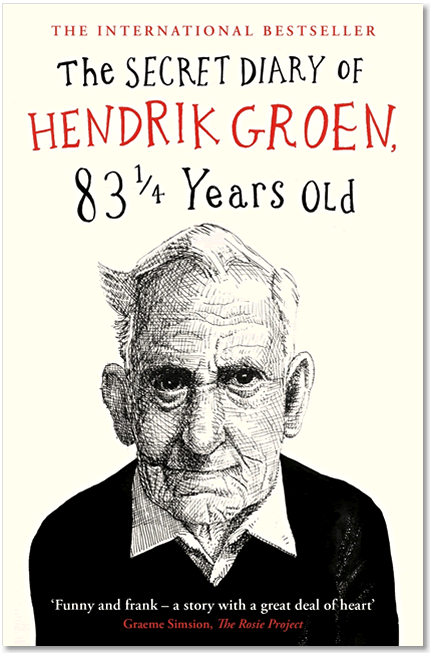 Hendrik Groen is an 83-year-old resident of an aged care home in Amsterdam. He begins a diary recording the daily tribulations of life in an institution surrounded by his peers and confronted by the health challenges that come with being an octogenarian. He starts the diary with the telling line, 'Another year, and I still don't like old people.'
The residents of The House of the Setting Sun are a mixed bag of stereotyped elderly people, many of whom spend their days waiting for mealtimes, seeking opportunities to moan about their constipation, or discussing family members who appear to have forgotten them.
Not wanting to be part of this group, Hendrik and a small coterie of similarly rebelling residents form the Old-But-Not-Dead Club with the goal '…to increase the enjoyment of advanced age by arranging outings', and the clearly stated rule, 'No whining allowed.' Soon, the club comes to the attention of management staff and other residents who are clearly irked by the fact that the club members are enjoying life and not behaving as institutionalised old people are expected to.
The club members include Evert (rude, sarcastic, smoking, drinking diabetic who refuses to change his ways even as his extremities turn black and require amputation), Eefje (the woman Hendrik wishes he'd met half a century earlier), Grietje (who believes she has Alzheimer's disease), Edward (a stroke survivor with residue speech difficulties), and Hendrik (exhibiting a multitude of age-related wear and tear issues that have slowed him down and added a leak to his bladder).
Getting old: fact over fiction?
This funny and touching novel questions how we see the elderly, especially old people in care facilities. The author offers the notion that relocating to an aged care home does not have to mean surrendering all activities people have previously enjoyed, and replacing these pleasurable engagements with a contentment to stare at the walls and play bingo on a Monday evening while counting down your remaining days.

Although Dutch readers may get more pleasure from this book due to insider knowledge of the local politics and age care policies, The Secret Diary of Hendrik Groen, 83 ¼ Years Old does have universal appeal and the novel has been taking the world by storm.
Incorporating issues of euthanasia, advanced care directives, funding for aged care, family support availability and the broader question of what to do with older people who lose their independence – gives the book international relevance. In addition, these issues are covered with humour from the older person's perspective, a voice not usually heard but one that should be central to the discussion.
Who is the real Hendrik Groen?
Originally published in Dutch in 2014, the author of this book remained a mystery until recently, leaving readers with the question of whether the diary was indeed the work of Hendrik Groen, and hence a biography rather than a novel, although the nod to Adrian Mole should have been the giveaway.
In April 2016, NRC Handelsblad revealed Peter de Smet, a 61-year-old librarian with no previous published written work, as the book's author.  The Secret Diary of Hendrik Groen, 83 ¼ Years Old was translated by Hester Velmans. It is published by Michael Joseph, an imprint of Penguin Books.
A great read with characters who will remain in your thoughts long after you have finished reading. Not belly-aching funny, yet very enjoyable.
Ana McGinley
Thank you for donating to DutchNews.nl.
We could not provide the Dutch News service, and keep it free of charge, without the generous support of our readers. Your donations allow us to report on issues you tell us matter, and provide you with a summary of the most important Dutch news each day.
Make a donation