Seven Dutch ways to bring in the New Year
Out with the old and in with the new: Brandon Harley has some typically Dutch suggestions to celebrate the New Year
Protect your fingers and letting others set off the fireworks
Where can you watch fireworks on New Year's Eve? Well, there's a good chance that one of your neighbours will spend a month's salary on plenty of them so all you need to do is look out a window around midnight (or, in many areas, immediately after sunset, local regulations and nervous pets be damned).
But there are plenty of professional displays that ring in the new year as well. Thousands of people line up along the Nieuwe Maas every year to watch the Erasmusbrug in Rotterdam burst into a cacophony of vibrant colours and lights displays. A bit wilder is the annual display orchestrated by Amsterdam businessman and rare book collector Joost Ritman on the bridge at the junction of the Bloemgracht and Prinsengracht. His display has become a beloved tradition in the city and you can read more about it here. The city's main fireworks display, meanwhile, will take place at the Oosterdok near the Scheepvaartmuseum. But if you'll be in The Hague, the banks of the Hofvijver will serve as an alternative party central with live DJs and a firework display at midnight.
Dance until dawn
Just about every club, pub, tavern, lounge, watering hole, brown bar and speakeasy in the country will be doing *something* for NYE. A quick head's up though: many of them will close for private parties or will be filled to capacity long before it's time for everyone to forgot the lyrics and mumble along to 'Auld Lang Syne.'
Here's Iamsterdam's round up of many of the ones in the nation's capital. It features everything from an epic dance event at the Heineken Music Hall to a Great Gatsby-themed party at the KHL Koffiehuis.
Attend a bonfire and blow up a milk churn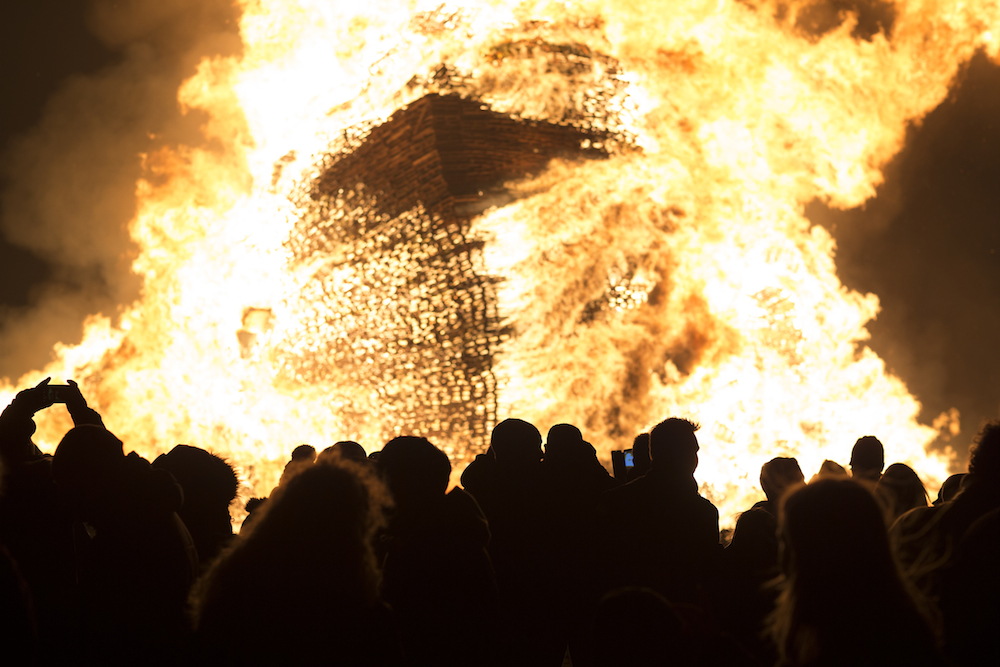 Giant bonfires are an annual tradition on New Year's Eve all over Europe and the Netherlands is no exception. Just be prepared to duck. Many of these gatherings include setting Christmas trees ablaze and/or carbidschieten. This latter tradition involves tossing a bunch of carbide into an old-fashioned milk churn with water and waiting for the lid to blast off the top, creating an impressive fireball in the process.
The largest bonfires can be found on the shores of Scheveningen and Duindorp. Every year the locals in these coastal communities construct wooden towers and set them on fire at midnight. Scheveningen's blaze was so epic in 2015/2016 that it set a Guinness World Record. Here's the rundown on their plans for this year but their neighbours to south in Duindorp may outdo them this time around. You can learn more about the ongoing rivalry by clicking here.
Stay inside and stuff yourself full of oliebollen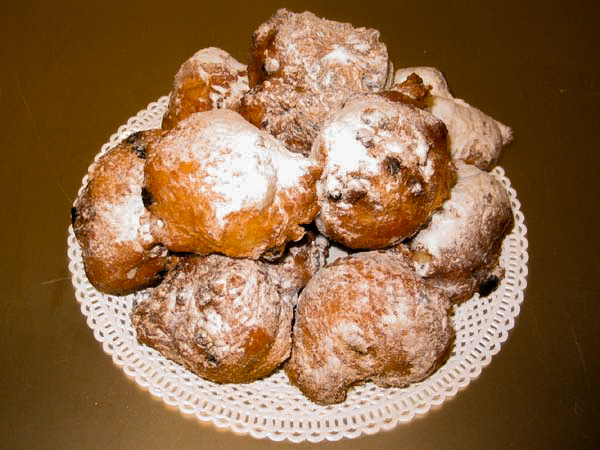 If you'd rather not celebrate the holidays with thousands of pyromaniacs determined to replicate the soundtrack of a World War 2 blitzkrieg, staying inside is always an option.
That doesn't mean that you can't still celebrate with another cherished Dutch traditional: oliebollen (and even tastier variants like appelflappen). Stands that make and sell these delightful little balls of fried wonderfulness typically begin popping up on street corners around the country as early as mid-October. However, they receive a good chunk of their business on New Year's Eve. The lines in front of them can stretch for dozens of yards on December 31 so it's best to go early and reheat them as midnight approaches (or make your own at home if freshness is a priority).
Dutch news outlet AD conducts a contest every year to determine the best oliebollen stand in the country. They likely won't reveal this year's winner until the last few days of the month but Meesterbakker Voskamp in Spijkenisse nabbed the honour for 2015.
Watch the Oudejaarsconference
If you can understand Dutch, this televised tradition will return once more. It typically stars a comedian who pontificates and pops out punchlines about various events that took place over the course of the prior year. This year's edition will feature a female celebrity for the first time ever. DJ, singer and comedian extraordinaire Claudia de Breij will offer her thoughts on 2016 during a telecast performance at Rotterdam's Oude Luxor Theatre beginning at 22:00 on NPO 1.
Listen to NPO's Top 2,000 countdown
A bus began making the rounds in late November to collect votes for this annual countdown of the top 2,000 songs of all time (as determined by whoever was willing to stand in the cold and cast their vote on an iPad but people could also offer their opinions online). It's considered a big deal and roughly half the country tunes in for at least some portion of the broadcast, which begins at 9am on Christmas Day on Radio 2 and continues through midnight on NYE. A long-running joke is that Queen's 'Bohemian Rhapsody' always snags the # 1 slot but the Eagles 'Hotel California' nabbed it in 2014 and John Lennon's 'Imagine' won last year
Throw yourself into the sea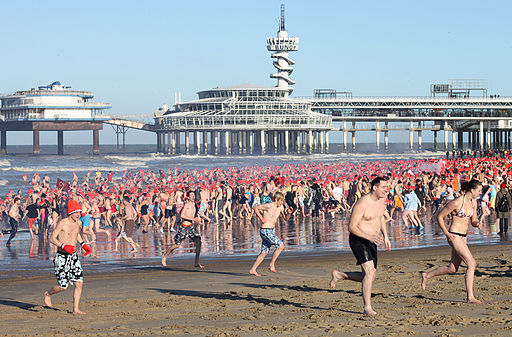 Do you enjoy exceptionally cold water? Do you like jumping into it alongside thousands of people who are fighting wicked hangovers? Then smoked sausage kingpin Unox's biggest annual New Year's Day Swim might be right up your alley. Head to Scheveningen, plop an orange stocking cap on your noggin (free with every paid admission along with a souvenir pennant and a bowl of 'special edition' soup) and get ready to plunge into the North Sea. Or just pose for a quick selfie near the waterline and call it good. The Scheveningen event often sells out though. If you'd like to take a dip in quieter waters, check out the overview of dozens of other New Year's dives located at beaches and lakes around the country.
Thank you for donating to DutchNews.nl.
We could not provide the Dutch News service, and keep it free of charge, without the generous support of our readers. Your donations allow us to report on issues you tell us matter, and provide you with a summary of the most important Dutch news each day.
Make a donation