A documentary is somebody's truth: IDFA founder Ally Derks takes stock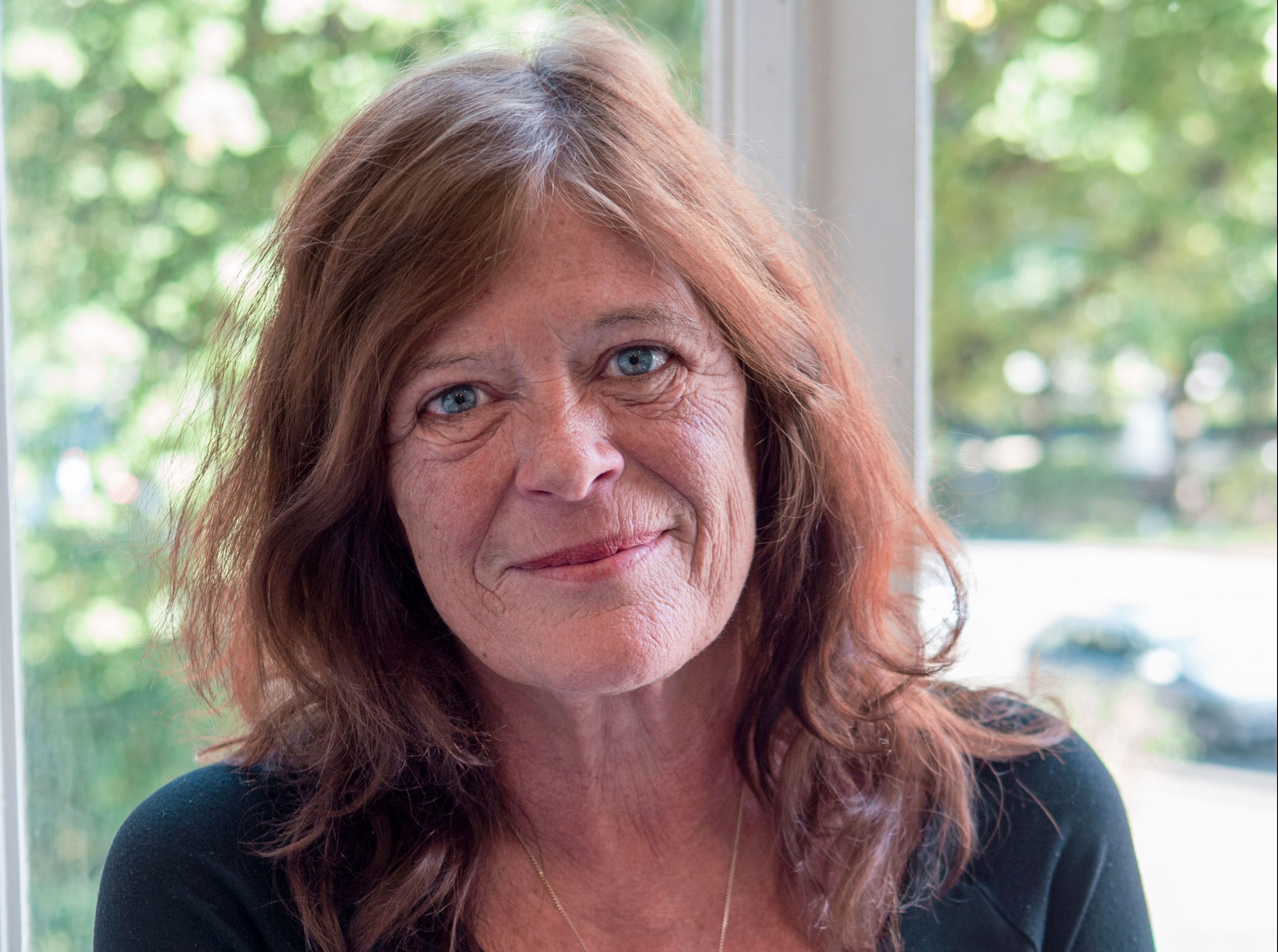 With the 29th edition of the International Documentary Film Festival Amsterdam about to kick off, Paris Carr talks to founder Ally Derks.
Striking a pose against her office window, where she enjoys sitting to sneak a cigarette and just watch the world go by, Ally Derks (1958) – founder of the world's largest and most influential documentary festival; International Documentary Film Festival Amsterdam (IDFA), is having her photograph taken.
One of the most important figures in the Dutch film industry, her office is humbly decorated compared to the ornate Frederiksplein it looks out upon, just metres away from Amsterdam's prestigious canals. The combination of grandeur and modesty is not only evident within IDFA's physical headquarters, but the festival's ethos and founder herself.
Labeled by Indie Wire as the 'high priestess of documentary,' Derks built IDFA from 2,000 tickets sales in its first 1988 edition, to an expected 250,000 in its 29th year due to kick off later this month.
Institution
Far more than only a festival, IDFA has become an institution for international documentary and a central pillar of arts and culture within the Netherlands. Its products range from IDFAcademy, DocLab (exploring the boundaries of what documentary is) to Docs For Sale – a market forum facilitating selling and co-financing opportunities between commissioning editors and fresh talent.
Whilst activities get more advanced every year, there is a constant trademark of every IDFA edition: the determination that it's just as important to have the illuminati of the international film world pound the streets of the Dutch capital for 12 days, as it is upcoming filmmakers from all backgrounds, particularly non western countries.
'We want to be truly international… I have never been interested in putting on a festival for the happy fielders, the privileged few, especially from this country. No way, we are all humans on this planet,' says Derks.
Having announced her planned departure from IDFA on its 30th birthday next year, the 58 year-old self-confessed 'dinosaur of documentary' is certainly in her natural habitat behind a camera. Being in front of the lens however, appears a more uncomfortable experience.
Selfies
'I really hate having my picture taken,'she says before she smiles genuinely into the camera. 'And the whole 'selfie' thing blows my mind. I've taken a couple [of selfies] for my husband, but why anyone would enjoy taking them all the time I don't know.'
Given her apparent unease at being a muse, Derks' relaxed and cooperative response to fulfill a photography request from an unknown interviewer is surprising and generous. With a budget of more than €5m, surely IDFA 2016's camera shy director could have saved herself this ordeal by palming me off with a stock press photograph?
'Well yes, I do have my press photo taken every year but to be honest by the time they've finished with it, I can hardly recognise myself,' she says. 'When you're operating in the realm of documentary and talking about reality, I think it's important to be real yourself, exclaims Ally after the final shot is taken.'
Challenging elitism
It's this down to earth directness, openness to being vulnerable and attempt to challenge the perpetuation of elitism in whatever small way possible, that epitomises not only Derks and 'her' IDFA, but arguably the egalitarian roots of Dutch society itself. The combination means IDFA's Netherlands born founder is willing to discuss anything from why the Dutch are lacking in fiction film, to her shameless appetite for 'takeaway TV' such as MasterChef Australia and Expeditie Robinson.
So why are the Dutch so closely associated with documentary? 'It's part of our genes,' she says.  'The documentary genre belongs to our Dutch culture. We don't have great fiction filmmakers, really we don't have them, maybe one or two but it's nothing compared to our documentary makers like Heddy Honigmann, Ester Gould, Joris Ivens, Herman van der Horst and Hans Keller. The reason IDFA shows a lot of Dutch documentaries is because they're there. At International Film Festival Rotterdam, they don't show Dutch films because they are not there. Not good fiction anyway.'
So how does she define documentary? 'We discuss the directions and trends in documentary every year and that's why a festival is important as it enables the definition to be put under scrutiny and evolve,' says Derks. "'It's so heavily scripted, it's only 30 seconds long and was filmed on a mobile phone, it's only made for a computer", are these all still documentaries?'
Creative reality
'You don't have space to talk about these issues or question documentary on TV or in the cinema, but you do at a festival. After discussing it for more than 30 years, I maintain it's a creative way of looking at reality, that doesn't mean it's the truth, but it's somebody's truth.'
As a political tool, documentary is a great place to start discussion and debate, she says. 'Anything is better than starting a war… The genre is not only about form it's about content. There has always been a need for documentary but it hasn't always been there. When I started in 1988, documentary was almost non- existent in the mainstream: there were practically none on television and you could forget about seeing one in the cinema.
'Something happened in the early 90s however, and suddenly everything changed. Almost out of no-where appeared thematically constructed channels like National Geographic, National History and CNN – and they all needed content. Documentary is a great way of getting cheap content.'
'When I started IDFA, many people had absolutely no clue what a documentary was – they couldn't even spell the word. Our first few audiences were elitist to be honest, but I never wanted to make a festival for only the intellectuals that worked in television in Hilversum.
James Bond
'After teaming up with Hans Beerekamp (journalist at NRC Handelsblad) to get IDFA off the ground, I wrote to Amsterdam city council and the foreign affairs ministry in the Hague saying look we want to do this but not in art film houses, as then we'd only be catering for a certain type. I wanted the documentaries to be shown in commercial venues alongside blockbusters like James Bond, and they were.
'We don't like criticism of course but we're open to it and try our best to take it on board,' says Derks, who is acutely aware of the struggle not to be elitist. 'I remember when Central Park (1991) by Frederick Wiseman came out, we were like ok we have to invite all the people who work in the local Amsterdam parks to see this film because it's completely unique, I mean it's a beautifully special film.
'But then I realised they don't speak English. And then I thought shit, I don't want this, I don't want to be an intellectual festival for only people who understand English. But then if you want to be international how do you afford to subtitle all the films? We're still battling with the problem that all the films are in English and not in Dutch.

OJ Simpson
Ally's penultimate IDFA will be running from the 16th-27th November this year, screening 300 documentaries ranging from a 30 second installation to a nine hour film on the trial of OJ Simpson. Rather than showing signs of slowing down, Derks has a refreshingly rock 'n roll attitude to the importance of always pushing yourself out of your comfort zone.
'Of course staying would have been more safe and steady, but when the opportunity came up [Ally has been invited to join the prestigious German Robert Bosch Foundation] my mind started racing in terms of all the things I could do,' she says. 'And boy do I love a challenge. Plus saying goodbye to IDFA on its 30th birthday to leave for Berlin is a kind of chic exit and way to pass the IDFA baton on to the next generation.'
As Derks gets ready to embark upon her German themed adventure, she seems to have sparked some kind of domino effect within the international film world. Since announcing her departure so has Nick Fraser- BBC's Storyville, Mette Hoffmann Meyer – Danish television and Claire Aguilar – Sheffield Doc/Fest. Whilst humorously suggesting they could start a whole new team together, Ally also has these words of wisdom for the next generation of filmmakers all around the world: 'Know where your weak spots are and don't surround yourself with yes people. That won't get you anywhere.'
IFDA takes place from November 16 to 27 at locations across the city.
Thank you for donating to DutchNews.nl.
We could not provide the Dutch News service, and keep it free of charge, without the generous support of our readers. Your donations allow us to report on issues you tell us matter, and provide you with a summary of the most important Dutch news each day.
Make a donation