Yuri the Terrible and Maurits the Humourless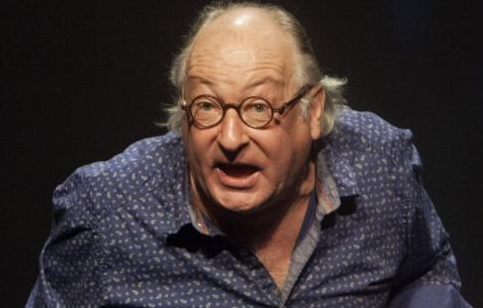 Comedian Youp van 't Hek thinks Olympic hopefuls should be able to get away with a tipple or two.
I can't resist another look at that hilarious YouTube clip that showed the NOC*NSF  a completely sozzled Erica Terpstra in the studio with Edwin Evers. Vancouver 2010. Erica had just had a liquid lunch with the then still heir to the throne Prince Pils. I liked her for it and I liked her even better when she drunkenly explained what the great and the good are up to during the Olympics. Not a lot, it turned out, except entertaining each other. Cheers. Was Terpstra put on the next flight home? Perhaps, but my bet is she never managed to explain to the taxi driver where she was headed.
But Yuri did have to go home, all because of a night on the tiles. Nine days before the final he had a couple of beers away from the stifling atmosphere of monomaniacal sport psychologists, fanatical fat percentage monitors and other weird folk.
Perhaps he made a little noise when he came in. Perhaps he woke up the kids. I mean those poor little gymnasts who have been mentally abused by creepy gym teachers from the age of six. I bet they were jealous and went to Maurits Hendriks to tell on him. Hendriks, a man whose beard always puts me in mind of a German porn actor, said: Rules are rules! Yuri could have been a little bit smarter, it's true, but a good shepherd keeps his flock together. Yuri and his coach should have sorted it out among themselves, without involving Hendriks the Humourless.
After the Olympics our Chef de Mission will be off on his lucrative rounds once more, going to boring congresses three times a week to talk to office types about management. What he should have done is protect enfant terrible Yuri van Gelder, from himself and from public opinion.
And there's worse than Yuri in Team NL. Remember woman beater Camiel Eurlings sucking up to Putin in Sochi? Cheers Vladimir! Great to see you!
Legendary hockey coach Wim van Heumen acted as night porter at 5am in Cologne. Two pissed stars from the team thought they were throwing pebbles against the window of a mate. It turned out to be their coach's room. Van Heumen told them goodnight, put them in the team the next day and gave them a big fat wink when they scored. Van Heumen remembered he had been young once.
And there you have it. Hendriks was an OAP by the age of twenty, you can tell. Dead serious about sport and eager to show it. It's only a couple of medals, Maurits. Get a life.
So why did he ditch Yuri? I would have let him stay just to boost the medal count. Or as an example to the swimmers. All they have done up to now is manage not to drown. Most of the other Dutch contenders might do well to have a quick one before they start. Only the hockey players and the rowers are doing the job and no wonder. Their club homes come with well-stocked bar facilities.
The judge, meanwhile, has spoken. Spoil sport Maurits wins, bon vivant Yuri stays where he is. I congratulate Maurits and which him luck in his next job as Chef de Mission for North Korea. And I'm inviting Yuri to my next show. He and Erica can share the royal box. Cheers!
This column appeared earlier in the NRC
Thank you for donating to DutchNews.nl.
We could not provide the Dutch News service, and keep it free of charge, without the generous support of our readers. Your donations allow us to report on issues you tell us matter, and provide you with a summary of the most important Dutch news each day.
Make a donation