Gay Pride marketing: all puns and profit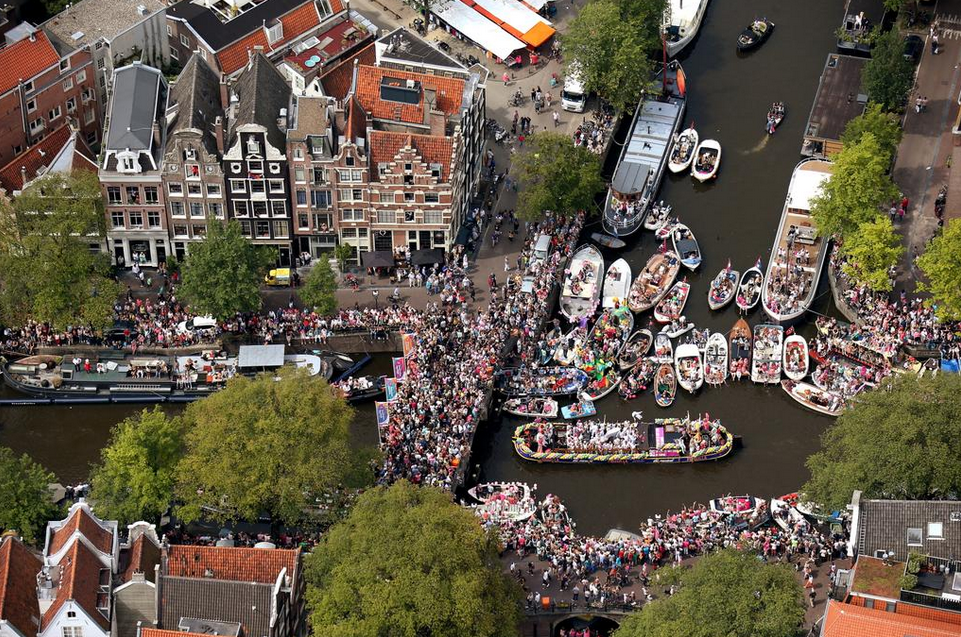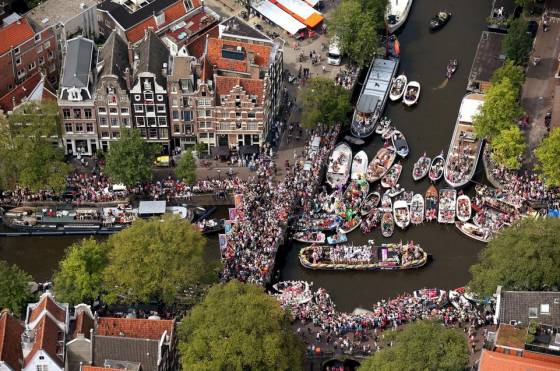 The Gay Pride festival is used by many companies to promote their products. But let's have some really gay-friendly policies on the workfloor, says Joep van Zijl, head of The News Makers.
There's funny puns like Power to Joohoo! (Vodafone) and AH to gay (Albert Heijn), and a tasty gaybar in a rainbow wrapping (Tony's Chocolonely). And let's not forget those amusing sausage and tompouce t-shirts from the Hema. It's easy for companies to show a gay-friendly face. But actually having gay-friendly policies in place is much more important.
My first reaction on seeing the Hema pride t-shirts (sausage heart sausage, tompouce heart tompouce) was: how nice, and what a fantastic idea! Here we have two intensely Dutch iconic Hema products used in a brilliant marketing campaign for EuroPride 2016, with the added bonus that the profits are going to the Gay-Straight Alliance, an organisation of students and teachers who want their school to be a safe place for everyone.
Many companies are latching on to Gay Pride to show they're absolutely fine with homosexuality.  Unfortunately most of their campaigns are primarily focused on promoting the name and image of the company and increasing turnover. As an entrepreneur and owner of a communications bureau I understand this completely but I also think companies should be serious about diversity and acceptance and tell the world they are.
Limited acceptance
It's very amusing and commercially attractive to see people walking around with cream cakes and sausages plastered across their chests. But wouldn't the Hema's message have been much more powerful if the marketing department had communicated what it does to promote the acceptance of lesbians, gays, bisexuals and transgenders (the LGBT community) on its own workfloor? What is the Hema doing to make sure its employees can be themselves and feel safe enough to come out to their work colleagues?
Christian conservative paper Reformatorisch Dagblad quoted a spokesperson of the Hema as saying that the company is not identifying itself with the participants in the canal parade who, in the words of the paper's journalist, often walk around 'half naked in tiny latex suits'. Supporting the acceptance of the LGBT community is one thing but losing customers is another, that much is clear.
Loo pride
Meanwhile the boys and girls at the Unilever marketing department have come up with a doozy. Their campaign, called Plee Pride (Loo Pride), is meant to put the spotlights on Glorix bleach.
They are calling on people living along the parade route to open their toilets- to be turned into to veritable gay thrones courtesy of Unilever – to  desperate members of the public. The consumer goods giant is also providing Loo Pride ambassadors and toilet ladies and uses social media to point visitors to the pink pee locations.
What a clever ploy to solve the problem of overflowing public toilets and visitors peeing on people's doorsteps, you might think. But the risks attached to a massive invasion of private loos are not carried by Unilever but by the people themselves. They receive a small amount of money for every visit which they can either keep or donate to Community Approaches to Total Sanitation (CATS), a programme run by Unilever and Unicef to improve sanitation in developing countries.
I don't begrudge anyone proper sanitation. But why doesn't Unilever double the final amount and donate it to an organisation dedicated to supporting the LGBT community? What on earth does this have to with Gay Pride?
Glorix bleach is proving itself to be an efficient product: the colours of the rainbow flag have definitely faded into nothing.
This article was published earlier in the NRC
Thank you for donating to DutchNews.nl.
We could not provide the Dutch News service, and keep it free of charge, without the generous support of our readers. Your donations allow us to report on issues you tell us matter, and provide you with a summary of the most important Dutch news each day.
Make a donation