'It's important to know what people are saying, it makes life richer'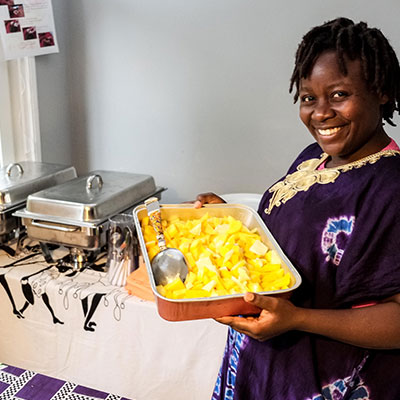 Kenyan national Elizabeth Njeru, 39, came to Amsterdam in 2000 for love and now runs her own catering company. She is surprised by how willing successful people are in the Netherlands to help others, thoroughly enjoyed her Dutch lessons and is on a mission to make Kenyan food a household name.

How did you end up in the Netherlands?
Actually, I met a Dutch guy at the Moi University in Eldoret, Kenya. He was an exchange student, that's how he came to be there. I had two Dutch girlfriends who were friends with him. We were hanging out a lot. Then he went back for the Christmas holidays and I missed him like crazy. I suddenly realised dammit, I'm in love!
How do you describe yourself – an expat, lovepat, immigrant, international?
I think of myself as a global citizen, I see myself as just Elizabeth. I believe I can live anywhere in the world as long as it's peaceful and I can develop myself.
How long do you plan to stay and why?
Let's put it this way, I am not planning on leaving, yet! The Netherlands has become my home. If I go to Kenya or where ever I want to be there for a maximum of four weeks, then I go crazy, missing my bike and whatnot. I just want to come home to Amsterdam. I've travelled a lot but I just love this place. I just feel in my place here.
Do you speak Dutch and how did you learn?
Well, I arrived on the 4th August 2000 and on the 7th I was in class in Utrecht, at the James Boswell Institute – they are damn good! The teachers are super motivated, develop their own teaching materials and make it loads of fun. We laughed a lot. For me it's really important to know what people are saying, it makes life so much richer.
What's your favourite Dutch food?
Stroopwafels! They're the only thing I take to family and friends when I go to visit abroad. I make sure my visitors take a few packets with them when they leave.
How Dutch have you become?
What is Dutch? What is African? I have sometimes been accused by my fellow Africans of being too Dutch! And I've been told by some Dutch friends that I'm more Dutch than them. I think that when you learn about a culture as an adult you practise even the small rules. Like those I picked up at James Boswell… like, always take something when you visit people, a bottle of wine or flowers. And keep right, even when walking on the pavement! Oh, and you can't visit someone spontaneously – especially at dinner time!
Which three Dutch people (dead or alive) would you most like to meet?
Actually it is difficult to choose only three Dutch people I'd like to meet. This country is bursting at the seams with inspiring and interesting people. I have met a lot here in Amsterdam at all kinds of places such as Pakhuis de Zwijger, the Impact Hub and Kitchen Republic, not to mention in every day life. What really touches me is the readiness of successful people in Holland to help other entrepreneurs – with ideas, knowledge and networks.
The mayor of Amsterdam would be one for sure. I would speak with him about my ideas on how Amsterdam can really benefit from the abundant African talent that is present. It's a shame that so much of it goes to waste. I want to help develop more talent-based entrepreneurship among African migrants, help bring more high quality African products to the mainstream market. When Africans come here they're often highly skilled and well educated, and they try to find a job. But they don't have the right networks, don't understand the infrastructure, the language is a problem and they don't have the right access to financial resources; so sooner or later they find themselves in a precarious financial situation. If we could support and develop more talent-based enterprise it would allow Africans to make a good living and it would be an enrichment for the Dutch community. You just need to do it the right way.
I would also love to meet Olcy Gulsen – because she is a very successful young business woman and not born in Holland. I have seen her on television and I'm very inspired by her energy and drive. Very inspiring lady. A real go-getter!
Elianne Fresen – the owner of Peperwortel Traiteur and Catering in Amsterdam – is yet another entrepreneur who, in my opinion, has done an amazing job. And then there is Sacha Roozemond of Sterren van Hemel Catering as well.
Okay, I now have more than three and I've just decided that I am going to meet all these people within this year. I am sure I will get an appointment.. Everything is possible in Amsterdam.
What's your top tourist tip?
One place that I take everybody who comes to visit from abroad is the Restaurant Moeders, at Rozengracht 251. We always have the Hollandse rijsttafel. You get a variety, it's shared dining and it tastes great. It's a special experience because you don't find Dutch cuisine easily elsewhere.
Tell us something surprising you've found out about the Netherlands.
The longer I have lived here the more I have come to understand that Holland, at first sight quite a tiny country compared to many others around the world, is actually a giant in terms of achievements. In terms of business and agriculture for instance. Did you know that Holland is actually the second largest exporter of agricultural products in the world? Just crazy!
If you had just 24 hours left in the Netherlands, what would you do?
I'd go count the grazing rabbits early in the morning in the Amstel Park, which is my favourite in Amsterdam. Then I'd ride my bike along the Amstel river ending up at the canals, then go appreciate the beauty of Amsterdam one more time on top of the Amsterdam Tower. I'd finish off the day with a call to my family thanking them for their love, and a nice dinner with my closest friends. After all that, and if there still was time, I'd then go to bed with some chocolate and some D'asti moscato, and watch a romantic comedy on Netflix as I awaited the inevitable.
Elizabeth Njeru is the owner of catering company Mama Kenia. Very Lekker.
Thank you for donating to DutchNews.nl.
We could not provide the Dutch News service, and keep it free of charge, without the generous support of our readers. Your donations allow us to report on issues you tell us matter, and provide you with a summary of the most important Dutch news each day.
Make a donation