Dutch summer festival overload 2016 – 15 of the best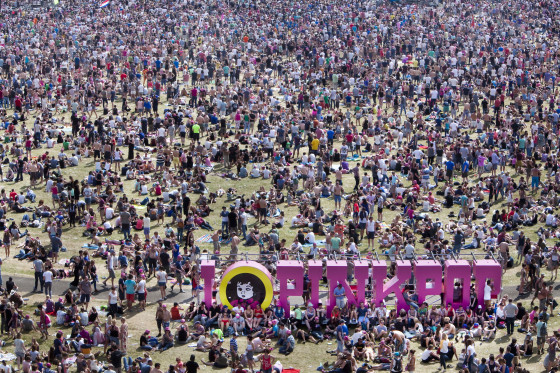 Regardless of whether your idea of a good time is listening to pulse pounding beats alongside 50,000 people or savouring an evocative couplet, there's something for everyone at the Netherlands' wide array of festivals (and other events) this summer. Here's fifteen of the best.
By Brandon Hartley
Rotterdam International Poetry Festival – 7 – 11 June
Poets from around the world will gather in Rotterdam for the 47th edition of this festival but this time around the organisers will be shaking things up by adding comic strips to the mix. Yes, you read that right. This year the fest will feature traditional performances, lectures and debates by poets in addition to events that focus on the genre's crossovers into the worlds of film, music, art, and the funny pages as well. The 2016 programme also includes appearances by the Costa Rican poet Luis Chaves and Ireland's Sinéad Morrissey in addition to plenty of others.
PinkPop – 10 – 12 June
This colossal music festival has been going strong since 1970 and has become one of the biggest on the planet. Millions of people have attended PinkPop over the decades and the 2016 edition is sure to add another 60,000 or so to the tally. This year's PinkPop will feature acts including Paul McCartney, Ramstein, Lionel Richie, James Bay, Imelda May, Douwe Bob and, provided their perpetually shirtless frontman Anthony Kiedis recovers from a recent bout of health trouble, The Red Hot Chili Peppers.
Oerol – 10 – 19 June
The shores of Terschelling are quite literally invaded by a cavalcade of entertainers during Oerol. The island's forests, beaches, dikes and even a barn or two serve as performance spaces over the course of the unconventional ten-day festival. In addition to musical and theatrical shows, attendees can enjoy dazzling acrobatics, interactive installations, modern dance recitals and much more.
Best Kept Secret – 17 – 18 June
While the name of this popular festival is a pretty big misnomer, it still remains fairly low key, at least in comparison to the bombast you'll find over at the Netherlands' other summertime music events. Best Kept Secret is devoted entirely to musical acts and features everything from well-established rock bands to newer outfits just cutting their teeth in the industry. It also takes place in the lush surroundings of an event site near the Beekse Bergen Safari Park. At the fourth edition of the 'medium-sized' fest you can enjoy performances by Wilco, Beck, Beach House, Editors, Air, Band of Horses and Jamie XX while taking in views of the picturesque Victoriameer Lake.
Down the Rabbit Hole – 24 – 26 June
You're unlikely to encounter any mad hatters or unpunctual bunnies at Down the Rabbit Hole but you may wind up on a psychedelic journey worthy of the classic children's novel that continues to serve as its muse. A swirling cacophony of DJs, artists, designers and filmmakers flock to the three day festival, which is held at the De Groene Heuvels recreational park outside of Beuningen and often features lots of crazy light displays. Some of the bigger acts that will be appearing this year include The National, PJ Harvey, Mac DeMarco and Matisyahu.
Delfsail – 20 June – 3 July
If you missed the 2015 edition of SAIL, this nautical event in Delfzijl will help you pass the time until it returns to Amsterdam in 2020. 600,000 people are expected to show up for the festival, which is only held every six or seven years. Along with tours of some of the largest sailing ships in the world, visitors can also enjoy a street parade, a fun fair, and performances by sea shanty choirs.
De Parade – 23 June – 28 August
You never know quite what you're going to get at this unusual festival, which is held in parks located in Rotterdam, Den Haag, Utrecht and Amsterdam throughout the summer months. De Parade is one part fringe festival and one part sideshow carnival with a batch of food stands thrown into the mix. This year's edition will feature over 100 theatrical, dance, mime, musical, and impossible to describe performances by artists from all over the Netherlands and beyond.
North Sea Jazz Festival – 8 – 10 July
The first North Sea Jazz Festival took place in 1976 and it's come a long way since then. While you can still find plenty of great jazz bands at the event, in recent years it's broken format to include an array of more diverse acts that have included the late/great Prince and the blues rock band Alabama Shakes. This year's lineup will include Gregory Porter, Gal Costa, The Roots, Pharrell Williams and Earth, Wind & Fire.
International Four Day Marches – 19 – 22 July
Now celebrating its 100th year, this unique walking event (the largest of its kind in the world) began as a way to help Dutch soldiers stay in shape during peacetime. As strange as it might sound, the marches have become so popular that registration for participants has already closed. The organiser set the 2016 cap at 50,000 people and they hit that mark back in April. That doesn't mean you can't head down to Nijmegen to cheer them on from the sidelines and/or ponder why so many people are eager to spend a few summer days just walking around.
Rotterdam Summer Carnival – 26 – 30 July
Around 900,000 people will once again shimmy and shake their way through the streets of Rotterdam during this humongous annual fiesta. Along with performances by over sixty acts from around the world on outdoor stages located in the Hofplein, Schouwburgplein and Eendrachtsplein, the incredibly popular street parade is slated to return. A fierce wind storm led to its cancellation in 2015. This year's edition will feature (if the weather behaves itself) over 30 floats and 2,500 dancers.
Ironman Maastricht – 31 July
Are you tough enough to handle this intense test of physical endurance? If so, you can join amateur and professional athletes from around Europe for the second edition of this challenging triathlon. Those brave and bold enough to partake will endure a 3.8 km swim in the Meuse river and a 180 km bike race followed by a 42.2 km marathon.
Haarlem Culinair – 4 – 7 August
Some of the best chefs, cooks, bakers and sauciers from around North Holland will appear at this outdoor culinary fest in Haarlem's Grote Markt. Foodies can enjoy delectable dishes from area cafes like Dijkers and De Jopenkerk in addition to special markets devoted to artisanal beers and the slow food movement.
International Fireworks Festival – 12 and 13 and 19 and 20 August
This explosive fest takes place on the beach at Scheveningen every summer and it's celebrating its 37th anniversary this August. If the annual firework hootenanny that occurs on New Year's Eve in the Netherlands is something that you consider 'small time', you're likely to get a kick out of the massive displays that will be in full bloom at the fest, which is the largest of its kind in the country. Along with the eight professional fireworks shows that will take place over its two consecutive weekends, attendees can also enjoy live music and dance performances.
Lowlands – 19 – 21 August
Every August, this festival draws over 50,000 attendees to the event site at the Walibi Holland amusement park in Biddinghuizen. Most of them are there to enjoy sets by some of the world's most famous musical performers but Lowlands also hosts plenty of events focused on stand-up comedy, theatre, visual arts and film as well. This year the biggest of its ten stages will be occupied by Disclosure, LCD Soundsystem, The Eagles of Death Metal, Chvrches, and more acts that have yet to be announced.
Mysteryland – 27 – 28 August
This beloved electronic music festival has grown to include editions in the United States and Chili. The 2016 event for the Netherlands will once again invade the Floriade event site in Haarlemmermeer for a full weekend of sonic beats and dazzling sets by some of the world's best DJs. The programme, which has yet to be fully announced, already includes Afrojack, Diplo, Martin Garrix, and Seth Troxler.
Thank you for donating to DutchNews.nl.
We could not provide the Dutch News service, and keep it free of charge, without the generous support of our readers. Your donations allow us to report on issues you tell us matter, and provide you with a summary of the most important Dutch news each day.
Make a donation