The Next Web: making a quick app and a buck are not the answer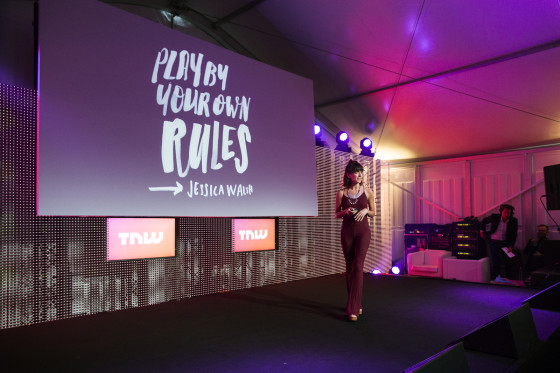 The Next Web promised to pull out all the stops this year to deliver an event unlike anything else on the European technology or startup scene. Esther O´Toole went down to check out the promised festival vibe and what the movers and shakers of the digital age have in store for us next.
Free wifi? A given. Wireless earphones for better audibility, handy. Live streaming, top notch. Mobile charging lockers, genius. Seaweed burgers, stilt walkers, and live music? Awesome.
In 2015 The Next Web hit its 10th year, and you might expect an anniversary edition of this sort to be a hard act to follow. But, as if to tangibly demonstrate the exponential growth of technology, this year was more than twice as big – moving from 3,500 visitors to 9,400.
Both visitors and speakers descended upon Amsterdam from all over the world to indulge in two days of total tech immersion, from keynote speakers and exhibitor tents, to practical how-to workshops, an early stage startup competition and a hackathon.
Starting up in Amsterdam
Amsterdam has been busy promoting itself as the creative, tech and startup capital of Europe and TNW was one of three major international technology conferences going on in Amsterdam last week, alongside Techweek and Startup Fest.
All of them attracted big name digital-age giants as keynote speakers: think Steve Huffman of Reddit, Julie Zhuo on Facebook, Gary Vaynerchuk of Vaynermedia and Danae Ringelmann of Indiegogo. Yet while Startup Fest came under fire in some quarters for the surplus of suits, TNW was not your average business conference.
The days when being in tech sounded corporate, geekish, or even the quickest way to make a million are clearly now behind us. Though topics such as business building, marketing, and leveraging social media were of course still being presented at TNW, there was a tangible sense of forward momentum.
In March 2015, in an article for De Correspondent, philosopher and journalist Rutger Bregman criticised the startup culture in Amsterdam as being too much directed towards making an app and a quick buck rather than towards real problems.
This year the conversation, at least at TNW, has clearly shifted. The emphasis of many of the speakers and thought leaders was on hunting for vision; think promoting social enterprise not just social responsibility, purpose, imagination and working towards a fairer society.
Whack-a-mole
Danae Ringelmann, CDO and Co-Founder of crowdfunding site Indiegogo, sat down for a chat with DutchNews.nl after speaking to a packed house at the Entrepreneur stage. She highlighted the necessity of 'finding your why'.
'If you´re not working on something that you're passionate about, it makes entrepreneurship harder. It´s easier to give up,'Ringelmann said, 'It´s a mission that will drive you. We kept at it because we cared about giving everyone a fair shot.'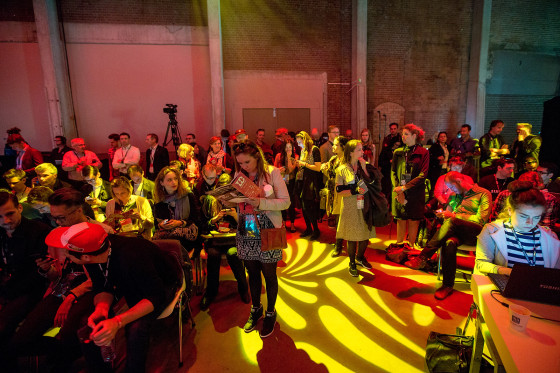 She emphasises the vital role of setting up a diverse workplace from the start, unified only by mission and values; if you have this kind of team with multiple perspectives on a given challenge, Ringelmann says ´the innovation will take care of itself. You need to remember that innovation is the means not the end.´
Indiegogo were there for knowledge sharing but also to show how they were taking their offering for would be entrepreneurs further. Having successfully tackled the biggest obstacle – funding – they are now moving on to providing the other tools new business developers need to succeed. 'Entrepreneurship is like Whack-a-Mole,' the co-founder said.
And this was where ideas seemed to be moving, successful startups are pivoting into new areas, with their eyes on how the very future of work is shifting, on transparency, on access to the benefits of digital and on mobility.
Dave Fano, chief product officer for WeWork – an office sharing company with bases in twenty-nine global locations including Amsterdam – told us how they have changed in the last few years: from the straightforward provision of workspace for freelancers and small businesses, to trying to create a global network that can be tapped into as a member and allows for the kind of nomadic business practices that are on the rise.
´We're building tech layers on top of our physical infrastructure, to help members build more meaningful relationships. We want to take some of the friction out of getting to know people and link them internationally. Then even a two person company can have an immediate global reach. We're here today to learn from other people,' he said.
Long term inspiration
Visitors were reacting well to this long term thinking. As Michaela Botha from Lendstar, a German Fintech company that enables peer-to-peer lending put it: 'We're here to look for clients and investors but for inspiration as well.'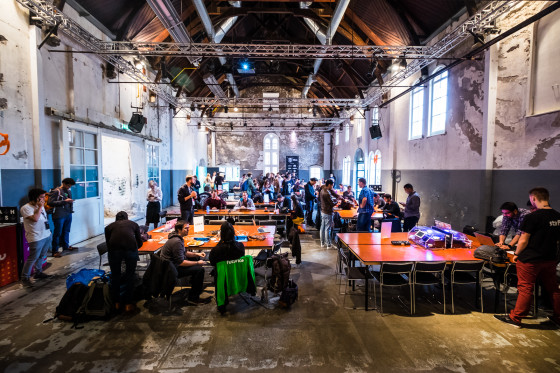 A sentiment echoed by Andre Assalino, Creative Director for MPC Creative a media and VR company: 'I get really switched on by hearing others talk about their products. It's inspirational to see how I might use something new.'
The questions posed to, and by, startups are clearly changing; and now a discussion is opening about the need to reframe our notions of success. As Bill Buxton, Principal Researcher for Microsoft, summed up in his keynote speech today: 'Now that we can do anything, what should we do? Good luck. Change the world.'
Thank you for donating to DutchNews.nl.
We could not provide the Dutch News service, and keep it free of charge, without the generous support of our readers. Your donations allow us to report on issues you tell us matter, and provide you with a summary of the most important Dutch news each day.
Make a donation