Dutch start-up develops secure instant messaging for doctors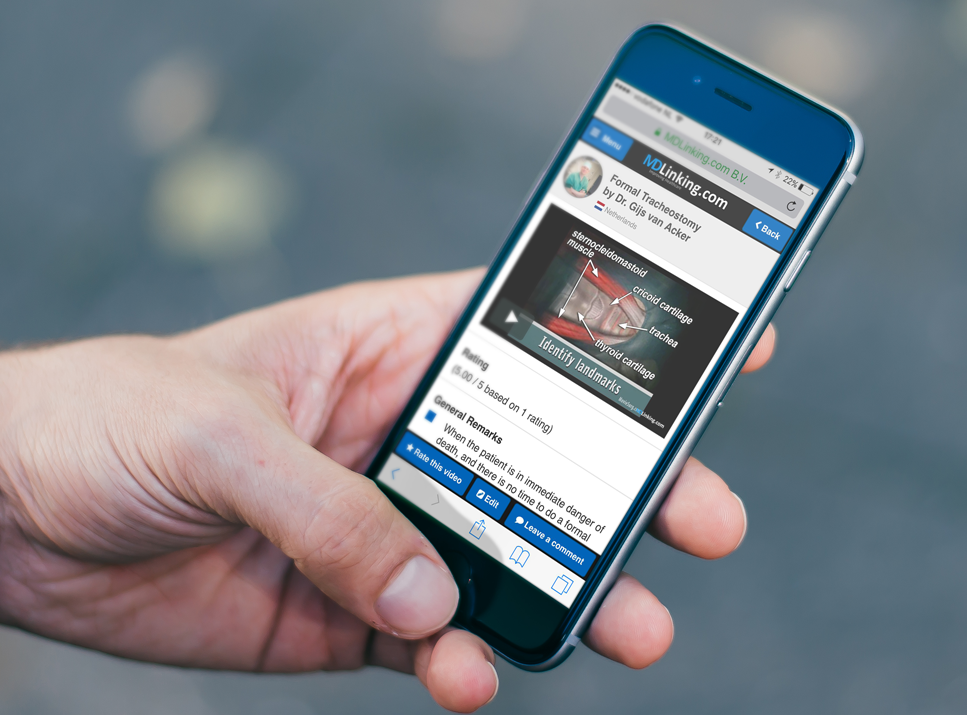 A Dutch tech start-up is looking to hit it big with a doctors-only communications app which, it says, combines the benefits of Linkedin and Whatsapp in one secure instant messaging tool.
MDLinking.com aims to connect millions of healthcare professionals worldwide so they can share information in a private and secure environment, without worrying whether it is being viewed by others or even used for commercial purposes.
The idea for a secure communication platform for doctors came from Dutch vascular surgeon Hans Flu, who realised that existing tools had too many constraints and major security issues.
Privacy
'Doctors should be able to use communication platforms such as LinkedIn or Whatsapp in their professional lives, but unfortunately that is not really the case,' says Flu.
'These communication tools are not developed for doctors and as such do not offer the specific features that doctors need. The second problem is privacy. Existing communication tools are not secure with regards to patient privacy.'
According to recent research involving over 2,000 doctors and 4,000 nurses in London, almost all doctors and around half of nurses found their smartphone to be 'very useful' or 'useful' in helping them to perform their clinical duties.
In practice, 90% of doctors and 67% of nurses who owned medical apps were using these as part of their clinical practice, the report in the British Medical Journal said.
'These results provide strong evidence that healthcare organisations need to develop policies to support the safe and secure use of digital technologies in the workplace and that strategies are needed to secure further innovations in digital health,' the researchers from Imperial College London concluded.
Mission
Flu has since quit the medical profession to focus purely on his idea. 'I have made it my mission to connect healthcare professionals across the planet,' he says. 'Doctors learn from doctors. That is how it works. Our tool allows healthcare professionals who have never met to connect and share their knowledge in a totally secure environment.'
At the end of last year it emerged that a number of medical websites in the Netherlands, including some run by some hospitals and doctors, were passing on information about visitors' online behaviour to commercial companies.
'This scandal shows the importance of privacy issues in healthcare information,' says Flu. 'Hospitals, medical societies and doctors should never get mixed up with deals which could compromise patient details for profit. The main goal should be providing evidence-based quality of care, and not damaging the confidence of the patients in the healthcare system.'
The MDLinking app is free for all healthcare professionals to use. The company itself, which is independent and has no exclusive ties to the pharmaceuticals or medical technology industries, is self sufficient for the time being and is looking at possible future revenue models, including paid-for special features, as well as recruitment and publishing. At the same time, the company has already won initial backing from several wealthy private individuals in the Netherlands and abroad.
'Having been involved in the early days of Booking.com was fantastic, but being involved in the early days of MDLinking.com is much more rewarding,' says Alec Behrens, one of the co-founders of Booking.com which grew from a tiny Dutch start-up to a global company valued at $60 billion. 'I have no doubt that MDLinking will save thousands of lives.'
Challenges
Flu has put together an advisory board made up of over 100 doctors across the globe and together they developed the concept. The beta version of MDLinking was rolled out last year and healthcare professionals from across Europe, Asia, Africa and the US have already starting using the tool in a test environment.
'I think there is a great future for a platform like MDLinking,' says professor Nageshwar Reddy from the Asian Institute of Gastroenterology in Hyderabad, India, who has supported the project from the beginning.
Meanwhile, the Amsterdam-based team is continuing to invest time, money and energy in developing the technology and expanding the e-learning library.
'We know we are on the right track, but at the same time we realise we still have a long way to go,' says Flu. 'Doctors all over the world know they need to connect and share their knowledge. And they need to do it in a secure environment. That is exactly what we are providing them with.'
Thank you for donating to DutchNews.nl.
We could not provide the Dutch News service, and keep it free of charge, without the generous support of our readers. Your donations allow us to report on issues you tell us matter, and provide you with a summary of the most important Dutch news each day.
Make a donation